Yeast Free Bread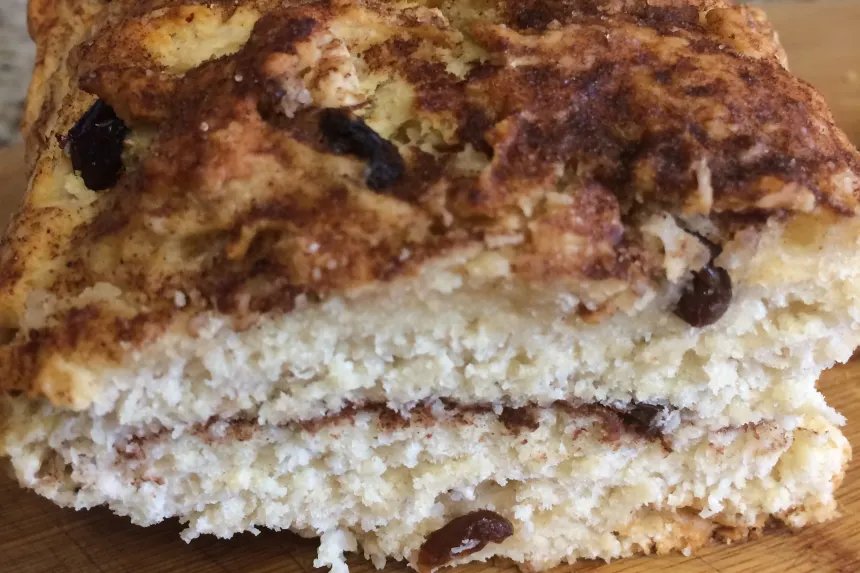 photo by gina917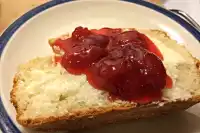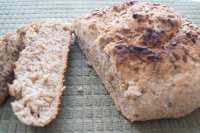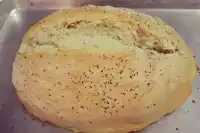 Ready In:

1hr

Ingredients:

5
ingredients
3

cups whole wheat flour (preferably stone ground)

4

teaspoons baking powder

1

teaspoon salt
1 1⁄2 cups rice milk (works with any liquid) or 1 1/2 cups water (works with any liquid)
1⁄4

cup liquid fat (i.e. melted milk free margarine, vegetable oil, olive oil)
directions
Mix dry ingredients.
Do not sift the flour!
Mix liquids and add to dry.
Stir until there is no more dry flour.
Depending on the humidity of the air where you live you may need a little bit more or less liquid.
The dough should be moist but not sticky.
It may take a few minutes for the flour to fully absorb the liquid, so don't rush to add liquid or flour to it.
Score lightly the surface in a diamond or X shape to prevent splitting of the crust.
This is a country style bread that should be sliced thick.
It is important not to overwork the dough.
Shape into a ball or an oval, with oiled hands.
Place on clean baking sheet.
Bake for 40 minutes at 400°F.
Variations: Rub the dough ball with virgin olive oil and sprinkle sea salt and oregano for a foccacia flavor.
For tea time add a tsp pure cane sugar.
The liquid can be replaced for orange or other fruit juice if the bread is to be used for teatime and you can even add dried chopped fruits.
For a savory bread the liquid can be tomato juice and you can add chopped sundried tomatoes to the dough.
Sprinkling of seeds in the dough or on top of the bread is also possible.
Questions & Replies

Reviews
I wrote a review earlier for this, but I'm not sure if it went through... Just ignore it if it did. So, this recipe is a good starting off point... I experimented with it a little to make my own version because the bread I had when I baked it this way was WAY to overpowering with the taste of the baking powder. This is what I did: Mix in a bowl: 3 cups flour (I used all-purpose white, it turned out fine) 2 teaspoons baking powder 1 teaspoon salt 1 teaspoon garlic powder (not necessary, I like the little kick it gives my bread though. You can try experimenting by adding cinnamon or any other herb of your choice) In a separate bowl, mix: 1 1/2 cups liquid (I used plain old water) 1/4 cup liquid fat (I used olive oil) Then combine liquid into dry ingredients, mix. I found I didn't need to add any extra flour, the consistency is supposed to be sticky and not firm. I oiled my hands and shaped it into the roll form I wanted, then laid it onto my pan which was coated with olive oil. I cut an 'X' in my loaf... A nifty little trick you can use is to flour up your knife to do this, as just doing it without the flour can be kind of hard and not leave much of a mark at all. The cooking time may vary, just keep an eye on the top of the loaf, when it starts to firm up and take shape a little, take it out and rub some melted butter on the top of the bread, then put it back in until it's finished. You'll know it's finished when the top of the bread is a little brown. Voila! Take it out and let it cool, you're done!

 

We just found out my daughter is allergic to barley (all-purpose flour) and yeast. Oh my! This recipe is perfect for her, and amazing for all of us to eat!<br/>My first batch, I followed the directions exactly using almond milk and olive oil. The outer most inch is very dry and crumbly. I could taste a little of the baking powder. I can definitely see where the biscuit comments come from if you made small rolls or muffins!<br/>For the second batch, I used the same proportion of ingredients and shortened the cook time by 2 minutes then let the loaf cool about 12 hours before slicing. Perfection! Nice crust on the outside, moist and dense bread on the inside with that wonderful nutty wheat taste. THIS is what homemade bread should taste like. <br/>Now I make a loaf with a cinnamon swirl or fruit baked in for breakfast and a loaf as described or with savory herbs for lunch. My family is happy and my daughter is healthy.<br/>Thank you!!

 

I forgot to review this!! argh. I make this bread several times a month, typically two loaves at a time. The recipe is flexible and pretty forgiving. I typically use buttermilk as the liquid for extra softness. I do not find a heavy baking powder taste as other reviewers have noted. As for the fat; I have used both olive and canola oils. I have also reduced the oil by half and substituted applesauce for the remainder. I find that 2c whole wheat and 1c AP flour is a great option for those wanting a less dense bread. Sorry, I do not consider this a biscuit in any form. It slices, toasts, and performs like any other yeast free bread. I definitely recommend this one.

 

I actually joined food.com just to give this recipe five stars! At first I was worried it was too easy to be good. Then I made the dough and it was gooey. I said "no way am I doing this right" but I put it in the oven any ways! SO GLAD I DID!! It tastes amazing! Its a very simple taste but butter and some jelly and it was PERFECT. I can't wait for breakfast. <br/>Positives: took less than 20min prep time, I used things I already had in my pantry, and it tastes great. I can whip this up any time. And I can't wait to add different ingrediants and expirment with flavors. Its so easy to put together I can freely try different flavors.

 
Tweaks
I have tried this recipe using a number of of variants. My favourite flour to use with it is stone ground multigrain. If I could get coarse ground Irish-style flour I think it would be even better. I've added oats and didn't feel it added much. I tried adding a porridge-style multigrain cereal that made the bread too gritty. The cereal would need cooking first. I tried this with white flour and found it too heavy although you could use it for soup dipping. I've added sunflower seeds and also tried the recipe with pumpkin seeds and preferred it with sunflower seeds. Between a third to a half cup is good -- both in the dough and on the loaf. Making this with sunflower seeds is now my regular way of baking the bread. I've also tried adding two teaspoons of crushed Rosemary (powdered in my MagicBullet) in the dough and on the loaf and substituting Olive Oil plus brushing on top. It does give the bread a nice rosemary flavour if you like that, but it wasn't special enough for me to do regularly. I have tried the bread with sea salt on top as has been suggested. I found this made the saltiness inconsistent from one bite to the next. Like others I cut the baking powder to three teaspoons. I bake this in a toaster oven and the top element is very close. That's why the bread is a little dark in one spot in the image. Since taking this picture, I lightly spray the top with water and I spritz the oven just before putting the loaf in. It helps the crust a bit. If you find the crust too hard, it gets softer it you put it in and out of the fridge a couple of time because it absorbs moisture as it warms. Finally, the bread benefits from letting it cool before you cut it. The steam in the loaf continues to improve the bread. Waiting 20 minutes is good (but I am not always that patient). --- Sorry about the lack of paragraph breaks. I put them in but couldn't get them to stay.

 

Most recently I made it with carrot juice and tossed in two handfulls of roasted pumpkin seeds. Also cut the baking powder down to 2 tsp. Still needed to bake an extra 20 minutes to get that nice hollow sound when thumping the bottom of the loaf. My BF (whom I make the bread for) said it was "the best one yet".

 
RECIPE SUBMITTED BY
I live in Las Vegas. I was lucky enough to run into Recipezaar around Nov. 2000 and got hooked quickly. I am a cookbook collector and have been collecting recipes for as long as I can remember. My DH had to build in shelves for all my cookbooks! I like to dabble with OAMC and for a few years hosted the Budget/OAMC forum with some great people over there. Even though I don't work in the forum any longer I've set up a lot of cookbooks for the purpose of OAMC and stretching food that might be helpful. Please feel free to check them out! I go on food jags and cooking jags! Please come say hi to me and chat on facebook. I currently host a blog for saving money through finding deals and coupons if you are interested. Most of the time I try to cook and have a good dinner on the table but I'll be honest enough to say there is still fast food occasionally in the budget! I have had such wonderful support here whenever I need it. Thank you all for being here! Just a quick note on how I rate recipes: ? 5 stars - This recipe is perfect. (My DH is truly a critic and doesn't give 5's unless it's amazing) I would recommend it to others and would definitely make again. ? 4 stars - This recipe was good but I would change something in it next time. ? 3 stars - This is a recipe I would not make again but it was OK ? 2 stars - This recipe I would not make again and we didn't like it at all ? 1 star - This recipes did not work out/taste was unappealing and wouldn't make again
View Full Profile