Wonton Wrappers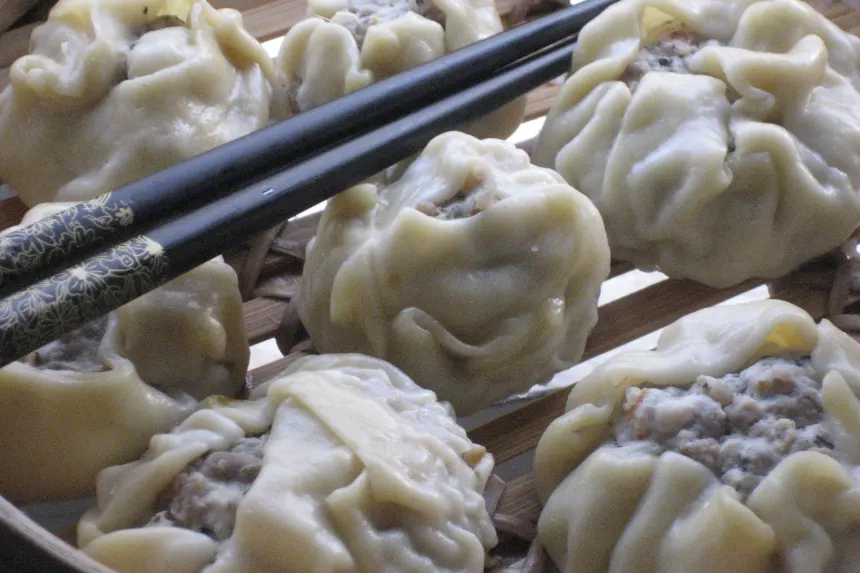 photo by Pneuma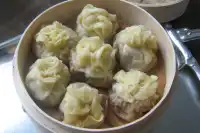 Ready In:

1hr 30mins

Ingredients:

6
directions
Mix the salt and the flour.
In a small bowl, add 1/4 cup water to the egg and beat gently.
Make a well in the middle of the flour, and add the egg-water mixture.
Mix into the flour, adding remaining water as needed.
Knead the dough into a ball.
Keep kneading until smooth (several minutes).
Place the dough in a large bowl, cover with a damp cloth and let rest for 1 hour.
Cut the dough into quarters.
Place one of the quarters on a well-floured surface, and roll out with a rolling pin until very thin.
Cut the dough into the desired shapes (usually squares or circles).
If stacking, dust the wrappers lightly with flour or cornstarch to keep them from sticking together.
Keep cut wrappers covered with plastic wrap to keep them from drying out too much.
Repeat with the other quarters.
If not using immediately, wrap in plastic wrap and store in the refrigerator or freezer.
Questions & Replies

The nutrition info says your "1 batch" yield is a single serving, at 981 point something calories, etc. Really? How many "pieces" in a batch? In an actual serving? Because I noticed that one reviewer says that your "1 batch" gave her 4 whole meals! Your batch is probably more than most families would eat in one sitting then, let alone a single person, such as me.

 
Reviews
I have to say this has to be one of the best... I actually have a recipe very similar... but I figured I would try this one... the only thing I did differently was I doubled the ingredients... and added about 10 drops of yellow food coloring... I added the food coloring since I have no intentions on frying my rangoons I still wanted them to have that "fried" look even though they are oven baked... as for my wontons I boiled them as usual and baked the other half... if you want to bake them instead of fry them cook them @ 425 for 7-15 minutes depending on how thin you roll them out... and spray them with butter flavored cooking spray or make a butter wash and put it on before you put whatever in the oven... i am still in the process of putting my own recipes online so if you are interested in my crab rangoon and wonton filling recipes keep checking back i am just waiting for RZ to approve them... thank you so much... for posting this... oh i also wanted to add... i rolled these out on my kitchen aid pasta roller to the thinest setting starting from 1(thickest) ending with 8 (thinest) and the wontons boil so fast but still have to let the meat cook...

 

I wanted to make pot stickers for dinner, but every recipe I found called for a package of "Wonton Wrappers". Not being a fan of prepared foods in any fashion, I searched for a recipe and came across this. These are really delicious and not at all hard to make with a pasta roller! Thanks for the great recipe.