White Chocolate Bread Pudding With Raspberry and White Chocolate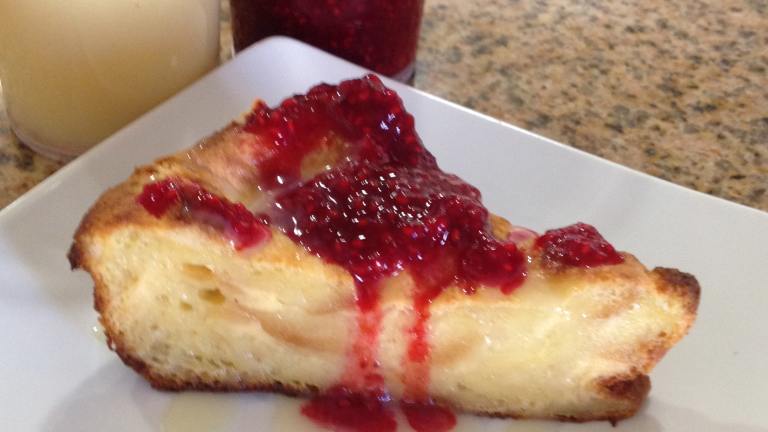 This delicious bread pudding is served at Nordstrom's Cafe bistro and is also featured on their website. I get compliments on it each time and requests for the recipe so I thought I'd post it up here. Enjoy!
Ready In:

2hrs

Serves:

Units:
directions
Bread pudding:

Preheat oven to 325 degrees F. Butter a 9"X12"X2" baking pan including the sides. Line bottom of pan with parchment paper.
Combine cream, sugar, milk in saucepan over medium heat. Stir until hot. Add chocolate morsels and stir until chocolate is melted. Set aside so it can cool slightly.
Whisk eggs, egg yolks, and vanilla. Gradually pour the cream mixture into the egg mixture and whisk until smooth. Be careful that the cream mixture isn't too hot or the eggs will curdle. Tempering the eggs is very useful in this step.
Lay about half of the bread slices in the baking pan and pour about half of the cream mixture, allowing it to soak up the liquid. Next, layer the remaining bread slices on top and pour more mixture over it. You might need to press down the bread on top to let it soak up some of that liquid. Be careful that you don't layer too much, since it does rise quite a bit in the oven. I usually stop layering once it hits right at the top of the pan.
Cover the pan with foil and bake for 1 hour. While it's baking, this is a good time to get started on those sauces!
After that 1st hour, remove the foil and bake uncovered until it's no longer liquid in the center and the top should be golden brown.

Raspberry Sauce:

Combine water, sugar, and orange zest in a sauce pan over medium heat. Stir until syrupy.
Add raspberries and cook on low heat stirring occasionally until the fruit falls apart. Strain out the seeds.

White Chocolate Sauce:

Heat heavy cream in saucepan over medium heat until hot.
Stir in white chocolate morsels until melted. Set aside to cool slightly.

Prepping the Bread Pudding:

By individual slices, place a slice(s) on a cookie sheet and brush each piece with the melted sweet cream butter, including the sides (don't worry about the bottom of the slice).
Bake in oven for about 12-15 minutes. This will create a crisp "seared" outside which is very delicious.
Once the bread pudding is ready, by individual slices, place on a serving plate and drizzle with the white chocolate sauce and droplets of raspberry sauce. Enjoy!
Submit a Recipe Correction
Made this as an alternative to a cake for my father's birthday party. It was a huge success except maybe I should have made two. My recommendations are to use evaporated milk instead of regular milk. Also, I would make more sauce than this recipe suggests. I ended up serving in small plastic cocktail cups with fresh raspberries on top. DELICIOUS!!

This recipe is delicious! It did not turn out exactly like Nordstrom Bistro but it was very close. Be sure to make sure all of the liquid is absorbed from the center before attempting to cut. I also used frozen rasberries for the sauce and recommend using a blender and then straining out the seeds which makes the sauce thicker. I also garnished with homeade whipped cream and fresh rasberries like they serve at Nordstroms. I think it may brown better and get crustier if I would have used a small kitchen torch.

I just made this for a friends birthday party to very rave reviews! Most people could not believe that it was not the actual bread pudding from Nordstrom. I only changed some minor things for the recipe. I used fat free half and half in place of the milk and I cut the pieces according to the actual recipe on the nordstrom website. They cut the pieces in rectangles and then cut the rectangles diagonally into triangles. These are then laid on their side on the baking pan for the remaining steps. I wanted to follow this closely for the first time. Next time I would like to try cutting the fat by using more fat free half and half and using liquid eggs to replace some of the eggs in this recipe. All in all it is extremely decadent and yummy though a bit time consuming.