Whisky (Or Bourbon) Baked Sweet Potatoes (Or Yams)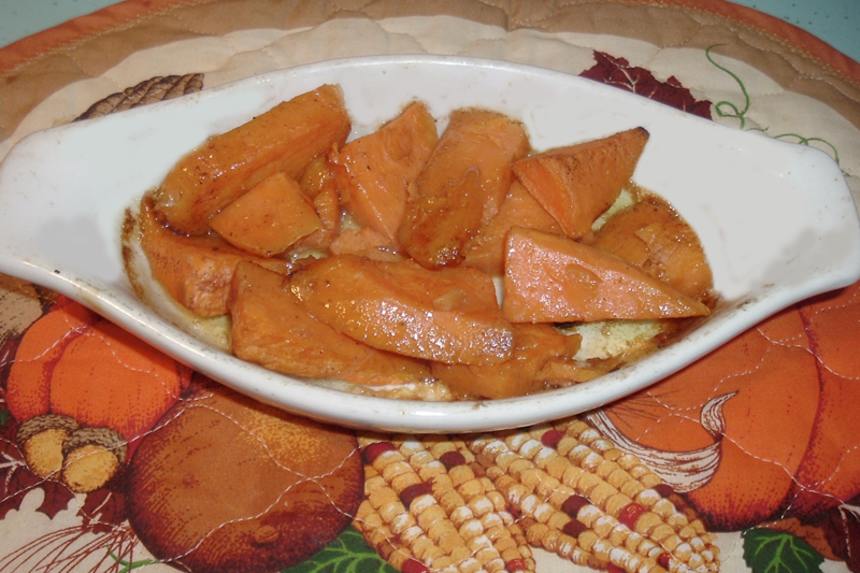 photo by Bergy

Ready In:

2hrs 25mins

Ingredients:

8
directions
Grease a shallow 3qt baking dish; set aside.
Steam or boil the peeled yams until almost tender; cool and slice into approximately 1 1/2 inch slices (you want them to fit in a the 3qt baking dish in one layer).
Preheat oven to 375°F.
In a small saucepan, simmer brown sugar, syrup, butter, cinnamon, nutmeg, and salt over medium-low heat, stirring occasionally, until sugar has dissolved and syrup thickens, about 5 minutes; Remove from heat and stir in whisky (or other liquor of choice).
Drizzle syrup over yams. Cover with aluminum foil (at this point, they may be refrigerated until you're ready to bake them). Bake the yams, basting every 15-20 minutes, until syrup has thickened and absorbed (note: not all the syrup will absorb), about 1 1/4 hours. May be served hot, warm, or at room temperature.
Questions & Replies

Got a question?
Share it with the community!
Reviews
Great recipe. My family recommends it. It's also good with allspice instead and/or some powdered ginger. Also, we all should be aware of the difference between a SWEET POTATO and YAM. Which one is which? The issue comes up in the intro and title of this great recipe. I come from a family of botanists and gardeners who like to cook. A YAM is a long light brown tuber, with white or very light-brown or light-yellow flesh. It has less vitamin A and is usually less sweet. Yams are originally from Africa. They are in the genus Dioscorea. SWEET POTATOES have dull orange-brown skin and bright orange flesh. They are often teardrop or football shaped. They are full of vitamins and usually taste sweeter. They are originally from the New World (S. America) and are in the genus Pomoea. Sweet potatoes are distantly related to 'real' potatoes. Cans of 'candied yams' in the U.S. and Canada are almost always made of SWEET POTATOES. If you see these two vegetables mislabled in the produce section of a supermarket, don't be afraid to set them straight. There's a big difference in the nutritional value and taste in the two. Good culinary guides, gardening books and sources on the internet can help back up your claim. Remember, if it's orange, it's a sweet potato. If it's not, it's a yam. Joke: Q. What did the white tuber say to the mush baby from a can? A. Man, you're really a sweet potato and I yam what I yam!