Watermelon Rind Pickles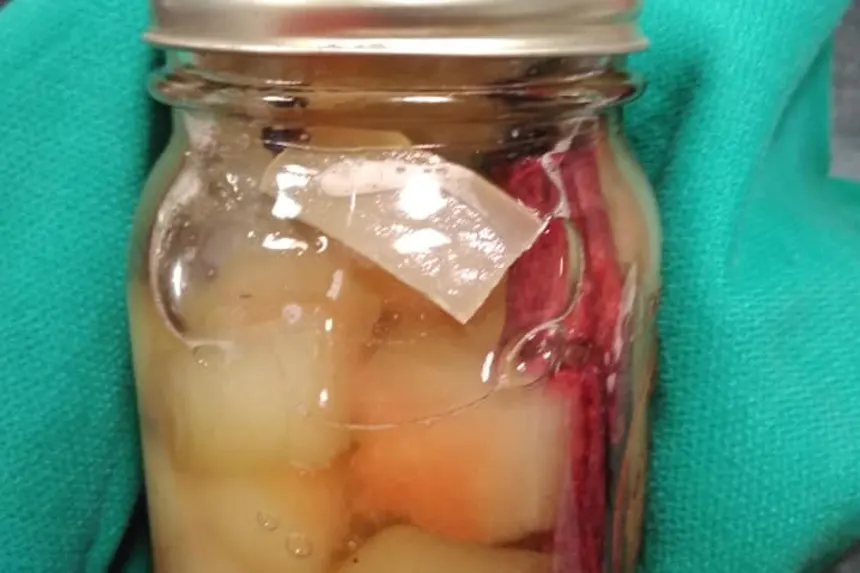 photo by Mark M.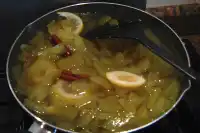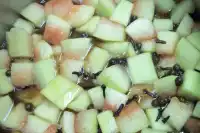 Ready In:

2hrs 5mins

Ingredients:

10
directions
Pare watermelon rind and remove all pink portions.
Cut rind into 1 x 2 inch pieces about 1 inch thick or into 3/4 by 1 inch cubes.
Weigh.
Soak rind overnight in brine made by dissolving 1/4 cup salt in each quart of water (make enough brine to cover).
Drain rind, wash in fresh water and drain.
Combine remaining ingredients and boil together 5 minutes.
Add rind a few at a time and cook until rind is clear.(simmer about 30 Min.).
Pack rind in hot sterilized jars.
Cover with boiling syrup and seal.
Spices may be tied in cheesecloth bag if desired.
Cantaloupe rind, pumpkin or winter squash rind may be cut into pieces and pickled in the same way.
Questions & Replies

Reviews
Why has this recipe not been edited and revised based on the date it was first posted? It is missing vital instructions such as using pure pickling salt, not table salt. The spices need to be removed after the initial boiling period so that all jars have the same flavor, ALL of the rind needs to be simmered at the same time, not "a few at a time", otherwise, as I tested, the solution keeps evaporating and reaches the jelly stage because there are no instructions on keeping a lid on the pot while simmering OR adding water to compensate for water or vinegar loss. I have been home canning for over 40 years and have always used the USDA guide which is FREE. At the minimum, EDIT your recipe on this site.

 

I've never had Watermelon Rind pickles before and was intrigued so thought I'd try them. I made the mistake of believing the reviewer who said this recipe wasn't sweet enough so I increased the sugar. BIG mistake. My pickles turned out more like candy. If I make them again, I will follow the original recipe for sugar.<br/>What I did do that worked is I substituted limes for the lemon and sliced them on a mandolin, very thin. I added 3 Star Anise, a 2 inch piece of fresh Ginger - peeled and sliced very thin and a teaspoon of Cardamom seeds.<br/>As I said, my pickles were too sweet and that was my fault but the extra spices are delicious!

 

This is not the traditional recipe. Watermelon pickle should not be at all lemony and should not be at all salty (by brining). It should be far more sweet than sour. Also, there's nothing wrong with using ground Allspice in this recipe, in fact, it's preferred. Whole cloves should be used, but bolstered with a small amount of ground cloves too. <br/><br/> Don't get me wrong... This recipe is very good, but if you want to experience the real-world, old-time flavor of pickled watermelon rind, leave out the lemon and use more sugar... Like 6 cups... and use 1 cup of cider vinegar and 1 cup of white vinegar.<br/><br/>It takes a little experience to get the exact mix but this recipe will definitely get you in the right direction. <br/><br/> LEAVE OUT THE LEMON! ADD SUGAR!!

 
Tweaks
For the last 60 years, watermelon pickles have been my favorite. I'm getting ready to make some again so found the above recipe but before I made it, I decided to check my own personal file which now contains my recipes (I'm 71), my mother's handwritten recipes and my grandmother's recipes. The recipes that my grandmother, mother and I have used through the years do NOT contain lemon. Some can be made in a day and are processed in a water bath. Some are made over a 4-5 day period, with activity every day. And all have some of the red/pink meat left on the pickle. What really disturbs me is the photo above. Good watermelon pickles are a little translucent chunk of melon, green on the bottom and with a narrow red top in a clear syrup -- at least according to this expert (based on number of years this particular food has been my favorite.) If you use the recipe above I strongly recommend that you research and try at least a couple other recipes as a comparison.

 

Salty sweet, a great recipe for this old favorite. I used a little more rind than called for (if I trust my scale), or, the rind from 1/2 a medium watermelon (it had a pretty thin rind though). I used the same amounts called for on vinegar, sugar & water and had maybe 2 Tb. leftover pickle juice when I was done; it all came together perfectly. I did double the spices (used a tsp. cinnamon instead of sticks) and used 1/8 C lemon juice because it was all spur of the moment and I didn't have a lemon. For me it made 4 1/2 pints. I could have gotten it in 4 pints if I had packed it, but I spaced it out till I was halfway done.<br/>If you use a vegetable peeler to peel the rind instead of a knife, they cut so thin you may need to extend cooking time some to soften the tougher outer rind that doesn't get cut away. It still cooks up nicely.<br/><br/>Thanks for putting this up, it's a better recipe than the one I had!

 
RECIPE SUBMITTED BY
I am currently a stay at home Mom and wife (aka: homemaker, domestic engineer, chauffeur, etc.). My husband and I made this choice about 2 1/2 years ago. At the time I was averaging 72 hours/week +. Our kids were complaining that they never saw me, and one of them was even getting in trouble (too little supervision apparently). We got the troubled teen through high school, and she is currently preparing for college. Things have improved a lot so I am considering going back to work part-time while the kids are gone to school (if the right opportunity presents itself). <br> <br>I love to cook, especially trying new recipes. I get tired of the same ol', same ol'. I also love reading cookbooks and the history of recipes. I always hated doing all the dishes afterwards, so I did a lot of one dish meals whenever possible. Recently, my husband bought me a new dishwasher, so now I am cooking up a storm! Everyone is loving it. <br> <br>I look forward to making new friends in Recipezaar, trying out new recipes, and hope some of you will try some of mine. Please, if you try my recipes, take time to post a little note telling me about your experience and any modifications you may have made. I just love to experiment and try new things in the kitchen! :-))
View Full Profile