Watermelon Rind Pickles (Refrigerator Method)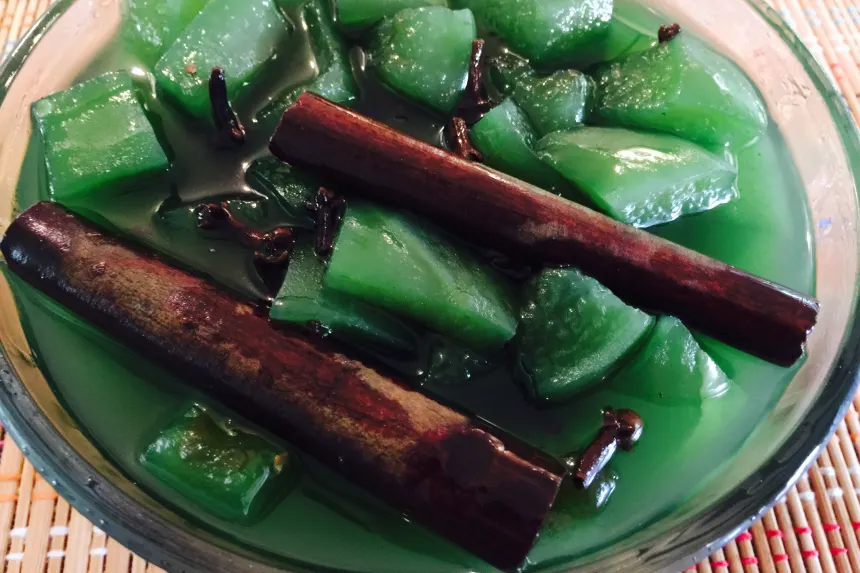 photo by Tona C.

Ready In:

1hr 30mins

Ingredients:

9

Serves:

12
directions
Bring all ingredients (except food coloring) to a rapid boil, stirring frequently. Reduce heat to simmer, cover and cook until pickles are tender and somewhat translucent. Add green food coloring if desired. Transfer pickles, juice and cinnamon sticks to a covered glass bowl and store in the refrigerator after cooling. Discard the pickling spices.
Wait at least 12-24 hours to serve so that all the flavors have been absorbed.
Questions & Replies

Got a question?
Share it with the community!
Reviews
I know that we all like to know how a recipe turns out when followed exactly, and that it can be annoying when someone writes about the changes they made. (I know it can annoy me!) However, since many of us don't make pickles all the time, and when we do, we likely end up with a fair bit of 'left over' spices that may never be used up in a timely fashion, so I wanted to write up how I made these utilizing some items I already had on hand that otherwise would just sit in my cabinet (because I hate to throw anything away!). I've made these twice now. The first time almost exactly as directed, except I didn't have pepper flakes, and I used 1 1/2 tblsp of bread n butter pickle spice loose in the pot, since that's what I had on hand, and they turned out very good. They aren't as sweet as many recipes so I liked them better. Plus, the turmeric in the spice mix gave the brine a yellow tone, which made a nice chartreuse green when I added the food color The second batch was a bit smaller, I still didn't have the pepper flakes (because I will never use them for anything else!), I was out of lime juice, but had lots of lemon for my ice tea, and I had used up all my whole cloves, so here is what I substituted for 4 1/2-5 cups rind: 1 C each vinegar & sugar 1 1/2 Tblsp bread n butter spice 1 1/2 tsp ground clove 1/2 tsp ground cardamom 1/2 tsp (scant) ground cayenne pepper 1/8 C lemon juice 3 cinnamon stix and I totally forgot to add the sliced fresh ginger :( Of course, with these ground spices, which I did not tie up in a filter, I ended up with a muddy-colored brine - not terribly pretty. I added a couple more drops of green food color, which helped, but still not as pretty as the original recipe makes. But, the taste was awesome!! The cardamom really made it pop, and the little bit less sugar let them be a bit tangy-er. The ground spices also stick to the pickles, making them speckled-y, which is pretty. With less sugar I'm not sure how long they'll keep in the fridge, but I do not anticipate them being around long enough for that to become an issue. :)