The Best Snickerdoodles I Have Ever Eaten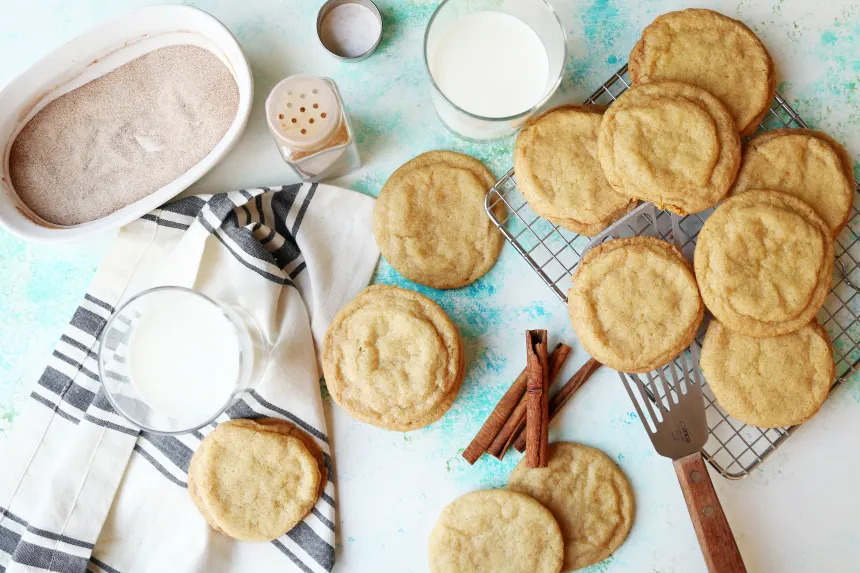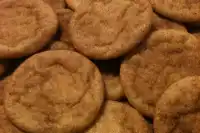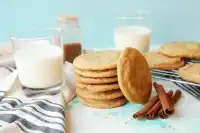 Ready In:

34mins

Ingredients:

11
directions
In a large bowl, cream butter and sugars at high speed.
Add egg, vanilla, and beat until smooth.
In another bowl, combine flour, salt, baking soda, and cream of tartar.
Pour dry ingredients into the wet ingredients, mix well.
Preheat oven to 300° while you let dough rest 30-60 minutes in fridge.
In a small bowl combine topping.
Take about 2 1/2 tablespoons of dough and roll it into a ball.
Roll this dough in the cinnamon/sugar mixture and press onto greased cookie sheet.
Bake cookies 10-12 minutes, NO MORE.
*Cookies may seem undercooked but will develop.
Don't roll your dough into too big of a ball; they may not turn out in that much time if you do that.
It happened to me.
lol.
If the cookies don't turn out, please try again.
It's a very good cookie, it's just all a matter of getting the cooking time right.
Questions & Replies

Got a question?
Share it with the community!
Reviews
I've made these twice...THIS WEEK, and double the batch each time! I'm didn't think I was a snickerdoodles lover, but now I am- and so is everyone else who tasted these cookies! I even stored a dozen in the cookie jar yesterday- and I ate about 7 of them today- I'm bad, but the cookies were still wonderful! OH! I did put the temp at 375 as suggested by others, for 10min. (1+ year later) I also wanted to add that I have yet to 'chill' the dough- I usually just make it & put it in the oven, with stellar results! love this recipe!***ONE MORE UPDATE! I actually chilled the dough this time bc I had some left over after baking, and when I baked them, they came out so puffy! amazing! LOVE the cookies, both ways!

 

I am not really sure how this recipe has an almost 5 star rating. The ingredients are normal, but the directions are all wrong!! I just made my very first batch and I can tell you after having just searched the internet for other snickerdoodle recipes, this one is WAY off! First of all the temperature of the oven should not be set at 300, it should be set at 350. Also it says to roll 2 1/2 tablespoons of the dough into a ball. That is FAR too much. I actually measured out the first ball to make the rest the same size and my cookies were huge and cake-like. The correction is to use a heaping TEASPOON and drop it into the sugar cinnamon mixture. Roll it around to cover in the topping as it forms into a ball and just place it on the cookie sheet. I won't be using this recipe again.

 
Tweaks
Fantastic! My family is vegan, so we substituted margarine for butter, and EnRG egg replacer for eggs, and the recipe turned out perfectly. Thanks for sharing!!! ADDITIONAL THOUGHTS: After making these a few times, I think using all white sugar (instead of 1/2 C white, 1/3 C brown) gives a better result, at least when you're making it vegan style. Vegan bakers know you need to do whatever you can to reduce density, and using all white sugar makes these cookies fluffier and more moist. We can't get enough of these cookies!

 

Wow.... amazing.. I did change this recipe up... I used the base for a cookie dough but instead of the topping of cinnamon and sugar i used chocolate chips! they were one of the best chocolate chip cookies ever! the dough is so chewy and flavorful... and very rich too! my whole family loved these cookies!!!

 
RECIPE SUBMITTED BY
I am from Kentucky. I'm 14 years old, and I love to cook. I live way out in the country so it's hard to find fresh herbs, and it's hard to make a quick trip to the grocery store to buy a missing ingrediant. We have to drive 30 minutes to get a gallon of milk! I enjoy healthy cooking. If you find a recipe of mine on here it's most definitly healthy. And I always tweak my recipes to become even more healthy for you. Like cake recipes I always replace the oil with natural applesauce which I think gives everything a better flavor. I'm not an expert on foods, however I would love to goto culinary school. I enjoy watching people cook on TV. I DO watch Emeril, and everything on food network. I love to watch the Cooking Episodes on the Health Channel. It really does give you some ideas for healthy meals. And in order to cook a recipe out of a Muscle and Fitness Magazine you got to be ready to tweak the ingrediants and get creative, because not all of them will turn out tasting the best. I also subscribe to Light n Tasty. I look forward to my new issue ever 2 months. I love that magazine. It's truely one of my favorites. It's alot better then Cooking Light if you ask me. School, my most favorite of all subjects is History. I LOVE IT! I always like to watch the educational channels as much as any ol' channel. I have a big interest in past wars, and politics. I'm not saying that I want to be president, I'm just saying I am very controversial whenever it comes to politics. And the 2000 election was so obvious, I knew George Bush would get it. Believe it or not, my mom asked ME who she should vote for. And I had already considered the pros and cons of George and Al, so I was 100% George Bush. Well, I'm going to go. Hopefully you'll be seeing more recipes on the Zaar from me. Gloria
View Full Profile