Sweet Mustard Pickles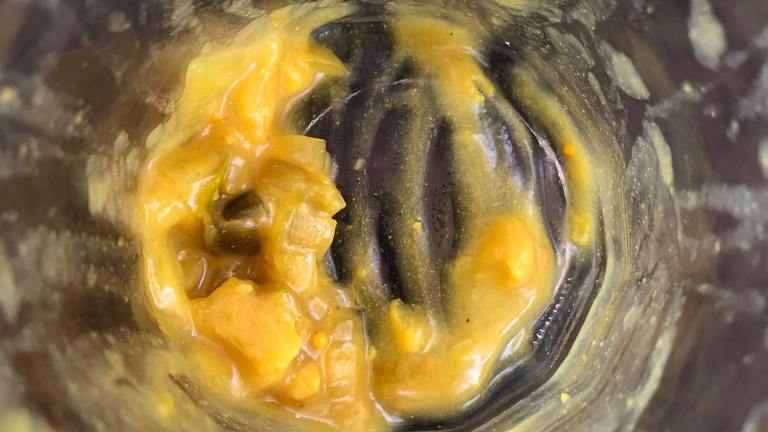 GREAT ON COLD MEATS : This is a mixture of Vegetable preparation from one recipe and the Mustard Sauce from another .. A family favorite All Year Around .. Make in quantity when cauliflowers are cheap... because your friends will be wanting a jar or two from each batch .. Shirley used to make these Pickles at least 3 or 4 times a year and her grandchildren were often caught eating it out of the bottle .. Shirley would chastise them with "Get out of there ..Don't eat it all .. I won't have any left" .. but they knew that she had 5 or 6 jars in the cupboard above the fridge ! *IF YOU CAN'T GET GREEN TOMATOES.. REPLACE WITH 1 MORE CUCUMBER AND ONE MORE CAULIFLOWER*
Ready In:

24hrs 30mins

Yields:

Units:
directions
Cut the Cucumbers lengthways and discard the seeds: scrape out with a spoon.
Dice Onions,Green Tomatoes,Cauliflower and Cucumbers.
Place into Boiler, Cover with Brine and let stand overnight.
Next day: Place Boiler on the Stove and bring to the boil then drain into a Colander.
Return the Boiler to the Stove with sauce mix and Boil until it thickens Stir constantly on a Low heat. Otherwise the sauce will stick.
Add vegetables bring to a boil and then simmer for 10 minutes.
Place in Clean Jars and allow to cool.
Cover with Lid and Store in Cupboard.
Keeps for 12 months . but it won't last that long !
Submit a Recipe Correction
RECIPE MADE WITH LOVE BY
"GREAT ON COLD MEATS : This is a mixture of Vegetable preparation from one recipe and the Mustard Sauce from another .. A family favorite All Year Around .. Make in quantity when cauliflowers are cheap... because your friends will be wanting a jar or two from each batch .. Shirley used to make these Pickles at least 3 or 4 times a year and her grandchildren were often caught eating it out of the bottle .. Shirley would chastise them with "Get out of there ..Don't eat it all .. I won't have any left" .. but they knew that she had 5 or 6 jars in the cupboard above the fridge ! *IF YOU CAN'T GET GREEN TOMATOES.. REPLACE WITH 1 MORE CUCUMBER AND ONE MORE CAULIFLOWER*"
GREAT ON COLD MEATS : This is a mixture of Vegetable preparation from one recipe and the Mustard Sauce from another .. A family favorite All Year Around .. Make in quantity when cauliflowers are cheap... because your friends will be wanting a jar or two from each batch .. Shirley used to make these Pickles at least 3 or 4 times a year and her grandchildren were often caught eating it out of the bottle .. Shirley would chastise them with "Get out of there ..Don't eat it all .. I won't have any left" .. but they knew that she had 5 or 6 jars in the cupboard above the fridge ! *IF YOU CAN'T GET GREEN TOMATOES.. REPLACE WITH 1 MORE CUCUMBER AND ONE MORE CAULIFLOWER*