Strawberry Rhubarb Jam (Liquid Certo)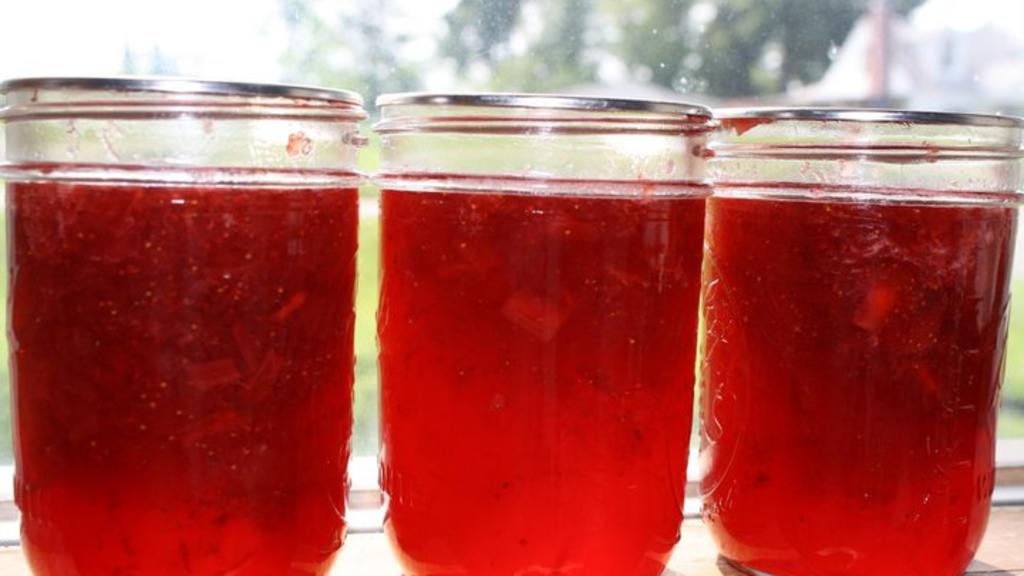 Ready In:

35mins

Ingredients:

6
directions
Prepare your jars and lids for canning. This recipe makes approximately 8 cups.
Remove the stems from the strawberries, and crush to 2 1/4 cups. You can crush with a potato masher, food processer, or my favorite way, by hand.
Chop rhubarb (you'll need it to measure 1 3/4 cups), place in saucepan with 1/2 cup water, bring to boil and boil about 2 minutes, or until rhubarb is soft.
In a large (6- or 8-quart) pot, combine the strawberries, drained rhubarb, sugar, and butter if using and bring to a full rolling boil over high heat.
Add the pectin and bring back to a boil. Boil for one minute and then remove from the heat.
Skim off any foam (if you used the butter, there may not be any foam) and pour into your prepared jars leaving 1/8 inch headspace.
Wipe jar rims and threads, cover with two piece lids, screw bands on and boil in a canner for 10 minutes.
Remove jars from canner and allow to sit overnight. Check the seal, if any jars did not seal, place in the fridge and use immediately. Store properly sealed jars up to one year in a cool dry place.