Spitzbuben (Swiss Jam Cookies)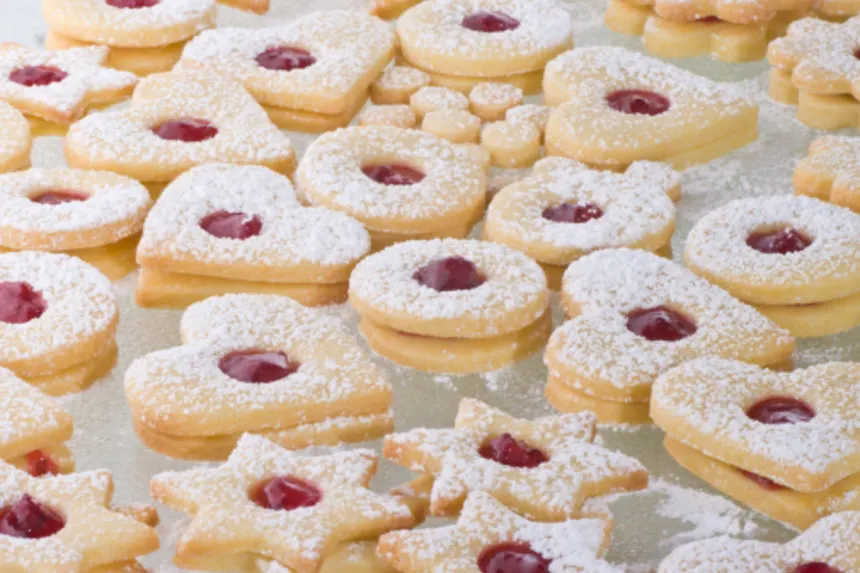 photo by A2471

Ready In:

1hr 8mins

Ingredients:

8
ingredients
1

cup sugar
1 1⁄4 cups butter (or margarine)
2 1⁄4

cups ground blanched almonds (may be called almond meal at the store)

2

teaspoons vanilla flavoring
3 1⁄4 cups sifted all-purpose flour

fruit jam (flavor of your choice, but make sure there are no fruit chunks in it)

white of 1 egg
directions
Beat the sugar and butter together until light and fluffy.
Beat in the almond meal and vanilla flavouring and the white of 1 egg.
Add the flour and knead until smooth.
Chill dough in the refrigerator for 1-2 hours.
Preheat over to 325 degrees.
Roll out the dough on a lightly floured cutting board to the thickness of 1/8"-1/4" (the thinner the dough, the better the cookie).
Cut with small round, star, or diamond-shaped cookie cutters.
Use a smaller cookie cutter to cut a "window" in half the cookies (these will be the top of the cookie sandwiches).
Place all the cookies on lightly buttered and floured cookie sheets.
Bake for 12-15 minutes, until golden.
Remove cookies from the baking sheet and let cool.
Spread the cookies without a "window" with fruit jam.
Coat the cookies with "windows" in confectioners' sugar, and then place on top of the cookies with fruit jam.
Reviews
I made these as Christmas gifts for my family of Swiss ancestry last year, as a fun reminder of where we come from! I was slightly concerned about my ability to pull off a sandwich cookie, but oh my word these came out amazing and were not nearly as difficult as I was afraid they would be. They were just beautiful. I used red current jam without seeds. I gave them as gifts inside of pretty little brown paper boxes with Swiss flag stampings on the outside of the packaging and tied with twine. I heard over and over again from my family after they had a chance to try them that these were incredibly good! Even from family who don't normally indulge too much in cookies. I don't keep a lot of cookies at home, but wish I saved more of these for us! They were even better after a day or two - slightly less crisp and the whole cookie felt well settled into itself. Gorgeous flavor.

 

I'm made many different kinds of cookies in my time, but I'm sure this was a new experience for me, AND a very enjoyable one, at that! I was so pleased with myself that I was tempted to keep them all here for the 2 of us, but broke down & sent 2/3 of them off with my other half to share at one of my weekly meetings! I did have a small problem with the jam, since I usually think of it as 'chunky,' but with a little processing, I managed to have a strawberry jam that worked for me! Thanks for posting this wonderful recipe ~ Your cookies are a real delight! [Made & reviewed for one of my adopted chefs in this Spring's Pick A Chef event]