Smoked Salmon Roulade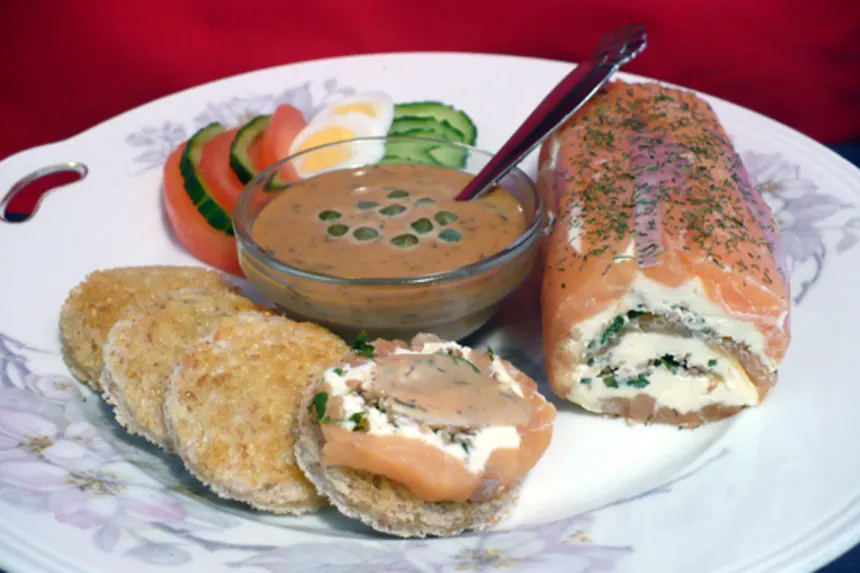 photo by twissis

Ready In:

5mins

Ingredients:

4
directions
Cut cling film to the size of 20cm x 15cm and place it on the work surface.
Arrange the smoked salmon slices on the cling film, slightly overlapping each slice.
Soften cream cheese in a bowl (bring it to room temperature which makes it easier to spread), then carefully spread onto the smoked salmon.
Sprinkle toasted sesame seeds and parsley on top of the cream cheese.
Roll the salmon in cling film as tightly as possible into a shape of a log and tie both ends of the cling film to seal it airtight.
Chill in fridge for at least six hours.
To serve, slice into 2-3 pieces and place on a bed of crisp salad.
Questions & Replies

Got a question?
Share it with the community!
Reviews
Dinner parties are the favored way to socialize here & they do it right. It is just too expensive to eat out, but not an ounce of flavor or touch of elegance is sacrificed, so it has been a culinary journey for this home-style & Tex-Mex transplant from Dallas. Smoked salmon is always a hit as a starter, but this recipe is all about technique & presentation for me as I favor easy-fixes that are pretty on the plate. I started the assembly of the roulade using cling film, but found it easier & more secure to use parchment paper. I sprinkled the top of the roulade w/a bit of dill, mostly for color. After that, the chill time & a very sharp knife do the rest for you. As an appy snack for just 2 of us, I served it w/some veggies for color. simple toasted bread rounds brushed lightly w/olive oil & my Recipe #225428. This was such a treat & is sure to be repeated for guests in the future. Thx for posting this recipe for us.

 
RECIPE SUBMITTED BY
<p style=margin: 0.0px 0.0px 0.0px 0.0px; font: 12.0px Helvetica;><span style=font-family: Arial, Helvetica, sans-serif; font-size: 13px;><img src=file:///Users/aishayusaf/Library/Caches/TemporaryItems/moz-screenshot.png alt= /><img src=http://i166.photobucket.com/albums/u82/aaliyahsmum_album/bill3.jpg alt= width=402 height=507 /></span></p> <p><img src=http://i166.photobucket.com/albums/u82/aaliyahsmum_album/Untitled-11.jpg alt= /><br />Today, give a stranger one of your smiles. <br />It might be the only sunshine he sees all day. <br />- H. Jackson Brown, Jr. <img src=http://i166.photobucket.com/albums/u82/aaliyahsmum_album/images.jpg alt= /> <br /> <img src=http://i166.photobucket.com/albums/u82/aaliyahsmum_album/Untitled-11.jpg alt= /> <br /> <br />For a hobby, I'm into photography. I thoroughly enjoy baking, but have to admit, I have two left hands when it comes to decorating cakes! I also do a bit of knitting (beginner's stage) and reading. Stephen King and Dean Koontz are my all time favourite authors, and, of course, LOVE Calvin and Hobbes (does it show??!!) <br /> <br /> <img src=http://i166.photobucket.com/albums/u82/aaliyahsmum_album/chch-atheist.gif alt= /> <br /> <br /> <img src=http://i166.photobucket.com/albums/u82/aaliyahsmum_album/Untitled-1-1.jpg alt= /></p> <p>I search for recipes that carry ingredients I can get hold of locally (or I have stocked in my cupboard!). Recipes I have posted are ALL tried and tested and have been enjoyed by all! So, I hope you and your family will enjoy as well! <br /> <br />My rating system is fairly simple. Since I only pick recipes that I know my family will enjoy (looking at the list of ingredients), it's either 5 or 4 stars, I do not go any lower. I may sometimes do a bit of tweaking but that is only due to my family's tastes. If I do have problems with a recipe or if it didn't turn out the way it should have done, then I just leave a comment without any rating. <br /> <br /><img src=http://i166.photobucket.com/albums/u82/aaliyahsmum_album/Untitled-12.jpg alt= /></p>
View Full Profile