Simple Vanilla Ice Milk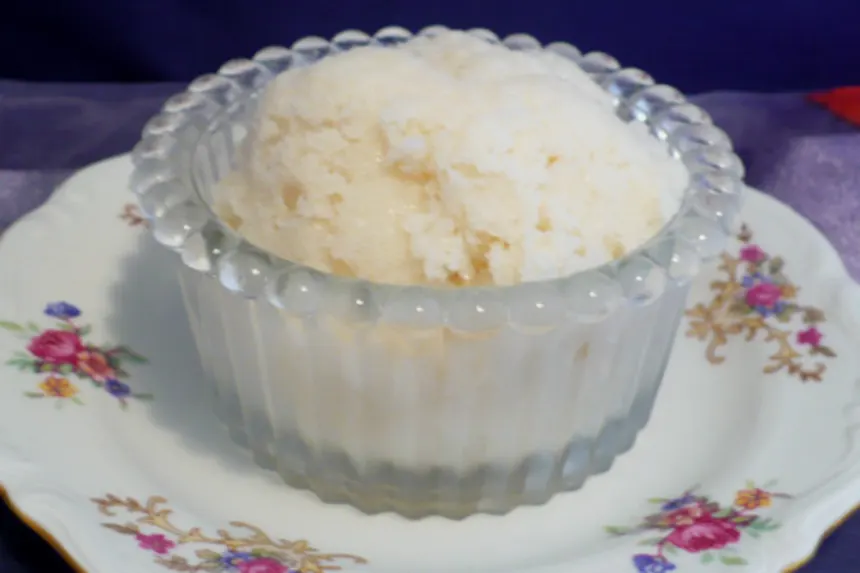 photo by twissis

Ready In:

6hrs 6mins

Ingredients:

3
directions
Combine milk, sugar, and vanilla in a medium bowl. Stir till sugar is dissolved.
If using Ice Cream Machine: Add milk mixture to an ice cream machine and process 20 minutes or until mixture thickens. Pour into tupperware and freeze 8 hours or overnight. Consistency may improve by stirring every 4 hours or so until fully frozen.
If not using Ice Cream Machine: Pour into shallow freezer-proof dish and put in freezer. Stir every 2-4 hours once crystals form. Follow above directions for freezing.
Questions & Replies

My question is about having to "finish" the ice cream in a Tupperware container or something. My electric ice cream maker already comes with an inner bowl that you freeze ahead of time, then when you want to make ice cream, you just pour your ingredients in, turn it on, and 20 minutes later it's done. Why wouldn't the same be true with this recipe? I guess I just don't understand the need to use the ice cream maker, THEN dump it into a Tupperware container or something similar, THEN freezing that for 4 hours, before you have ice cream. It seems like THAT defeats the entire purpose for purchasing an ice cream maker, no? I think I'll try it my way, and if it doesn't work I'll do it yours for this batch and find a different recipe. I really like how simple this one is though.

 
Reviews
This is great! So simple to do, with stuff you already have on hand! If you keep your ice cream maker in the freezer like I do you can have this in like 20 mins.!!! I did this with my toddler and he loved making his own ice cream. I love that it is healthier than traditional ice cream, and just as yummy! I followed the directions exactly and found it to be sweet enough for sure. I may even reduce the sugar a bit next time. I can't wait to do this again....thanks for posting!

 

Gotta join the chorus of "so simple, yet so tasty" reviews here. Without an ice-cream maker, I wanted to avoid any graininess, so I re-stirred the mixture every 60-90 minutes, which resulted in a smooth batch. FYI, "shallow pan" + "immersion blender" are not the best pairing... I started my hourly re-stirring with a large fork, but found that a potato masher is a great tool for this recipe.

 

I saw this intriguing recipe during Spring PAC 2010 & had to make it as it looked too ingredient-friendly & easy to do otherwise. Made exactly as written for those w/no ice cream freezer, I thot the sweetness was spot on. I somehow missed the word *shallow* & froze it in a plastic ice cream tub I had saved for storage, so my freeze time was longer. W/no ice cream freezer, the texture is more crystalline than creamy & I wonder if using an immersion blender on the nearly frozen mixture might chg that to some degree. Using half milk & half vanilla-flavored yogurt may be another option. Next I think I will indulge my creative nature by making 2 half recipes ~ use half yogurt in 1 & whiz banana into the other. Adding nuts, choc chips or marbling w/a thick fudge sauce are options, but they prob should be folded into the nearly frozen mixture so they incorporate well & do not settle to the bottom. Thx for posting this recipe for us & for some fun dys spent in my kitchen as I get creative. :-)

 
Tweaks
I like to play with textures, the recipe is great as is! : Add up to 1/4 cup of powered milk, (it's a to taste thing like the sugar so start with 1/2 that) This increases the "milk" flavor. If you want to get a touch more refined bring all ingredients to just before a simmer, or 170 degrees. This binds the ingredients.