Saffron Rice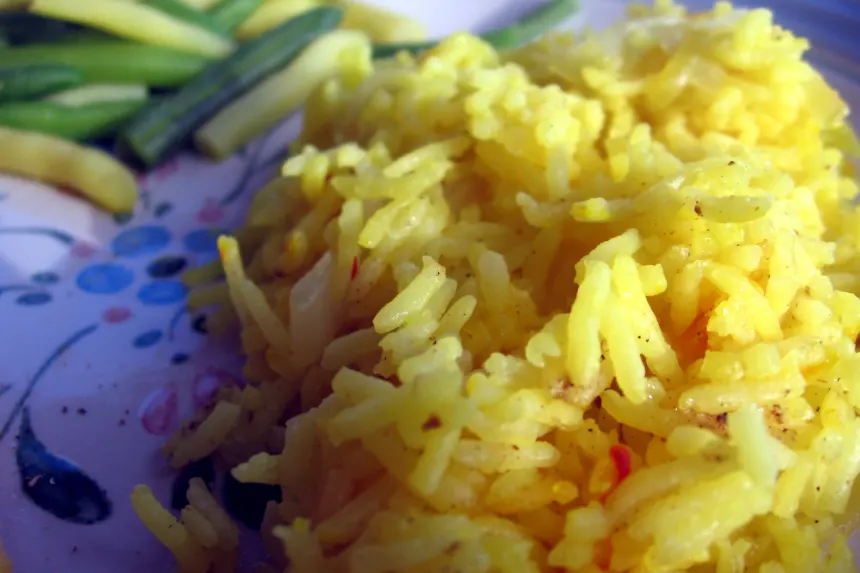 photo by Dreamer in Ontario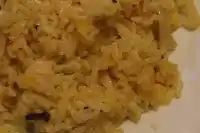 Ready In:

55mins

Ingredients:

9
directions
Soak saffron in 1/2 cup boiling water for 20-30 minutes.
Meanwhile, saute onions in the ghee until tender; set aside.
Rinse the basmati under cold water in a sieve, until water runs clear, allow to drain.
Place the rice and the onions in a saucepan and add the 1/2 cup saffron water as well as 2 1/2 cups hot water, the cardamon pods, the cloves, and the salt and pepper; stir to mix.
Bring to a boil over medium heat then reduce heat, cover, and cook over low heat until the rice is tender, about 15-20 minutes.
If any liquid remains, drain it.
Stir peas into mixture, if desired, as a garnish; serve.
Reviews
This is one truly ADDICTIVE rice that must really be eaten with your fingers if you want to relish each grain to the fullest. I made it for lunch this afternoon. Oh my gosh! - The aroma of the spices was wafting through my kitchen and it reached every single corner of my house. It got everyone bang on time to the lunch table:) My mom was the happiest with that because usually we all dilly-dally as far as timing is concerned:) I made this rice using 1/2 tsp. saffron threads(good to eat in the winter/cooler months due to its heat producing capabilities, and I hope many try this recipe in this season), 1 tbsp. cooking oil(I use Sunflower), 2 medium-sized onions, 1 cup basmati rice, 4 whole cloves, 2 green cardamoms, 1/2 tsp. black pepper, 1/2 cup boiled greenpeas and 1 tsp. salt . I soaked the saffron threads in 2 1/2 cups of water instead of just 1/2 cup and I allowed it to come to a boil. Thereafter, I used it in step 4 of the recipe(I did not add water again as mentioned in step 4). I also tossed in the greenpeas(boiled) in step number 4. The rice was a beautiful golden yellow colour. I topped it with a dollop of low-fat yogurt and mmmmm, I was in rice-yogurt heaven! Also, I must tell you that my very picky brother made me feed him this rice(nobody believes he is 18!) LOL. He really loves this rice and did a happy dance around the table(actually, on his chair! Haha- good thing the chair is still in 1 piece, ROFL). He demands to have this rice more often and says its even more special when big sis(me) feeds it to him:) Mom and dad also loved it. I also created a "Veggie Lentil Salad" (please check my recipe posted separately) and this rice tastes excellent with the salad as well. I tossed in some of the salad into this rice and lo and behold, there was a crunchy- munchy side dish created all on its own! Thank You, Aunty Sue, for sharpening my creative side this afternoon:) It goes without mentioning that this will be a regular on our table and we'll always send warm and loving thoughts your way when we eat this!

 

This was delicious, a perfect compliment to my lamb meatballs. I forgot the peas, but will add next time. The spices were great. I did toast the cardamom pods and cloves just moment with the onion before adding the rice and water. I can't wait to eat my leftovers tomorrow. Will definitely make again.

 

Very good rice! A lovely scent wafts through the house as this cooks and I really enjoyed the taste very much. This has a very attractive color and a nice blend of flavors. The directions are very clear and easy to follow. Next time, for personal preference, I will reduce the amounts of both the pepper and the onion, as I felt there was too much of both. Still, I enjoyed this very much and would make this again.

 
RECIPE SUBMITTED BY
I am a longtime member since 2002. While I have many recipes here, most of my current recipes are on my food blog at palatablepastime.com I may occasionally post something extra I have here. If you have questions, you can always contact me at contact@palatablepastime.com
View Full Profile