Rice Cooker Jambalaya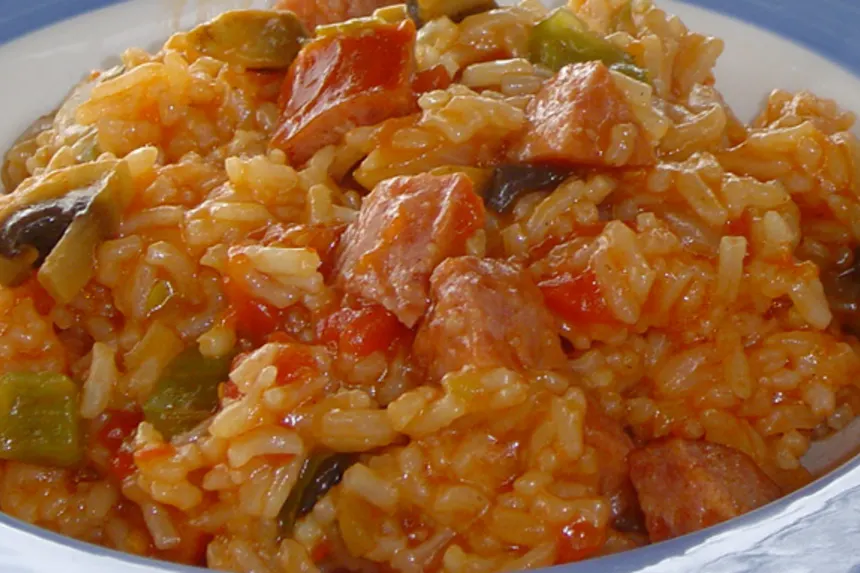 photo by A Good Thing

Ready In:

45mins

Ingredients:

10

Serves:

4-6
directions
If using sausage, cut into small pieces.
In a medium frying pan, over medium heat, sauté garlic, onion, bell pepper, and mushrooms if using, in butter or margarine for 5-10 minutes or until the onions are translucent. Add sausage and cook another 1-2 minutes.
Add rice, sausage or shrimp, vegetables, chicken broth, diced tomatoes, and cayenne pepper to pot.
Stir briefly to evenly distribute all ingredients.
Set rice cooker to cook. Let sit 10 minutes after rice is cooked.
Stir and enjoy!
Questions & Replies

Got a question?
Share it with the community!
Reviews
I used this recipe to inaugurate my 5 cup rice cooker. Cooking time was 40 minutes. Five stars (*****) to this recipe for ease of preparation. I added the optional mushrooms, used kielbasa not shrimp, red bell pepper instead of green, and precooked the veggies and kielbasa in butter with fresh ground pepper. I drained my diced tomatoes to prevent mushiness, and scaled back the amount of rice so that it would fit in my cooker. I used 1 cup of Basmati long grain white rice, and one can of chicken broth. Before adding the broth I mixed in a healthy squirt (5 seconds long from the big bottle) of Sri Racha hot sauce because I don't have cayenne pepper, and I use Sri Racha on everything. I used the recipe's given amounts of veggies and kielbasa, and it fit perfectly in my cooker. I rated this recipe four stars because I felt it was missing a little bit of flavor. I have never made Jambalaya before. Next time I make it (in my rice cooker!) I will investigate and add more seasonings to it. The kielbasa was the most prominent flavor in the dish, which is okay, but the rice component was a tad bland. Could have used more Sri Racha too. >:-) Otherwise, the dish was fantastic. The rice cooked perfectly, and there was only a small layer at the bottom of the cooker that turned a little brown. I mixed it into the rest of the dish and it tastes just fine. Very good vegetable to rice ratio (I like it high) in my modified recipe for a balanced one-pot meal. I had enough for three generously portioned meals. Substitutions: Sri Racha for cayenne pepper Red bell pepper for green bell pepper Modifications: Less rice Less chicken broth Drained tomatoes Next time: Add more seasonings

 

Doubled the recipe in my 10 cup rice cooker so I would have leftovers - couldn't have fit any more - it cooked to about an inch from the top. This was my first attempt at cooking more than just plain rice in the cooker and it worked out very well. I used chorizo instead of kielbasa, and red pepper instead of green, and somewhere between 1/2 - 1 tsp of cayenne. It was not very hot, just flavourful, with the heat coming primarily from the chorizo. Looking forward to leftovers for lunch! Thanks for the great recipe, strawberrybird.

 
Tweaks
Doubled the recipe in my 10 cup rice cooker so I would have leftovers - couldn't have fit any more - it cooked to about an inch from the top. This was my first attempt at cooking more than just plain rice in the cooker and it worked out very well. I used chorizo instead of kielbasa, and red pepper instead of green, and somewhere between 1/2 - 1 tsp of cayenne. It was not very hot, just flavourful, with the heat coming primarily from the chorizo. Looking forward to leftovers for lunch! Thanks for the great recipe, strawberrybird.

 

I used this recipe to inaugurate my 5 cup rice cooker. Cooking time was 40 minutes. Five stars (*****) to this recipe for ease of preparation. I added the optional mushrooms, used kielbasa not shrimp, red bell pepper instead of green, and precooked the veggies and kielbasa in butter with fresh ground pepper. I drained my diced tomatoes to prevent mushiness, and scaled back the amount of rice so that it would fit in my cooker. I used 1 cup of Basmati long grain white rice, and one can of chicken broth. Before adding the broth I mixed in a healthy squirt (5 seconds long from the big bottle) of Sri Racha hot sauce because I don't have cayenne pepper, and I use Sri Racha on everything. I used the recipe's given amounts of veggies and kielbasa, and it fit perfectly in my cooker. I rated this recipe four stars because I felt it was missing a little bit of flavor. I have never made Jambalaya before. Next time I make it (in my rice cooker!) I will investigate and add more seasonings to it. The kielbasa was the most prominent flavor in the dish, which is okay, but the rice component was a tad bland. Could have used more Sri Racha too. >:-) Otherwise, the dish was fantastic. The rice cooked perfectly, and there was only a small layer at the bottom of the cooker that turned a little brown. I mixed it into the rest of the dish and it tastes just fine. Very good vegetable to rice ratio (I like it high) in my modified recipe for a balanced one-pot meal. I had enough for three generously portioned meals. Substitutions: Sri Racha for cayenne pepper Red bell pepper for green bell pepper Modifications: Less rice Less chicken broth Drained tomatoes Next time: Add more seasonings

 
RECIPE SUBMITTED BY
<p>I live in Alaska. I'm always trying to find new recipes and I enjoy sharing my own wild and crazy food experiments with others. My current passion is my rice cooker, which I love; I wish I had more recipes for it.</p>
View Full Profile