Pumpkin Ginger Cake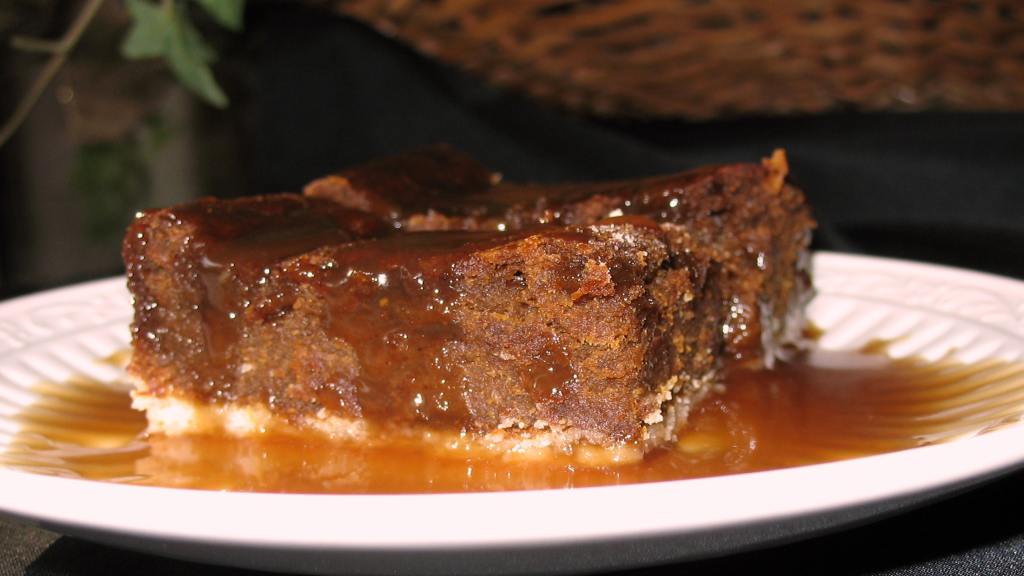 Ready In:

1hr 5mins

Ingredients:

17
directions
Preheat oven to 350 degrees F.
For the cake, in large bowl combine flour & sugar, then cut in butter until mixture resembles fine crumbs.
Stir in pecans.
Measure out 1 1/4 cups of crumb mixture, & press it evenly into the bottom of ungreased 9"x9" baking dish.
To the remaining crumb mixture, add last 9 cake ingredients, & mix well.
Pour evenly into crumb-lined baking dish, & bake 40-50 minutes or until toothpick in the middle comes out clean.
For the caramel sauce, in medium saucepan, melt butter, then stir in sugar & syrup.
Bring to boil, cooking & stirring constantly about 1 minute, or until sugar dissolves.
Stir in whipping cream, & bring to boil again.
Remove from heat, & let cool.
Serve over warm ginger cake.
Join The Conversation
Wonderful flavor...as Mimi pointed out, just slightly different from the usual pumpkin pie flavors but delicious! And the caramel sauce was wonderful; we served with ice cream. It would also be good with whipped cream if your cake and sauce aren't too hot. Now the reason for the no-star review: I didn't know how to rate this because the crust didn't turn into a crust; it was a powder-y layer underneath the cake. I used a glass dish since that was the pan I had of the right size and I wondered if a metal pan should have been used? So I z-mailed Syd who said he has always used a metal pan. This was so yummy that I will try to make again if I can scrounge up a metal pan the right size. :)

I have it on good authority that the chef's Mom said this was a _cake_ and who am I to argue with Mom. So we won't tell her that I was quite sure I had mucked this up when my _cake_ was really more like a wonderfully flavored pumpkin pie bar. It had me fooled while baking since my convection oven bakes hot and after my alloted 35 minutes, my tester still wasn't completely clean. I took it out anyway and then it fell slightly. Boy, was I getting alarmed now. So I cut out a corner to do the taste test and discovered a lovely creamy _cake_ . A quick Zmail to the chef confimed that I was right on target. And the caramel sauce, oh the caramel sauce ... just give me a cup and let me drink it. I followed the recipe to a tee - I thought - until, while cleaning up after baking, I discovered a sneaky bag of pecans hiding behind the flour cannister. I highly recommend this dessert - a breeze to make using a food processor and a taste that's out of this world! Thanks so much for sharing this, Syd!

Despite the long list of ingredients, this is a fairly easy recipe to make. Delish! I used canned pumpkin and fresh ginger instead of powdered ginger. What I really like about this is when you think about pumpkin, a lot of people expect the tradtional "pumpkin pie" taste. While some of the other ingredients remind me of Thanksgiving flavors, the ginger made a delightful, variation of the usual pumpkin partners. Thank you for sharing this delish recipe Mike! **** Made and reviews for ZAARTAG****

Despite the long list of ingredients, this is a fairly easy recipe to make. Delish! I used canned pumpkin and fresh ginger instead of powdered ginger. What I really like about this is when you think about pumpkin, a lot of people expect the tradtional "pumpkin pie" taste. While some of the other ingredients remind me of Thanksgiving flavors, the ginger made a delightful, variation of the usual pumpkin partners. Thank you for sharing this delish recipe Mike! **** Made and reviews for ZAARTAG****