Portsmouth Old City Jail Hot Dogs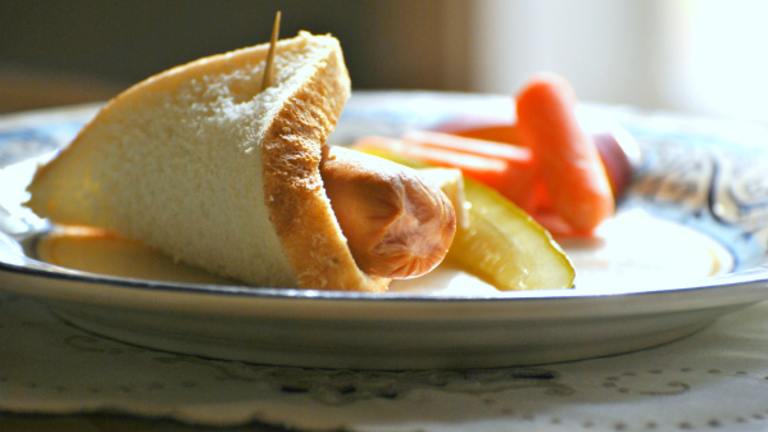 I'm posting this primarily for historical reasons but I like a couple of these "plain dogs" now and then. Back when I was a young state park ranger (1973), I used to have to take an occasional arrestee from my park into town, to the Portsmouth, (Ohio), "Old City Jail". Nowadays, there is no such place as all prisoners go to the new County Jail. The Old City Jail was pretty dreadful, occupied mostly by "the regulars," winos and other derelicts. Anyway, if I took a prisoner in around lunch or supper time, I usually got drafted into helping old Sergeant Thompson feed the inmates. There wasn't a lot of staff (usually just him and me), and we'd fire up the old electric range to boil a huge pot of water. I'd holler in at the trustee for an inmate count and we'd double that number to know how many hot dogs we needed, usually about 60 or so. When the hot dogs were done, the men lined up inside the jail and, through a hole in the steel door, we'd hand each man two slices of bread with two hot dogs on top. That's what each man got for lunch and that's what they got for supper too -- 2 hot dogs and a pop can (with the top cut out) full of cold milk. There was no mustard nor were there any other condiments. Sergeant Thompson always said that if you gave them mustard, it was hard on their stomachs since most of these poor men lived exclusively on cheap wine when they were on the outside. Once in awhile I'd have a couple of these dogs along with the trustee and I must say that I enjoyed those little meals and the appurtenant conversation. Trustees know a lot of things. In any case, if you're in a mood to have something fast and simple, there are certainly worse things that you could eat! Oh yeah, breakfast? They got 2 day-old glazed donuts and a hot cup of boiled coffee -- no cream, no sugar. *.*
Ready In:

20mins

Serves:

Units:
Nutrition Information
ingredients
12

hot dogs (cheap ones)

12

slices bread, day old
directions
Boil the hot dogs in 2 quarts of water for 15 minutes.
Allow them to drain and lay a hot dog on a piece of bread. No condiments are necessary.
Enjoy!
Submit a Recipe Correction
RECIPE MADE WITH LOVE BY
"I'm posting this primarily for historical reasons but I like a couple of these "plain dogs" now and then. Back when I was a young state park ranger (1973), I used to have to take an occasional arrestee from my park into town, to the Portsmouth, (Ohio), "Old City Jail". Nowadays, there is no such place as all prisoners go to the new County Jail. The Old City Jail was pretty dreadful, occupied mostly by "the regulars," winos and other derelicts. Anyway, if I took a prisoner in around lunch or supper time, I usually got drafted into helping old Sergeant Thompson feed the inmates. There wasn't a lot of staff (usually just him and me), and we'd fire up the old electric range to boil a huge pot of water. I'd holler in at the trustee for an inmate count and we'd double that number to know how many hot dogs we needed, usually about 60 or so. When the hot dogs were done, the men lined up inside the jail and, through a hole in the steel door, we'd hand each man two slices of bread with two hot dogs on top. That's what each man got for lunch and that's what they got for supper too -- 2 hot dogs and a pop can (with the top cut out) full of cold milk. There was no mustard nor were there any other condiments. Sergeant Thompson always said that if you gave them mustard, it was hard on their stomachs since most of these poor men lived exclusively on cheap wine when they were on the outside. Once in awhile I'd have a couple of these dogs along with the trustee and I must say that I enjoyed those little meals and the appurtenant conversation. Trustees know a lot of things. In any case, if you're in a mood to have something fast and simple, there are certainly worse things that you could eat! Oh yeah, breakfast? They got 2 day-old glazed donuts and a hot cup of boiled coffee -- no cream, no sugar. *.*"