Polish Dill Pickle Soup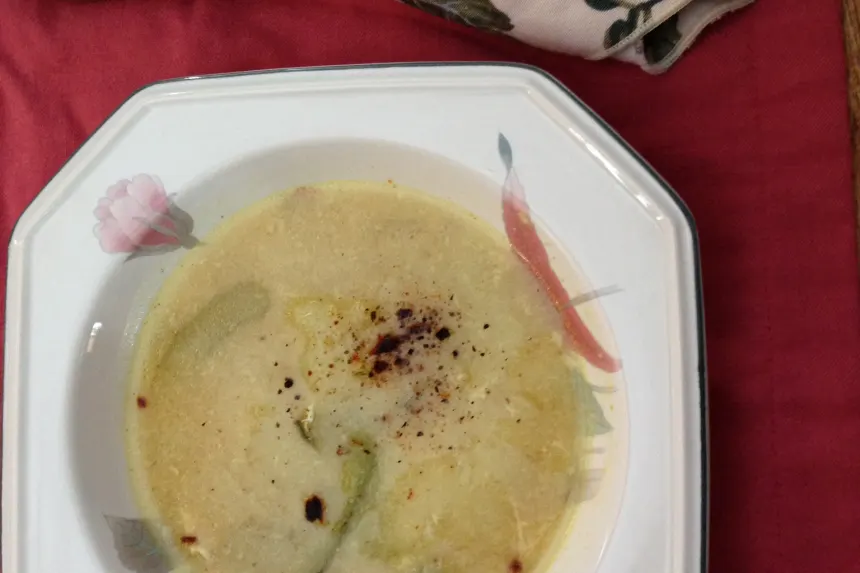 photo by mhaase46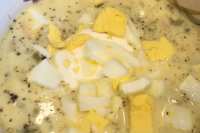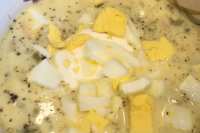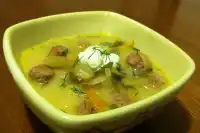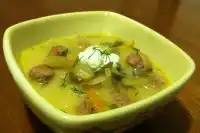 Ready In:

35mins

Ingredients:

11
directions
In a large saucepan or soup pot with cover, combine stock, pickles, pickle liquid & potatoes. Bring to a boil, reduce heat and cook covered, over low heat until potatoes start to get soft (about 10 minutes).
Combine flour and milk, add to broth, bring to a boil and remove from heat.
Combine egg and butter and stir into broth.
Return pot to the stove and heat through without boiling. Season with salt and pepper. Garnish with sour cream and or dill.
Reviews
This is an American take on a great Polish recipe. The soup taste is based on the pickles you use. They must be the salt brined pickles. If you use Vlasic, you are missing out on the flavour. Also, you start out by sautéing grated carrots and onions in just a bit of butter. Then you add the potatoes and cook them till they are soft BEFORE you add the pickles and pickle juice ( the vinegar stops the potatoes from becoming soft) Originally you are supposed to use sour cream to make the soup milky, but American sour cream will curdle, so I recommend whipping cream or half and half. Fresh dill is a must. There is no flour added in the original recipe.

 

Very tasty. The pickle flavor cooks off, even if you put chunks in there. I think I would use more pickles next time. I had turkey stock so that's what I used. Much more subtle than I thought it would be. I think the sour cream garnish is important. I melted the butter, cooled it, and added the egg. When I added the egg to the soup it did the egg drop soup blossoming thing.

 

Really great recipe! Very easy, super inexpensive and delicious. I used my mini chopper to prep my pickles and I diced baby red skin potatoes. After they got soft enough I used potato masher to break them up some more but also leave a little bit of texture. I could not find instant flour so I used quick mixing flour for sauces and gravy and it worked great. Please, do yourself a favor and use fresh dill in this recipe. It adds ton of wonderful flavor. It's one of my favorite soups and I will use this recipe over and over. Thank you Rita!

 

I used to work with a girl from Hamtramck (the old Polish community of Detroit). She bragged about how good her mom's Dill Pickle Soup was. NOW I know what all the fuss was about! I made half the recipe. It's hard to halve an egg, so I hardboiled it and chopped it up as garnish with the sour cream and dill. As one reviewer suggested I used the best pickles (Vlasic garlic dills, of course). Excellent Rita! This is a keeper. Made and enjoyed for PAC Spring 09.

 
Tweaks
I have never had anything like this. If only I had known as a kid to ask my mom to make this, I would have! I have loved pickles since before I could walk. I subbed cornstarch for the egg and instant flour. It is also quick and easy too. It made 10 bowls, so feeds 3-4, if you are serving as an entree. If you are wondering what this tastes like, the title is very accurate - pickle soup!