Plain Bulgur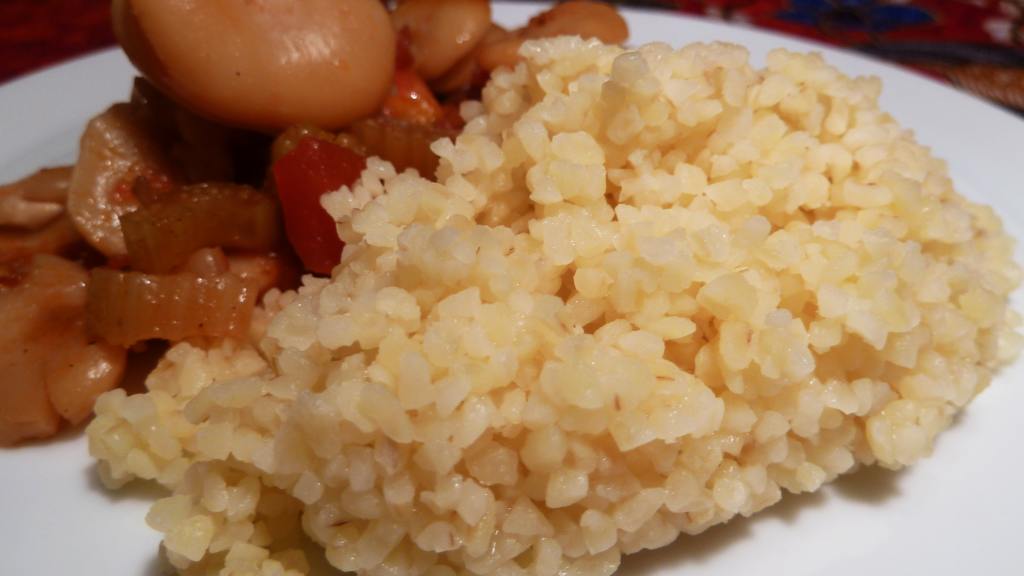 Ready In:

17mins

Ingredients:

4
directions
*Cooked: Add bulgur to water bring to boil, reduce heat, cover and simmer 15 to 20 minutes till liquid is absorbed, fluff with fork.
Soaked: place bulgur and boiling water in bowl. Cover and let sit for 10 minutes. Fluff with fork.
Join The Conversation
Just don't forget the SALT! Added to the bulgur before pouring in the boiling water for the soaking method; or to the water if you are going to "cook" it. I much prefer the soaking method, and the 1 cup wheat to 1.5 cup water gets it done, BUT, I would suggest a modification to a "scant" 1 1/2 cup water. AND, add 3/4 to 1 teaspoon salt! Good Lord, you will be stunned at the flavor difference if you have not been otherwise salting your cooking/soaking bulgur wheat. Happy munching!

 

Simple, healthy and great tasting. I always have bulgur on hand but, for some reason, highly underuse it. I don't know why because I really like it and it's always a welcome break from rice and potatoes. I paired this with a North African seasoned beef stew for DH and I enjoyed just the bulgur cooked as directed with just a 1/2 tsp of butter on it. It was easy on a tummy that was feeling a bit off last night. Thanks Deb :D

 

I tried the new way: soaked bulgur.<br/>Thanks Debbwl, this came out perfect, not to dry, not to wet and fluffy! I think that for this way a not oversized bowl is convenient. <br/>My daughter found out that I prepared the bulgur with a new method and she found it wonderful!<br/>In this way everybody can prepare a warm lunch in the office. You only need hot water to the dry ingredient/s! Perhaps you can add some salt, pepper, dry-roasted onions and a teaspoon tomato paste to the bulgur in advance. After soaking it with hot water you have a ready meal! Why not?<br/><br/>I prepared the bulgur plain with a fava bean stew (fried onions, cooked fava beans, celery stalk, white wine, salt, pepper and a tomato paste).