Pakistani or Desi Style Spicy Chili Chicken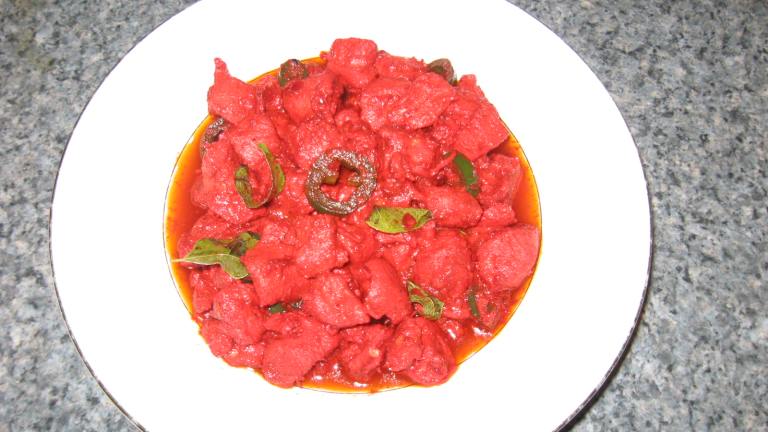 This is a really easy & quick recipe. And guys, I am already warning people with no tolerance to spicy food. Beware. This can be the most spiciest food ever. You can always lessen the amount of red chilli paste in eat but in my views you'll ruin the whole point of this dish. Its one of my all time favorites. I always make this dish with Bhagaar walay chawal( stir fried rice) & spicy green chutney & serve it wit sliced lettuce & cucumbers. For a perfect taste do not add all ingredients at once. The timing in when you add what to a dish while cooking makes a big difference in its taste. Enjoy till you start sweating :)
Ready In:

30mins

Serves:

Yields:

Units:
directions
In a pan add the chicken & stir fry till its half cooked or the water dries up.
Next add 2 tablespoons tandoori spice mix & 2 tablespoons lemon juice & cook on high heat till the chicken is completely done.
Now add the remaining tandoori masala, lemon juice, red food color, & red chili paste. Cook for 5 minutes on high medium heat.
In the end add jalapeno, curry leaves (kari patta) and oil & simmer on medium heat for another 5 minutes.
Your chillie chicken is done. Serve with rice, naan or parathas with chutney, raita & salad.
Submit a Recipe Correction
RECIPE MADE WITH LOVE BY
"This is a really easy & quick recipe. And guys, I am already warning people with no tolerance to spicy food. Beware. This can be the most spiciest food ever. You can always lessen the amount of red chilli paste in eat but in my views you'll ruin the whole point of this dish. Its one of my all time favorites. I always make this dish with Bhagaar walay chawal( stir fried rice) & spicy green chutney & serve it wit sliced lettuce & cucumbers. For a perfect taste do not add all ingredients at once. The timing in when you add what to a dish while cooking makes a big difference in its taste. Enjoy till you start sweating :)"
Today I do not know how I opened Pakistani recipes on the genius kitchen. I am following this food blog from a long time and I am in more love with it after discovering Pakistani recipes. I am so happy to find an easier version of chili chicken. I never thought that I can make it with this much ease at home. Thank you so much for a great share.

Great recipe. My husband has been dying to make our own chili chicken after loving it at Ghareeb Nawaz on Devon in Chicago. We made our own tandoori spice mix http://indian.food.com/recipe/tandoori-masala-spice-mix-333539 and used Ziyad brand red hot pepper sauce. It was spicy but actually not quite as hot as what we were going for, probably due to the brand of chili paste. So next time (and there will be a next time!) we make it we'll probably add some extra chili powder or try a different chili paste. It was fabulous with homemade roti. Thank you so much for the recipe!

Phenomenal recipe! Chili chicken is one of my favorite dishes at the Pakistani/Indian restaurants on Chicago's Devon ave. I tried so many recipes to replicate it at home to no avail until I found this one. This tastes exactly like the real thing. I'm amazed at how ridiculously easy it is to cook. This one is a keeper for sure. Thanks for a gem of a recipe Bint e Naeem.