Original Cinnabon Secret , Served With 3 Sauces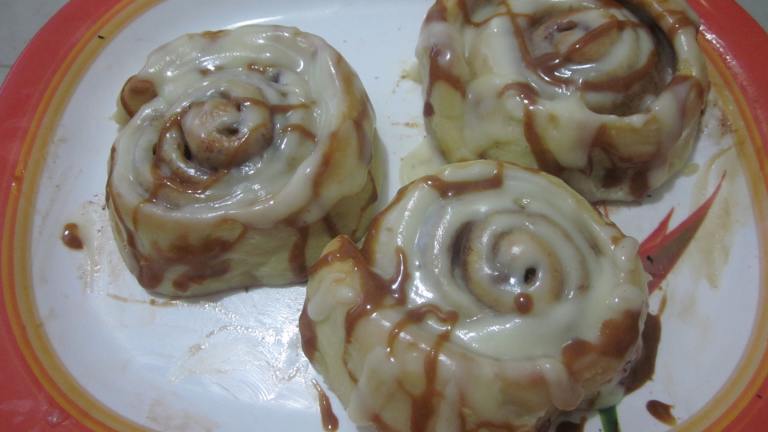 I kept thinking about the secret of original cinnabon and I just discovered it, the pudding mix. this recipe is more delicious than common cinnabon recipes and simulate the original cinnabon. my recipe is modified recipe for who wants less quanitity (3 cups flour only) and for who don't have instant pudding mix.( I will make it) Hope you find it beneficial
Ready In:

2hrs 15mins

Serves:

Yields:

Units:
directions
pudding: add 2 tablespoonsmilk powder, 2 tablespoons sugar, 1.5 tablespoons cornstarch,2 teaspoon vanilla and 0.5 teaspoon salt to one cup of cold milk then stir well till dissolved then turn the flame on and stir till it become viscous.
then allow it to be cooled to room temperature.
Rolls:in new bowel, put 1/4 cup warm water, 1 tablespoon dry yeast and 1 tablespoon sugar and stir till it get dissolved.
after pudding cools put it in bread machine or mixer ,add to it 1/4 cup melted margarine, 1 egg "room temperature", 0.5 teaspoon salt and mix all.then add the yeast sugar water combination and mix again.
then add the 3 cups all purpose flour gradually while mixing till it completely mixed.then cover the dough and allow it to be fermented ,optimum when it becomes doubled in size"may be hour" it differs according to kitchen temperature and if used instant yeast ,it works faster than active dry yeast.
meanwhile make the sauce.
after it become double, spread the dough over a floured board and shape it to rectangle where the wider rib infront of you.
then start to spread the melted margraine over the rectangle and sprinkle over it the mixture of sugar and 2 tablespoons cinnamon or (1 tablespoon cinnamon and1 tablespoon cococa and 1 teaspoon coffe) but leave the most far 1.5 cm at the far rib uncovered with the mixture.then lightly press over this mixture by hand on dough to be fixed to the margarine.
then start to roll the dough tightly till it becomes fully rolled.
then cut the rolls to 10 pieces.then take every piece and make sure that the free end is well fixed to the roll and put it in greasy baking pan 2 inchs apart.
then let it to rest 15 mins before you put in oven, meanwhile start to heat the oven 180 degree.
after that put the pan in the preheated oven and allow it to be baked in range 15: 20 minutes, check it after 15 mins , remove from oven when it become golden, don't over bake.
then put the sauce over it the way you like.the sauce better to be warm or just made when put over the rolls.
white cream sauce:put 1 cup milk, 1.5 cup sugar in a pan then allow them to boil then 250 gm filadelfia or cream cheese and stir well by mixer or by hand quickly then let it to be boiled for sometime then add 1/4 cup butter.
caramel sauce:put 1 cup sugar and 1/4 cup water in a pan and stir till dissolved and let it to boil till the color turn dark golden then add the 1 cup whipping cream while quickly stiring then remove from the flame and add 1 tablespoon butter.
chocolate sauce:put 1 cup milk in a pan then add 50 gm sugar till they boil then add 75 gm dark chocolate and 1 tablespoon cocoa and stir well and leave to boil then add 1 tablespoon butter.
you can keep rest of sauces in refrigator to be used later.
Submit a Recipe Correction
RECIPE MADE WITH LOVE BY
"I kept thinking about the secret of original cinnabon and I just discovered it, the pudding mix. this recipe is more delicious than common cinnabon recipes and simulate the original cinnabon. my recipe is modified recipe for who wants less quanitity (3 cups flour only) and for who don't have instant pudding mix.( I will make it) Hope you find it beneficial"
Nothing like Cinnabon and no better than any other cinnamon roll recipe out there. I followed the recipe to the T and feel like it was a waste of both time and money. No better than the frozen stuff you can get from Ikea. Also feel it would be important to stress at the beginning of the recipe that you can use instant vanilla pudding and save yourself the trouble of making it from scratch. I spent time and money looking for powdered milk that I will most likely throw away along the most of this batch of rolls.

This recipe looks gorgeous but frankly yesterday I read that mashed potatoes are the secret and key ingredient for cinnabon and it means potato-starch.. now I'm reading your recipe and it calls for pudding mix which means cornstarch so, I want to ask if the starch is the key for the fluffy and tender cinnamon rolls?? Thanks in advane