Mung Bean Cake With Coconut Milk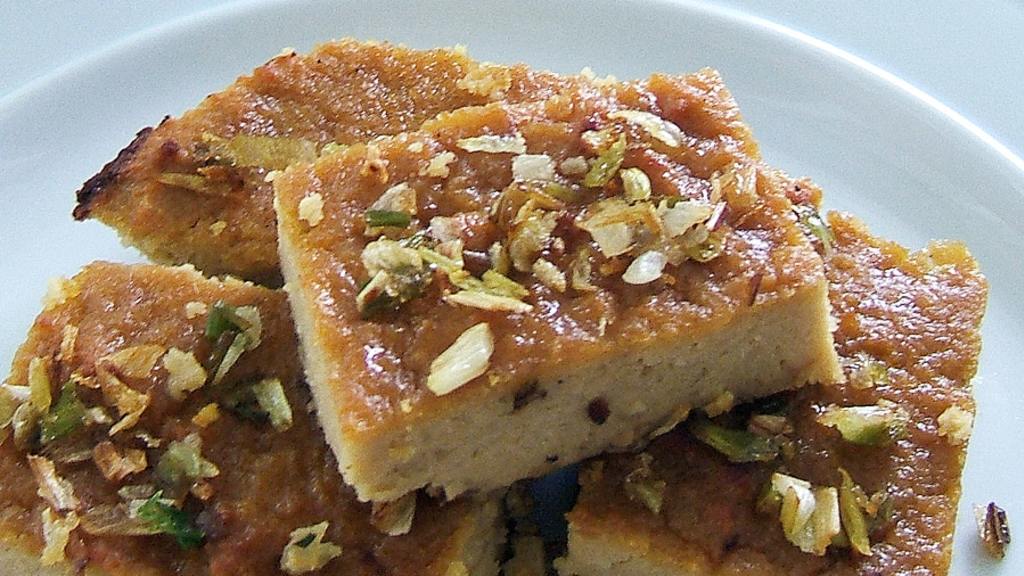 Ready In:

1hr 50mins

Ingredients:

6
directions
In a medium pot, combine beans with 2 cups water and bring to a boil. Reduce heat to low and cook for 20 minutes, until beans are soft. Puree in blender.
In a bowl, beat coconut milk and sugar until frothy. Add eggs and beat well. Add bean puree and mix thoroughly. Put mixture in a saucepan and cook over medium heat until mixture begins to thicken.
Pre-heat oven to 350°F Grease an 8-inch square cake pan (use metal or unbreakable glass). Fold mixture into pan. Bake for 20 minutes. Raise heat to 450°F and bake another 25 to 30 minutes, until cake turns a deep amber.
Remove from oven and immediately immerse pan in 1/2 inch cold water for 10 minutes. Change water to ensure it stays cold and leave pan another 15 minutes.
In a small pan, sauté the shallots until light brown. Drain off the oil and spread the shallots over the top of the cake. Cut into 9 squares. Serve warm or cold. Bean cake will keep 1 week in refrigerator.
Join The Conversation
This is incredible! I wanted to make a low carb birthday cake for DH and danced around this recipe and several chickpea cake recipes - what if just this birthday cake would turn out an unedible mess? Finally I decided to make this one because your recipes never failed me yet and I knew DH would like the unusual shallot topping. I used the palm sugar - and you'd never guess what a hit this cake turned out to be! Had to make five outprints for guests who couldn't believe this was made from a legume! This sure will be a keeper! Thanks for posting this!!

I've been wanting to make this cake for a long time. The ingredients intrigued me. It was difficult to find 'yellow' mung beans but I finally found split ones in a small Asian store. I made this with lite coconut milk and 3/4 cup of Splenda brown sugar blend. I'm not giving a starred rating because I didn't end up caring for it but was glad I tried it and think others may enjoy it. I had fun getting my co-workers to try it and try to guess what was in it. A couple of people loved it, most people thought it was good but they wouldn't make it. No one guessed it had mung beans. Mine turned out with a dense pudding texture so most guesses were potatoes or corn. A few people joked that it smelled like an onion bagel but tasted like a dessert. I couldn't think of it as a dessert. The flavor did remind me of Asian sugar soaked beans. Thanks for posting such an interesting recipe mikekey...it was an adventure! Made for the 1-2-3 hit wonders tag game.

Excellent! The onions added a sweet finishing touch. I didn't have enough palm sugar, so I used the brown sugar option and it was delicious. Not too sweet. The baking time was spot on. The cold water 'bath' was something I never did before, but it wasn't a big deal. NOTE: I should have watched the second cooking time more closely, as mine began to stick and scorch fast. The timing here is not long; maybe 8-10 mins. It all produced a 5-star mung bean cake. The next one I make will be a breeze. Thanks mikekey.

I found this recipe years ago, but don't remember where. I have made it a few times to accompany an Asian meal, and it has always been well-received. Don't let the shallots scare you off. They are quite sweet tasting when browned, like caramelized onions. Mung beans can be found in Asian markets, or Asian sections of larger supermarkets. This is a very dense, moist cake.
RECIPE SUBMITTED BY
WARNING: Make my recipes if you want, but I am no longer an active member and will not acknowledge reviews, photos or answer questions via z-mail. I find this site to be pretty useless without the forums. I can find recipes on a lot of different websites.
View Full Profile