Mama's Spaghetti With Meat Sauce
photo by Bryanna Slade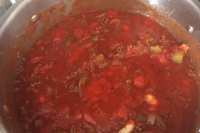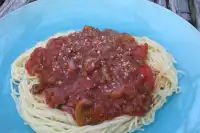 Ready In:

45mins

Ingredients:

15
directions
Brown beef in a saucepot or large, deep skillet over medium heat; drain.
Add garlic and saute until just turning white.
Add onion, celery, and mushrooms. Saute until tender, about 5-7 minutes.
Add tomatoes with juice and tomato sauce. Stir to combine. Add tomato paste and mix together. Stir in herbs and bay leaves. Season to taste with salt and pepper. Add a pinch of brown sugar, if desired.
Bring sauce to a simmer; reduce heat and simmer, uncovered, for 15-20 minutes, stirring occasionally. Meanwhile, prepare pasta according to package instructions.
Before serving, remove bay leaves and taste; adjust seasoning as desired. Serve over hot pasta, sprinkled with Parmesan cheese.
Reviews
My husband is Italian and his grandmother makes the best spaghetti and meatballs. He usually doesn't like anyone else's spaghetti but he loves this one! In fact my whole family likes this one! Since finding this recipe there is no more spaghetti sauce out of a jar in my house. This recipe is quick and easy and has so much more taste than those jared sauce! I use baby bella mushrooms in my sauce and add Italian sausage into the meat mix.

 

H-ko, I love your Momma and her recipe! I made this sauce last evening and it was magnificent. I have multiple comments. First, I made it exactly as directed and this is, as listed, a five-star sauce. It was bright and tomato-ie (?) with a hint of garlic. My wife prefers this sauce "as is", she says 5 stars and I do too. However, AFTER it was done, I tweaked it to suit my personal tastes. I'm not necessarily reccommending that anyone else do this but here's what I did: I added another equal dose of fresh garlic, 12 ounces of chicken stock, a total of 2 Tbsp. of brown sugar and, 5 minutes from the end, I added 1 cup of Cabernet Sauvinon. I also simmered it for an additional 90 minutes, COVERED, stirring frequently. I was much pleased with the outcome. Next time, I will double the total garlic amount AGAIN (but I am a garlic nut). I like having 4 or 5 spaghetti sauce recipes around to break up the boredom, and I like my regular spaghetti sauce but this one is at least as good as my own if not better (both ways). More importantly for me, it's DIFFERENT than my regular sauce. So, in the end, this is an outstanding recipe and I'm glad I decided to try this previously unrated masterpiece -- I could tell it was going to be good when I viewed the ingredients. Thanks so much, H-ko, for posting this fine recipe. Big Pat.

 

I have never made "homeade" spaghetti sauce until this recipe and I have really been missing out!! This will be my new go-to recipe! Delicious and extremely easy! I like that most of the ingredients are things you can have on hand. I skipped on the bay leaves as i didn't have those but it was still great! thanks!!!

 

H-ko, Thank very much for this recipe. I would like to introduce a new designation for repipes in here. It would be QEG(quick,easy and great)and this one is a 10 in that category. Only because the old fart's taste buds are tad jaded did i modify slightly. I added a healthy dash of tabasco and an extra large clove of garlic. Thank you, Wayne