Ham and Cheddar Cream Scones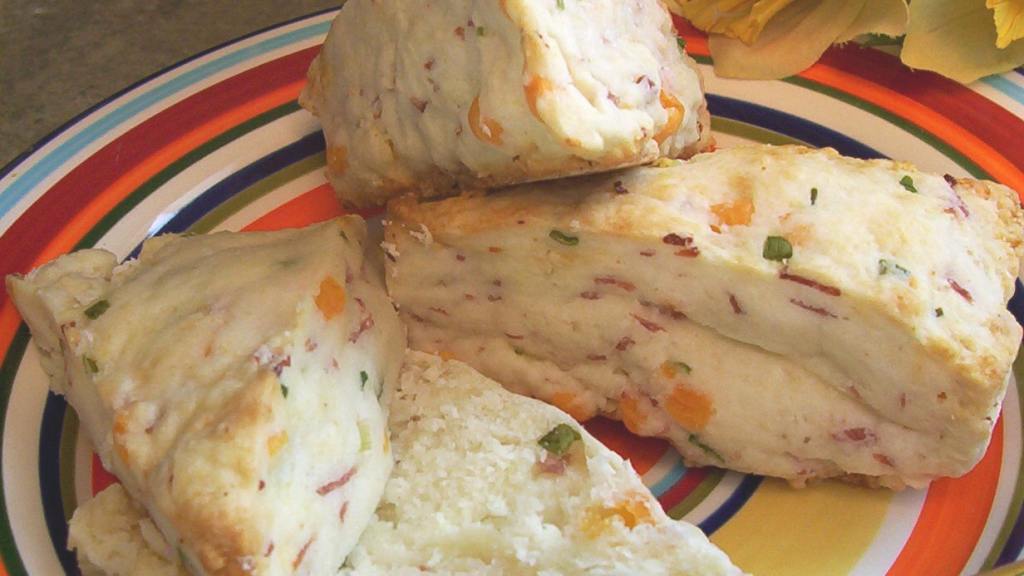 Ready In:

50mins

Ingredients:

8
directions
Cut two 10-inch circles of parchment or waxed paper; Use one to line a 10-inch round cake pan; Reserve the second piece.
Sift the flour, sugar, baking powder, and salt together into a mixing bowl; Make a well in the center of the flour mixture; Add one cup of medium-dice ham, one-half cup of medium dice Cheddar cheese, and one-half cup of sliced scallions to the dry ingredients just before blending in the cream.
Add the cream to the flour mixture and stir by hand just until the batter is evenly moistened.
Place the dough into the lined cake pan and press into an even layer; Cover the dough with the second parchment paper circle; Freeze the dough until very firm, at least 12 hours.
Preheat the oven to 350˚F; Prepare a baking sheet by spraying it lightly with cooking spray or lining with parchment paper.
Thaw the dough for 5 minutes at room temperature; turn it out of the cake pan onto a cutting board; Cut the dough into 10 equal wedges and place them on the baking sheet about 2 inches apart.
Bake the scones until golden brown, 30-40 minutes; Cool them on the baking sheet for a few minutes then transfer to cooling racks; Serve the scones warm or at room temperature; Serve baked scones the same day they are made or freeze for up to 4 weeks.
Join The Conversation
8/9/15: These are amazing and easily the best scones I've ever made! Everyone loved them. They said they were fluffy, tender, addictive, and so good! I made some changes, partly due to taste and necessity. But the base of the recipe was all yours and feel credit should go where it is due. I used 2 c bread flour and 1 c all-purpose, because I ran out of bread flour. I used 1 c heavy cream and 1 c whole milk. The ham I got rid of in favor of bacon, and to make my life easy, I used a 4.3 oz pouch of Hormel's Real Crumbled Bacon which is 1 cup and 1 tablespoon of bacon. I used shredded cheddar instead of dicing some. Instead of scallions I put 1/2 tsp of onion powder in the dry ingredients. I used a 9-inch pan and they took 40 minutes to cook. Otherwise all directions were followed. Thank you for this recipe! EDIT 3/15/17: I'm still making this recipe and I have since tried it as written, delicious! But, the last two times I've made it, I took out all three savory elements and added 1 c. craisins and 1 c. white chips... they are awesome too!

I gave this recipe 5 stars! What a wonderful scone! I got to try a this recipe in my Culinary class. The copy I have came from Maines Paper & Food Service Inc. There are slight differences. The ingredients are slightly different. There is no bread flour is calls for all-purpose flour, 3/4 c sugar, 1 tsp salt. The rest is the same including the directions. Maines says the final cost to make this recipe is $4.33 and it costs .43 cents per portion. When our Chef made these he did different flavors. He made one with cooked bacon, one with cooked sausage and another with orange zest (leaving out the ham & cheddar). I think our chef skipped the freezing part though. These are so good and would make a nice breakfast or a great brunch. I think they would be perfect for on the go. I'll will so make for breakfast some morning! Thanks for posting such a yummy recipe! Christine (internetnut)