German Beef Rouladens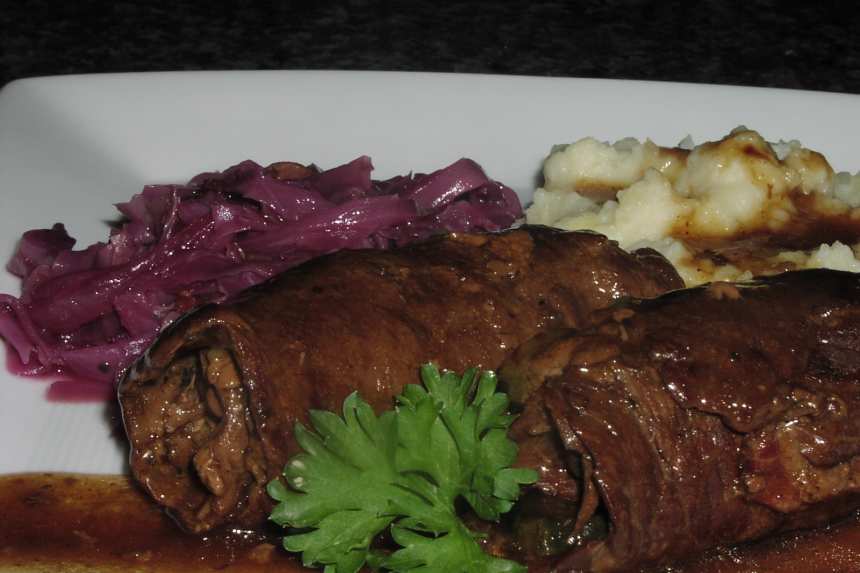 photo by teresas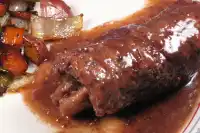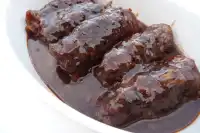 Ready In:

3hrs 30mins

Ingredients:

8
directions
Cut steaks into strips measuring 3 to 4 inches wide. On a floured surface, coat steak strips with flour. Using a meat mallet, pound meat until thin, approximately 1/8 inches (be careful not to pound holes in the meat).
Season each steak strip with salt and pepper. Put a little chopped onion and 1/4 bacon slice onto the top of each steak strip. to make roulades, roll up (jelly-roll style) and tie well with butchers twine.
In a large frying pan over medium-high heat, heat vegetable oil. Add roulades and brown thoroughly on all sides. As each roulade is browned, remove from frying pan and transfer onto a large plate.
When all roulades are browned and removed from the pan, add wine to the pan drippings and let simmer 1 minute (scraping up any browned bits on the bottom of the pan into the wine).
In a large heavy baking pot or Dutch oven, place roulades and cover with the wine mixture; add water to just cover the roulades. Simmer gently 2 hours or until tender.
When done, remove from heat and let cool.
Remove strings and place back into the liquid. At this point, refrigerate the roulades in the wine mixture overnight.
When ready to serve, place the roulades, with the liquid, back on the stove. Using medium to medium low heat, gently reheat the roulades.
Once heated and ready to serve, remove the roulades from the liquid and place on a large platter.
Make the gravy: Add enough flour to thicken. Cook over medium heat, stirring constantly, until the mixture is thickened and bubbly, about 10 to 15 minutes. Season to taste with additional salt and pepper. Remove gravy from heat and transfer into a large serving bowl.
Reviews
So...so...delicious...when ever I find the thin slice round steaks available at the grocery store I snap them up for rouladens...I cut the recipe in half and just slapped on the other ingredients...it's so easy...I did thicken my gravy with cornstarch and instead of using water I used a can of consomme soup...it's adds extra yummy beef flavors...I'm not sure if the overnight resting period made a different or not...but the end result was very tasty...I served it with mashed potatoes and my red cabbage...made for Alphabet tag game...

 

I have been making rouladen for over 60yrs,my mom taught me a different type.I use bacon,onion and bread crumbs,I saute the onion and bacon in bacon grease and then add the bread crumbs .roll up beef w toothpicks to keep the stuffing inside,flour them and fry them in extra bacon grease not a lot but enough so meat doesn't stick,after browning I add liptons onion soup,beef broth,a small can of tomato sauce and marjoram.cook until tender..I also add any leftover onion,bacon and breadcrumbs into the sauce...try it you might like it,my husband is salivating right now,I just made a batch and it is slowly cooking.