Fondant for Sculpting or Making Decorations for Cakes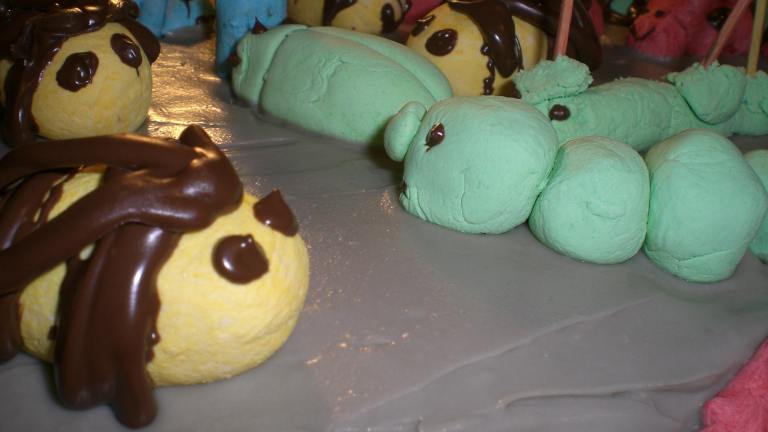 Ready In:

45mins

Yields:

Units:
directions
Sprinkle the gelatin over water in a small heatproof glass cup and allow to sit for 5 minutes. Set in a small pan of simmering water and stir until the gelatin is dissolved. (This can be done in a few seconds in a microwave on high power). Remove from heat.
Combine the sugar, cornstarch and optional cream or tartar in a large bowl and make a well in the center. Add the gelatin mixture and stir with a wooden spoon until blended. Mix with lightly greased hands and knead vigorously in the bowl until the sugar is incorporated.
Turn onto a smooth, lightly greased surface such as Formica or marble and knead until smooth and satiny. If the pastillage seems very dry, add several drops of water and knead well. If it seems too sticky, knead in more powdered sugar. The pastillage will resemble a smooth, well-shaped stone. When dropped, it should not spread.
Pastillage is easier to work with if it has rested for at least 1 hour. It dries very quickly, so it is important to cover to prevent drying. Wrap in a cloth rubbed with a bit of white shortening, then tightly in plastic wrap, and place it in an airtight container.
When ready to roll out, spray the work surface and rolling pin with nonstick vegetable oil spray. Pastillage can be rolled as thin as 1/16-inch. It dries and holds it shape very quickly.
If stored Pastillage seems very stiff, a few seconds in the microwave make it pliable. To give it the look of real marble, dab it with a bit of coffee concentrate or brown food color and knead only until the color streaks.
Submit a Recipe Correction
This worked perfectly for me. If I knew how to load pics I would proudly display the little creations that we made with this recipe. My daughter was making a cake diorama for school and needed a recipe that we could use that was 1. QUICK 2. EASY and 3. Would harden quick. This one fit the bill and despite the very bad review from the other poster we decided to give it a shot. It worked wonderfully. We were able to work with the dough in a relatively short time. It worked and colored well and the things dried up overnight. (out usual recipe drys slower and gets soft in the refrigerator -- this one does not) Not the most pallable to eat - just bland as are most of the decorator mediums we could choose to do this project with. For us it was not for taste but for looks -- and again this worked wonderfully. RECOMMEND!!