Fluffy Dumplings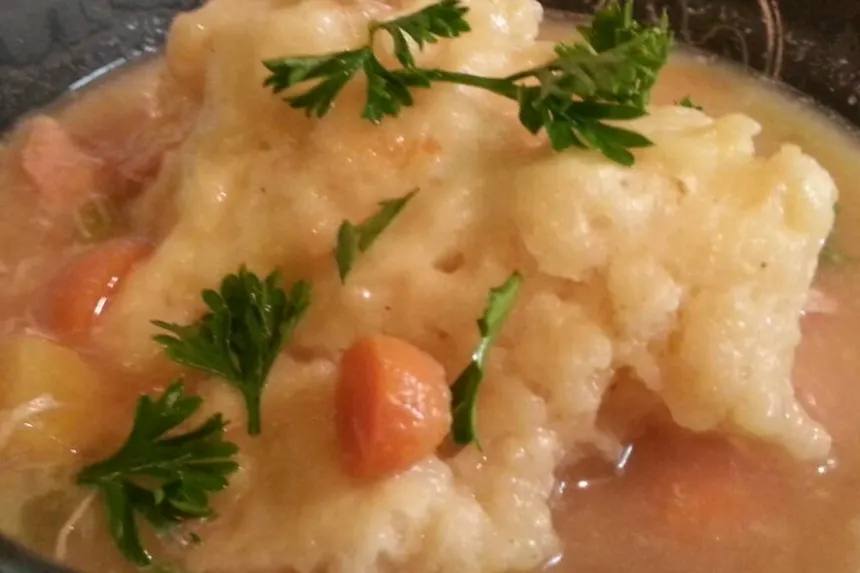 photo by zuponi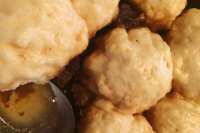 Ready In:

25mins

Ingredients:

5
directions
Sift flour, baking powder and salt.
Beat egg until light and fluffy and add to dry ingredients.
Stir in milk.
Drop by tablespoons on gently boiling vegetable gravy.
Cover tightly and cook 15 minutes.
Do not peek.
Reviews
This is THE dumpling 'recipe' Mom always made! She didn't use a precise, measured recipe, per se, and just mixed them up by 'sight' and 'feel', but these taste like and have the same texture as Mom's! Even when Mom would tell me how to make dumplings, I just could not get it right. Her 'handful' of flour, etc. was always different than mine. Mine would turn out rather flat and tasteless, not light and 'spongy-textured' like these. Sadly, Mom passed away 3 years ago and I thought her dumplings went with her. 'Thank you' and '5 Stars' is not enough here...so 'Thanks a million' and 'umpteen stars' for helping me re-create my own wonderful memories for my grandson! He loves these, too! By the way, I boiled an entire, cut-up chicken with celery, onion, carrot and a few seasonings, then picked the bones clean and added the meat back to the broth. I stirred-up these wonderful dumplings and plopped them atop the bubbling stewed chicken and put a tight-fitting lid on for 15 minutes. I told my family that the person taking the lid off before that time would be sitting in a room eating bread and crackers for supper, so no one dared to touch that lid!! Boy, were they glad they didn't! We ALL loved this! Made it last week and we're having it, again, tonight, by request!!! Thanks so much!!!

 

Perfect fluffy dumplings. I suspect the person who had problems was using old baking powder. Look at the expiration date. If it is getting close to the expiration, dispose of and get new. Sifting the dry ingredients also helps make sure they are light. The baking powder needs to be mixed in well with flour which needs to be light and not packed at all. The biggest problem I see in baking with baking powder is old powder or powder that has been left exposed. The older it gets, the less it works.

 

Perfect. I also agree with neil.dominy. If your recipe isn't rising, chances are your baking powder is old or not sealed properly. I started making my own (2 tsp. Cream of Tartar+ 1 tsp. Baking Soda-don't made ahead of time) and I will NEVER go back. Makes a world of difference even when using the freshest baking powder. As for these dumplings... they are perfect as is... and the recipe makes the perfect amount. I added parsley to mine. Entire family loved them.

 

These were light and fluffy. My wife also loved them. I have no idea why anyone buys Bisquick. They mix up in just minutes and you can control the amount of salt. As stated, you can also add shredded cheese, chili powder, parsley, or ??? I don't think I have every run into anyone who DID NOT like dumplings. Jim in So Calif.