Finnish Cookies / Danish Finsk Broed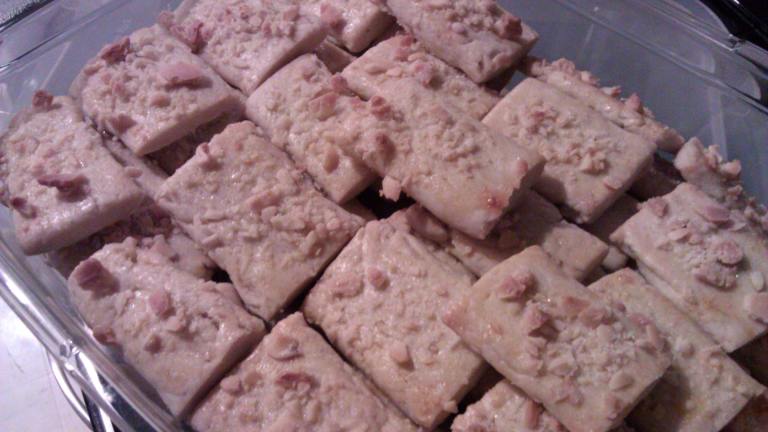 These cookies are very delicate and melt in your mouth. The name is a bid odd, it is a Danish cookie but directly translated called 'Finnish Bread'. The dough needs to rest for at least one hour which is not included in the prep time. Note - The dough can be frozen for easy planning UPDATE: After Mersaydees review I would like to add that whole raw alminds can be easily skinned/blanched if placed in very hot water for 2 min. This loosens the skin and make it pop off without effort
Ready In:

40mins

Serves:

Yields:

Units:
ingredients
3 3⁄4 cups all-purpose flour (375 g)
1⁄2 cup sugar (85 g)

1

cup butter

2

eggs, divided, NOTE
1⁄4

cup almonds, skinned (best if freshly skinned whole almonds are used instead of pre-skinned in a package)

1

tablespoon sugar
directions
Mix flour and sugar in a bowl, cut the butter in small pieces and cut it into the flour mixture.
Whip one egg and add to the dough, Gather the dough quickly. If you find the dough is too dry you can add a bit of water to help gather the dough.
Divide the dough into 4 portions and roll the dough into long ropes about as thick as your finger. Flatten the 'ropes' and cut them into 2 inch long cookies.
Place the cookies on cookie sheets lined with parchment paper and let them rest in a cool place for at least one hour.
Meanwhile - chop the almonds roughly and mix them with 1 tbsp sugar.
Whip one egg.
Preheat oven to 400°F.
Brush the cookies with egg and dust with almond/sugar mix.
Bake the cookies for 12-15 min at 400 F until golden.
Submit a Recipe Correction
RECIPE MADE WITH LOVE BY
"These cookies are very delicate and melt in your mouth. The name is a bid odd, it is a Danish cookie but directly translated called 'Finnish Bread'. The dough needs to rest for at least one hour which is not included in the prep time. Note - The dough can be frozen for easy planning UPDATE: After Mersaydees review I would like to add that whole raw alminds can be easily skinned/blanched if placed in very hot water for 2 min. This loosens the skin and make it pop off without effort"
Interesting cookies! I found these to be a lot of work. I love to bake, however, I'm not as proficient as some Danes or Finns who make baked goods for the coffee table. My husband watched me make these and I have him to thank for putting the brakes on adding more water to make the dough more cooperative. He said he watched me add the butter and these looked like they should be a lot like shortbread cookies. When they were done we both thought they needed more sugar. These took me about 2 hours to make not including the hour's "resting" time! The 2 hours included skinning the almonds; I'm sure I'd go the pre-skinned route the next time simply because each almond has to be skinned individually -- I don't have a machine (or kids) to do it! I chose this recipe because not only is it somewhat related to Finland, I thought it would be quick to put together -- it isn't in my case. In my opinion this is an advanced baking recipe. Thanks, Deantini! Happily made for Newest Zaar Tag Game.

These cookies are very delicate and melt in your mouth. The name is a bid odd, it is a Danish cookie but directly translated called 'Finnish Bread'. The dough needs to rest for at least one hour which is not included in the prep time. Note - The dough can be frozen for easy planning UPDATE: After Mersaydees review I would like to add that whole raw alminds can be easily skinned/blanched if placed in very hot water for 2 min. This loosens the skin and make it pop off without effort