Delicious Homemade Bread by Hand (White or Wheat)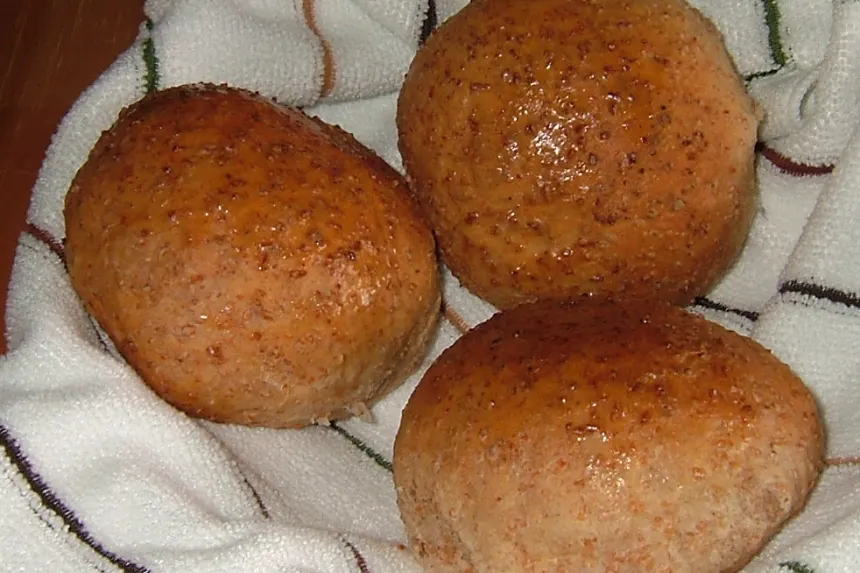 photo by mianbao

Ready In:

2hrs 31mins

Ingredients:

6

Serves:

12
ingredients
3 1⁄2 cups white flour
1 1⁄3 cups warm water (not hot but not cool either)
2 1⁄4

teaspoons bulk yeast (or 1 packet of yeast)

3

tablespoons sugar
1⁄4

cup vegetable oil

1

teaspoon salt
directions
Mix yeast and warm water in a large bowl and let sit for 10 minutes. During this time you should see bubbles appear in the water (perfectly normal).
Once yeast and water have sat for 10 minutes, add the oil, salt, sugar and 1 cup of flour. Mix with a hand mixer for 2 minutes. After the 2 minutes, stir in the rest of the flour and mix with a large spoon until you can no longer mix by spoon and continue by hand kneading as you go. Once you have all flour completely mixed in, you should have a texture that is NOT sticky and not dry (if it IS sticky add more flour and if it IS dry, add a LITTLE more water until desired consistency is reached). Roll into a dough ball.
Place in an oiled boil (must be oiled and not sprayed) and flip one time. Cover with a damp towel and place in warm environment (NOT HOT). What I do is preheat the oven to 170 and then immediately turn off while I'm mixing the dough - this leaves the oven at the perfect temperature to rise. Let rise for 1 hour OR until doubled in size.
Remove towel and dough and place dough ona lightly floured surface. Knead the dough and roll out into a large rectangle (you MAY need to lightly flour your rolling pin as well). You will now roll the rectangle back up along the short side (if you roll along the long side it will not fit in your bread pan). Pinch seams together on bottom and on ends and place seem side down into a sprayed full-size loaf pan. Place a damp towel over the loaf pan and put it back into the oven to rise a second time (again no heat on) for 30 minutes.
Remove from oven at about 24 minutes and let it rise the last 6 minutes on the counter while you preheat your oven to 370 degrees F.
Place uncovered loaf pan into the oven and bake for 30-32 minutes.
Cool on wire rack and allow cooling time before cutting. Enjoy!
Reviews
This worked out fine for me. I used half whole wheat flour and half white bread flour. I also cut the yeast by 1/3. I mean, I doubled this recipe, so should have used 4 1/2 teaspoons yeast. I only used 3 teaspoons yeast because the weather here is very warm, and I didn't want the dough to overferment. I also upped the salt a bit. I got two medium (615-gram) loaves and eight (about 100-gram) hamburger buns. Thank you very much for sharing this recipe with us. I liked the idea of using oil and honey, rather than butter and sugar. I forgot to add, I did cut back on the amount of honey, also, because I wanted bread for sandwiches, mainly. I used less than 1/4 cup honey for the double batch.