Death by Chocolate Overdose Cake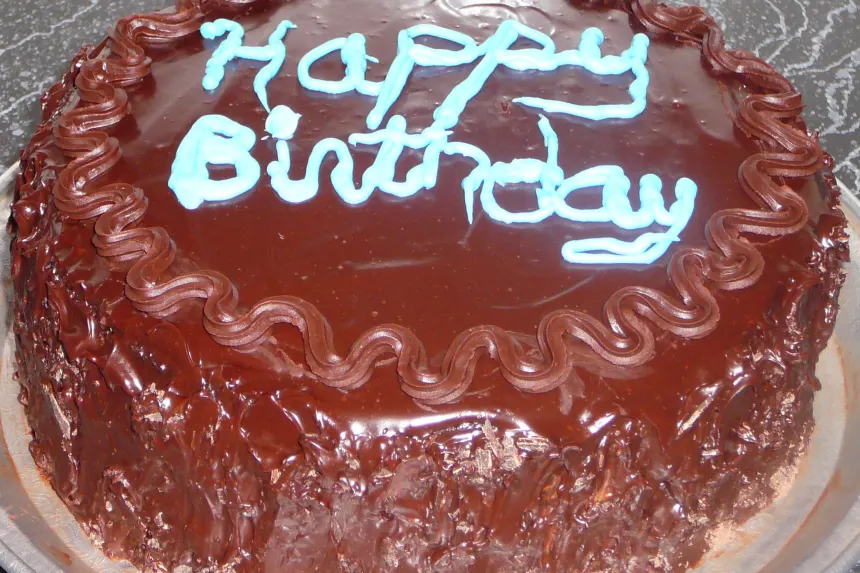 photo by ame2sky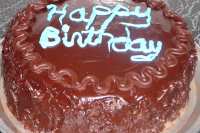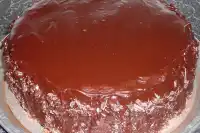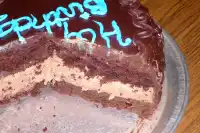 Ready In:

2hrs 30mins

Ingredients:

26
directions
Adjust oven rack to middle position; heat oven to 325 degrees.

For the Brownie Base Layer:

Cut parchment paper to fit bottom of a 9-inch springform pan & spray with cooking spray.
Whisk to combine flour, salt, & baking powder in medium bowl; set aside.
In microwave-safe bowl heat butter & chocolate on high for 45 seconds, then stir and heat for 30 seconds more. Stir again, if necessary, repeat in 15-second increments until melted; do not let chocolate burn.
When chocolate mixture is smooth gradually whisk in sugar. Add eggs one at a time, whisking after each until thoroughly combined. Whisk in vanilla. Add flour mixture in two additions, folding with spatula until batter is completely smooth and mixed.
Transfer batter to prepared pan; using a spatula to spread batter evenly and smooth. Bake until toothpick inserted into center of brownies comes out with a few moist crumbs attached, 25-30 minutes. Cool on wire rack to room temperature, about 1 hour (do not remove the springform ring).

For the Cake Layer:

Line bottom of 9-inch round cake pan with parchment & spray with cooking spray.
Combine chocolate, cocoa powder, & hot water in a medium microwave-safe bowl & heat until melted; about 45 seconds. If needed, heat in additional 15 second intervals until melted. (Do not burn) Add 1/4 cup sugar to chocolate mixture and stir until thick and glossy, 1 to 2 minutes. Set aside to cool.
Whisk flour, baking soda, and salt in medium bowl. Set aside. Combine buttermilk and vanilla in small bowl and set aside.
In bowl whisk eggs and yolks on medium-low speed until combined, about 10 seconds. Add remaining sugar, increase speed to high, and whisk until fluffy and lightened in color, 2 to 3 minutes.
Add cooled chocolate mixture to egg/sugar mixture and mix on medium speed until thoroughly mixed, 30 to 45 seconds, scrape down sides of bowl with spatula as needed. Add softened butter 1T. at a time, mixing about 10 seconds after each addition. Add about 1/3 of flour mixture followed by 1/2 of buttermilk mixture, mixing until incorporated after each addition (about 15 seconds).
Repeat using 1/2 of remaining flour mixture & all of remaining buttermilk mixture (batter may appear separated). Scrape down sides of bowl & add remaining flour mixture; mix at medium-low speed until batter is thoroughly combined, about 15 seconds. Remove bowl from mixer & fold batter once or twice with spatula to incorporate any remaining flour. Pour into prepared pan & smooth.
Bake until toothpick inserted into center comes out with a few crumbs attached, about 30 - 40 minutes. Cool cake in pan 15 minutes, then invert onto wire rack and cool completely.

Chocolate Mousse Filling:

Place stand mixer bowl and whisk attachment in the freezer or fridge.
Chop the chocolate and place in medium bowl. Heat 1/2 cup of the heavy cream in microwave-safe cup until it begins to boil. Pour hot cream into bowl with chopped chocolate and whisk until smooth. Let cool for about 15 minutes.
Once chocolate mixture is cooled, place remaining heavy cream(1 1/4 cup plus 2 T) and sugar in the well-chilled bowl of an electric mixer fitted with a well-chilled whisk attachment. Whisk on high until stiff peaks form, about 1 1/2 minutes. Remove the bowl from the mixer.
Gently fold in chocolate mixture with the whipped cream mixture.

Ganache:

Heat the heavy cream and the butter in a microwave-safe bowl. Bring to a boil.
Place the chopped semisweet chocolate in a 3-quart stainless steel bowl. Pour the boiling cream over the chocolate and allow to stand for 5 minutes. Stir until smooth. Ganache should be brought to room temperature (about 40 minutes). There will be ganache left-over after icing cake. You could chill about 1 cup to use for additional decorating if desired.

To Assemble:

Spread mousse over top of the brownie base evenly. Use an offset spatula or bench scraper to smooth the top.
Place cake round over mousse, pressing down lightly. Chill for 1 hour.
Remove springform ring and parchment collar. Use a spatula to smooth the room temperature ganache over the cake top and sides, covering evenly.
Decorate with chocolate shavings on the sides if desired and with the additional chilled ganache if desired.
Questions & Replies

Got a question?
Share it with the community!
Reviews
Have any thoughts about this recipe?
Share it with the community!