Death by Chocolate a La Trellis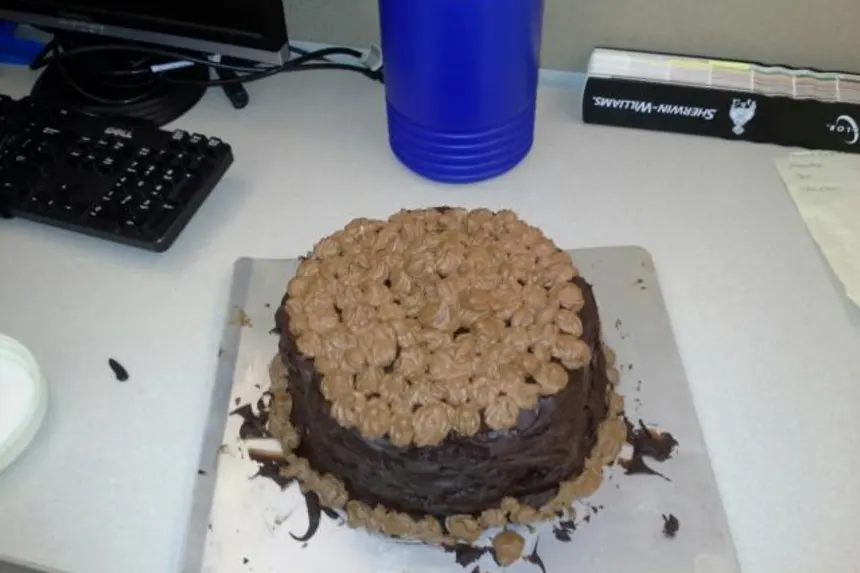 photo by Larry V.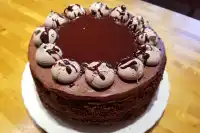 Ready In:

28hrs

Ingredients:

42

Serves:

12-15
directions
Take a deep breath. Make sure that you will have several uninterrupted hours to cook, and that you've cleaned off all of your kitchen space. Preheat the oven to 225°F
Good job! Now trace a 9-in circle onto parchment paper using a cardboard cake circle and put it onto a baking sheet.

COCOA MERINGUE LAYER:

Put the 4 egg whites, cream of tartar, and salt into the electric mixer bowl. Whip on high (using the balloon whip attachment) until soft peaks fom - about 45 to 50 seconds.
Gradually add 1 cup sugar while still on high. Continue to whip until the peaks are stiff, about another 1 1/2 minutes.
Remove the bowl and use a spatula to fold in and thoroughly combine the remaining 1/4 cup sugar, 2 tbsp cocoa, and 1 tbsp cornstarch.
Fill a pastry bag with the cocoa meringue (if you have no pastry bag, fill a ziploc bag and snip off one of the corners). Fill the traced parchment circle with meringue: start piping in the center and spiral outwards so that the whole circle is filled.
Place the meringue in the oven and bake for 15 minutes. Then lower the oven temperature to 200°F and bake for 2 hour, 45 minutes more.
Remove the meringue for the oven and let it cool on a rack for about 45 minutes before handling. Raise the oven temperature to 325°F.

CHOCOLATE MOUSSE LAYER:

You can begin preparing this while the meringue is baking and cooling. Heat 1 inch of water in the bottom half of a double boiler over medium heat (If you are not fortunate enough to own a double boiler, just stack a small saute pan on top of a small sauce pan. The lip of the saute pan should be just a bit wider than the sauce pan so that no steam escapes. Be very careful to keep any moisture out of your chocolate while you are melting it, or else it will seize and be very difficult to work with).
Place 6 oz of semi-sweet chocolate in the top of the double boiler and tightly cover the top with plastic wrap (do not allow the wrap to touch the bottom half).
Allow the chocolate to melt slowly, about 9 to 10 minutes. Remove from heat and stir until smooth. Keep at room temperature until needed.
Place 1 1/2 cups heavy cream in the well-chilled bowl of an electic mixer. Whip on high (using the balloon whip attachment) until peaks form, about 1 minute. Set aside.
Whisk 3 eggs whites in a large stainless steel bowl, until soft peaks form (about 3 minutes).
Add 2 tablespoons of sugar and continue to whisk until stiff peaks form, about 2 to 2 1/2 minutes.
Add a quarter of the heavy cream to the chocolate and whisk quickly, vigorously, and thoroughly, then add it to the eggs whites. Now add the remaining heavy cream. Fold everything together gently but thoroughly, and put it in the fridge until needed (for at least 2 hours).

CHOCOLATE BROWNIE LAYER:

Make sure that the oven is still set to 325°F
Butter a 9 x 1 1/2 inch cake pan, then coat it with flour (shake out any excess).
Sift together 1/4 cup flour, 2 tbsp cocoa powder, 1 tsp baking powder, and 1/3 tsp salt a small bowl, and set aside.
Set up another double boiler. Place the 3 oz unsweetened chocolate, 4 tbsp butter, and 2 oz semi-sweetened chocolate in the top half.
Tightly cover the top with plastic wrap, and heat for about 4 1/2 to 5 minutes. Remove from the heat and stir until smooth.
Put 3 eggs, 1 cup sugar, and 1 tsp vanilla extract in an electric mixer. Whip on high (using the balloon whip attachment) until slightly thickened, about 1 1/2 minutes.
Add the melted chocolate mixture to the egg mixture and mix on medium for 30 seconds.
Add the sifted dry ingredients and mix on low for 10 seconds, then on medium for 10 seconds.
Add the sour cream and mix on medium for 5 seconds.
Remove the bowl and use a spatula to thoroughly combine any unmixed elements.
Pour the batter into the prepared care pan, spreading evenly. Gently bang it down on the table a few time to help level out the batter.
Bake in the oven until an inserted toothpick comes out clean, about 35 minutes.
Remove and allow to cool for about 5 minutes, then refrigerate for 15 to 20 minutes.
Remove the brownies from the fridge and use a 9 inch cardboard cake circle to trim off the edges and make your rectangle a circle. Now, cut it in half horizontally: if it is still in the pan, take it out and cut it so that you have a top half and a bottom half, both of which are still 9 inch circles.

GANACHE LAYER:

Heat 1 1/2 cups heavy cream and 3 tbsp butter in a 2 1/2 quart saucepan over medium-high heat. Bring to a boil.
Put 22 oz semi-sweet chocolate in a stainless steel bowl. Pour the boiling cream over the chocolate and allow to stand for 5 minutes. Stir until smooth.

MOCHA MOUSSE:

Set up another double boiler.
Put 14 oz of semi-sweet chocolate, 4 oz unsweetened chocolate, 1/2 cup water, instant coffee, and 2 tbsp cocoa in the top half of the double boiler.
Tightly cover with plastic wrap and heat for about 6 to 7 minutes, remove, and stir until smooth.
Put 5 egg whites in an electric mixer. Whip on high (with the balloon whip attachment) until soft peaks form, about 1 minute.
Continue to whip while gradually adding 2 tbsp sugar. Whip an additional 30 seconds or so, until stiff.
Whip 3/4 cup heavy cream in a chilled stainless steel bowl until stiff.
Fold a fourth of the egg whites into the melted chocolate mixture, then fold in the whipped cream. Fold in the remaining egg whites.

MOCHA RUM SAUCE:

Heat 6 oz butter in a 2 1/2 qt saucepan over medium heat.
Once melted, add 1 1/3 cups sugar, 1 1/3 cups heavy cream, 8 tbsp cocoa, 2 tbsp rum, and 1/4 tsp salt. Whisk to combine.
Bring to a boil and lower the heat, then allow to simmer for 5 minutes. Stir occasionally.
Remove the saucepan from heat. Add 4 tsp instant coffee, 1 tsp vanilla, and 1 tbsp rum. Stir until smooth.
Allow to cool before serving.

ASSEMBLY!:

Put a closed 9x3 inch springform pan on a baking sheet.
Carefully place the top half of the brownie circle inside, topside up.
Ladle 1 1/2 cups of ganache over the brownie layer. (If the ganache has solidified, put the bowl in a pan of hot water and stir until the correct texture is achieved).
Use a knife to trim off any of the cocoa meringue that got outside of the 9 inch circle you traced underneath it.
Then peel off the parchment paper and very carefully place the meringue, top-side up, inside of the pan. Press down gently to eliminate air pockets.
Spoon the mocha mousse evenly on top of the cocoa meringue.
Place the remaining chocolate brownie half, bottom side down, on top of the mocha mousse.
Chill the cake in the fridge for 1 hr, or in the freezer for 30 minutes.
Take out the cake and cut along the inside of the pan to release it.
Pour the remaining ganache over the cake and use an icing spreader to spread the ganache evenly over the top and sides.
Put the cake back into the fridge for another 10 to 15 minutes to set the ganache.
Fill a pastry bag fitted with a large star tip (Once again, use a ziploc bag if you do not have this. you will not be able to achieve the same decorative effects, but practice a few times on a plate and you can use this system to make little bulbs or a criss-cross pattern on the top).
Pipe a circle of stars (each closely touching the other) along the outside edge of the top of the cage. Circle inwards until the cake is covered. Refrigerate the cake for at least 4 hours (12 is preferable) before serving.
To serve, run a serrated knife under hot water between each time you slice the cake. Arrange the slice on a decorative plate (larger slice/smaller servings will stand upright better and look nicer).
Flood the plate with 3-4 tbsp of the Mocha Rum Sauce, and serve with a smile. And a stiff drink ;).
Questions & Replies

Got a question?
Share it with the community!
Reviews
Yes, I finally made this recipe to celebrate the completion of a class on creativity. This was my creative project and it was quite a job. The only real difficulty I had was trimming the meringue layer. It is good to do this in stages, but refrigerating the chocolate mousse was a mistake - I had to try and get it pliable enough to use in a pastry bag by using short burst of the microwave - very tricky! It was delicious and very impressive - not to mention quite expensive. FYI - Marcel uses grocery store Baker's Chocolate in his restaurant and it was good enough for me! I don't know if I will ever do it again in total, but all the components were terrific - especially the Mocha Rum sauce. Good luck! It is worth the trouble at least once in your life. Sundowner02

 

Made this about 20 years ago. It took days to complete, and tasted absolutely phenomenal. But I was so sick of the repeated mess of all the steps that I couldn't even get down one piece! Good thing everyone else was totally blown away by it. This is one that you have to really want to make, as it's very time-consuming and demanding. Not for a beginner, for sure. It's a little easier to do piecemeal, i.e. make the brownie layers one day and freeze (thaw before assembling if you plan on eating it soon after completion,) make the meringue the next day. Best to make the mousses and ganache the day you're going to assemble. Be prepared for a chocolate mess from one end of your kitchen to the other! I found it helpful to just throw things in the dishwasher as soon as I used them, but you'd better plan to have plenty of bowls to use for the various steps. I shaved a dark chocolate over the whole thing just before serving. Kodak moment! Although it's a lengthy process, the end result, both in presentation as well as taste, is more than worth it. Fit for your most important occasions.

 
RECIPE SUBMITTED BY
Recently graduated and recently married I love to make things by hand - this includes anything for jewelry to home decor and (of course) to delicious, wholesome food.
View Full Profile