Crumpets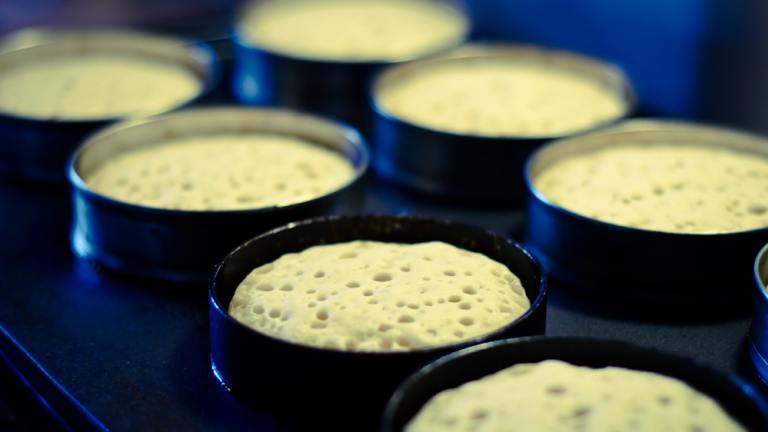 Ready In:

1hr 13mins

Yields:

Units:
directions
NOTE:- 1 tsp dry yeast can be used in place of the compressed yeast; sift it with the dry ingredients.
Sift flour, baking powder, sugar and salt into a large bowl.
Dissolve yeast in water, add to dry ingredients, beat until smooth.
Crumpets can be cooked in a lightly greased frying pan or electric frypan; if using frypan, pre-heat to 260 F.
Lightly grease some egg-rings, put them in pan to heat through.
When hot three-quarters fill the rings with batter.
Allow to cook over a low heat for approximately 10 minutes or until surface is covered with holes.
Remove the rings.
Cover the pan, and cook a further 2 - 3 minutes or until the surface is set. Remove from the pan, cool on a wire rack.
When cold, toast and serve with butter.
These may be frozen.
Submit a Recipe Correction
These are awesome! Absolutely scrumptious. Taste like the authentic British crumpets I used to eat back home. I prepared the batter in the bread machine, and used 1 packet (2 1/4 tsp.) of dried yeast instead of the compressed yeast. I've made these twice now, and both times, they turned out GREAT! They can be refrigerated or frozen, and then toasted. Slather with butter, let it melt into the holes, then enjoy!!!<br/><br/>Edited to say that I've made these many times over the years, and they have never failed me! It is the only recipe I'll use! :)

These are awesome! Absolutely scrumptious. Taste like the authentic British crumpets I used to eat back home. I prepared the batter in the bread machine, and used 1 packet (2 1/4 tsp.) of dried yeast instead of the compressed yeast. I've made these twice now, and both times, they turned out GREAT! They can be refrigerated or frozen, and then toasted. Slather with butter, let it melt into the holes, then enjoy!!!<br/><br/>Edited to say that I've made these many times over the years, and they have never failed me! It is the only recipe I'll use! :)