Crepes
photo by SharonChen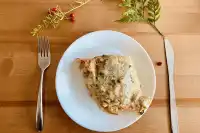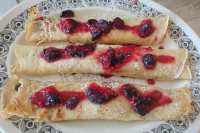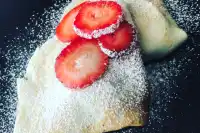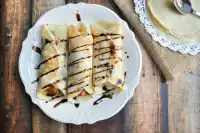 Ready In:

15mins

Ingredients:

5
directions
Combine flour, milk, eggs, and oil.
Add salt.
Heat a lightly greased 6 inch skillet; remove from heat.
Spoon in 2 Tbsp batter; lift and tilt skillet to spread evenly.
Return to heat; brown on one side only.
To remove, invert pan over paper toweling.
Repeat with remaining batter.
Fill with your favorite filling.
Here's a few we like: Any flavor fruit jam, sweetened fresh peaches, cream cheese and pineapple, ham and maple syrup.
Endless ideas.
Questions & Replies

I tried this, but I used the single crepe recipe. No matter how many times I tried, I could not get the crepe off the pan. I greased it using butter, then using oil, then using Pam Spray. None of them worked! What am I doing wrong? Is it the pan I am using? Or the type of butter? What can I do to get my crepe to come off my pan?

 
Reviews
These were PERFECT! My SO said these were better than any he has ever had in a restaurant. I used some sliced fresh strawberries and powdered sugrar and whipped cream. This was a great Saturday breakfast. Actually, I have been asked to make them again tomorrow morning! I prefered the ones I cooked until just doughy, not crispy. I am going to try them tomorrow with an apple filling (cooked with some brown sugar and cinnamon).I bet they will be great also. Thanks Inez :)

 

I haven't had crepes since my grandma passed away almost 4 years ago, because I could never find a recipe like hers. I tried yours this morning and it tasted exactly like hers. Thank you for posting such a wonderful, easy recipe. It really did bring back alot of good memories for me, we will definately be having these again. I had mine with strawberries and whipped cream, they were to die for. Thanks again.

 

This recipe was great! This is my husband's favorite breakfast food, so I took a chance (okay..HUGE risk..) by making these this morning for our 7 year anniversary. First time in 7 years I've made them right! (Either that or he's just being nice because it's our anniversary :p ) The only tips I have:<br/><br/>1. Oil in the pan does NOT work well. Causes separation between batter making it difficult to spread in pan effectively. Pam worked much better.<br/><br/>2. If you have trouble getting the crepe out of the pan, let it cool down a bit. I found this out by accident when almost giving up on making them & walked away with one it the pan on a back burner. Viola! ever since<br/><br/>3. Start with a high heat pan...then bring it down to a low/very low med. The batter will spread more evenly, cook more even, prevent crisp edges and allow you to remove them much easier! <br/><br/>Thanks again for making it a great anniversary morning! (FYI, our filling was 1/2 C. low fat vanilla yogurt mixed with 2 tbs. homeade berry jam...yuuuumy)

 

Inez - WOW! I made these & filled them w/ strawberries & cream - recipe #18931. These were a SERIOUS hit! I doubled the recipe for 5 people - and had only 2 leftover crepes. WOW! These made a delightful breakfast, served w/ juice, coffee, a variety tray of gourmet cheeses, smoky mini sausage links & fresh fruit. THANK you for sharing! This is a keeper - and I had lost my favorite Better Homes & Garden crepe recipe. I think this is almost identical - Thanks again! MMMMMMMMMMMMMMmmmmmmmmmm!

 
Tweaks
I'd never made a crepe before and these were SO easy and SO good. I used melted butter in place of the oil and melted 1 tsp of butter in the pan to grease each time I made a crepe. I did a variety of fillings, from leftover artichoke dip, roasted red peppers and smoked turkey, to ham, cheddar and spinach. (I baked these in the oven @ 350* for 10 minutes after filling.) I also did a couple of sweet variations: nutella and banana and raspberry jam and white chocolate. All wonderful!

 

These crpes are so wonderful; I usually have to make a double batch to keep up with the demand. I like to substitute a teaspoon of butter (melted) for the oil. I also find it easier to use two bowls, one for the flour, and one for the liquid ingredients. This way you can pour in the liquid mixture into the flour gradually, thusly eliminate lumps. We use a mixture of sugar and lemon juice for our crpes, and they taste delicious!

 
RECIPE SUBMITTED BY
After DH and I moved away from the farm, and to the city...I haven't done as much cooking and very little canning. But I do come to Zaar and look for new recipes once in a while. I'm still cooking Zaar!! I like to play at Facebook, with my family and friends. A lot of my Zaar friends are there!! Yay! It's a good way to keep in touch. We travel more. We're looking at the European trips now. Hope to go in the springtime. I really want to see London, I think I lived there in a past life, I've been obsessed with it since I was 10 years old!!
View Full Profile