Cranberry Salad in Raspberry Jello with Cream Cheese Topping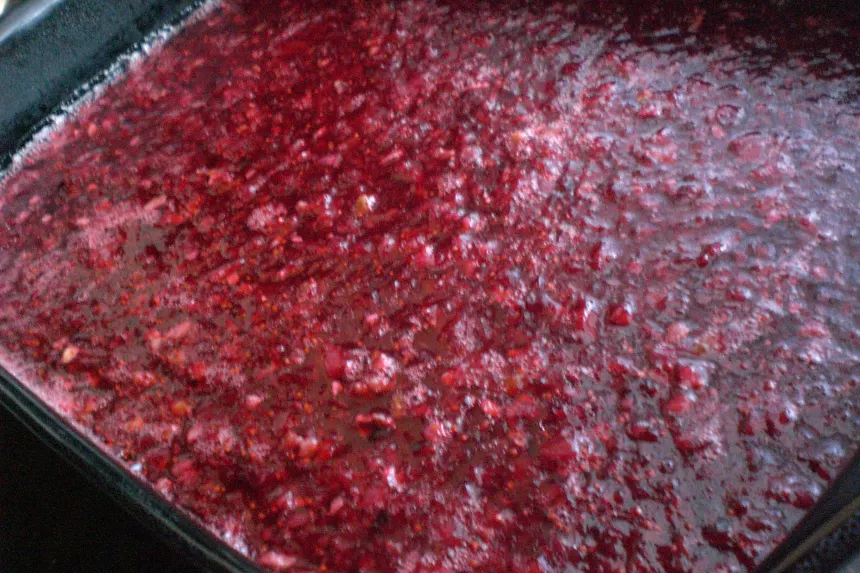 photo by Amber C.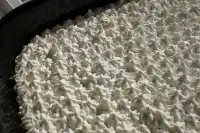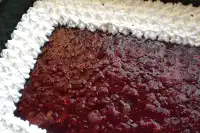 directions
Pick over cranberries.
Chop cranberries in food processor until fine.
Mix cranberries with sugar and let stand until sugar dissolves.
Add 2 cups of boiling water into jello, and stir until the jello dissolves.
Then add the 1 cup of cold water to the jello mixture.
Let stand until cooled.
Drain pineapple and reserve the juice.
Add the pineapple, cranberries, and walnuts, and stir well.
Pour into 9x13 dish.
Chill to set.
With a mixer, blend enough reserved pineapple juice into the cream cheese, until it becomes the consistency of whipped cream.
Spread over the top of the chilled gelatin.
Keep cold.
Reviews
OMG, this is the best recipe ever. It was a hit at Thanksgiving and the family asked me to make it for Christmas. The only thing I did was cut the sugar to 1.5 cups. I also mixed the cranberries with the sugar the night before as suggested in another review. I was eating as a dessert after the Thanksgiving Holiday. So thankful that I came across this recipe.

 

This worked out great for Thanksgiving! I used 8 oz cream cheese with a little juice and vanilla + 8 oz cool whip for the topping. I let the cranberries and sugar set overnight in fridge then added well drained pinapple and 1/4 c pecan chips instead of walnuts and put back in fridge until jello cooled, I think that helped it set up quicker, it was almost done after 2 hrs! I didn't want to cut it b4 I left so I just took pics as I made it! I will definitely use this recipe again! Thanks

 

My mom makes this every year for Thanksgiving. It is an absolute must at our table. It's the cream cheese that puts it over the top! Mom always lets the cranberries and sugar sit overnight so the flavors blend. You can use strawberry or cherry jell-o if you prefer. We never had nuts in ours because of food allergies. Thanks for posting!

 
Tweaks
This worked out great for Thanksgiving! I used 8 oz cream cheese with a little juice and vanilla + 8 oz cool whip for the topping. I let the cranberries and sugar set overnight in fridge then added well drained pinapple and 1/4 c pecan chips instead of walnuts and put back in fridge until jello cooled, I think that helped it set up quicker, it was almost done after 2 hrs! I didn't want to cut it b4 I left so I just took pics as I made it! I will definitely use this recipe again! Thanks