Cracker Barrel Chicken & Dumplings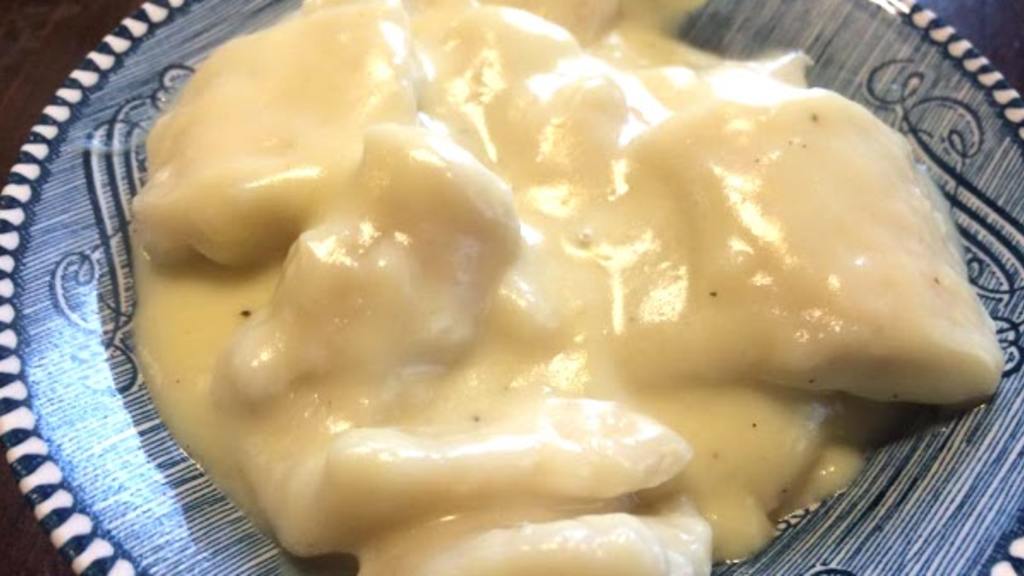 Ready In:

3hrs 20mins

Ingredients:

14
directions
Boil 3 quarts water in a large pot.
Add chicken, 1 t salt, onion, celery, garlic, bay leaf and parsley and simmer for 2 hours.
The liquid will reduce by 1/3.
When chicken is cooked, remove it and set aside.
Strain stock and throw away everything but the stock.
Put 6 cups of the stock back into the pot. (Leftover stock can be frozen.)
Add the pepper, 1/2 t salt and lemon juice and reheat while you mix dumplings.
For dumplings, mix flour, baking powder, 1-1/4 t salt and milk in a medium bowl.
Stir until smooth, then let dough rest for 5-10 minutes.
Roll dough onto a floured surface to about 1/2 inch thickness. (Handle the dough as little as possible for good dumplings).
Cut the dough into 1/2 inch squares (I use a pizza cutter) and drop each square into the simmering stock.
Use all of the dough.
The dumplings will first swell and then slowly shrink as they partially dissolve to thicken the stock into a white gravy.
Simmer for 20 to 30 minutes until thick.
Stir often.
While the stock is thickening, the chicken will have cooled.
Tear all the meat from the bones and remove the skin.
Cut chicken into bite sized pieces and drop them into the pot.
Cook for another 5 to 10 minutes, but stir carefully so you don't break the chicken up.
When the gravy has reached the desired consistency, ladle four portions onto plates and serve hot.
(Very good over mashed potatoes.).
Join The Conversation
This was excellent. I have been making my own chicken broth for as long as I can remember. I really liked this dumpling recipe, it was much easier than traditional noodles and they came out perfect. The only addition I made was to add some tumeric for color. I would also recommend either reducing the amount of milk or adding to the amount of flour for the dumplings. They were really sticky prior to rolling. It didn't affect the taste :) Definitely a keeper.