Copycat Costco(R) Deli Mac and Cheese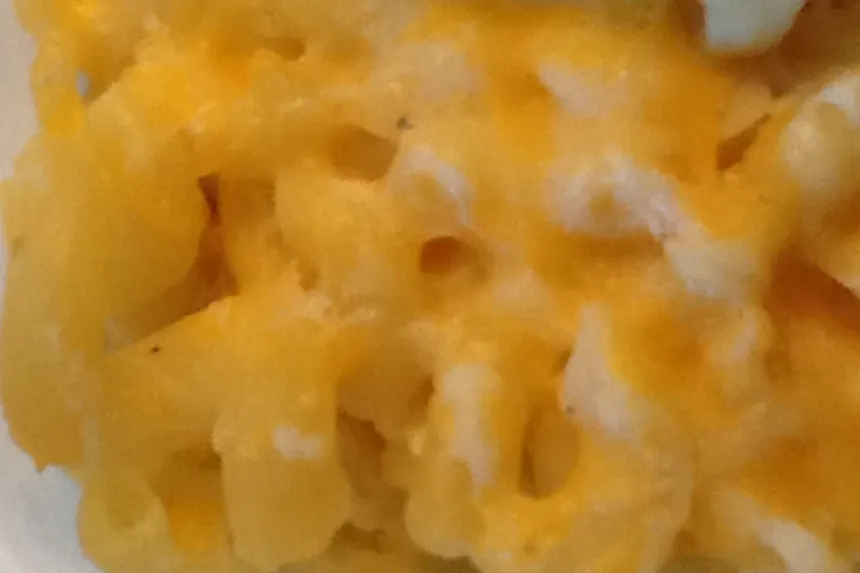 photo by GottaLoveGoodFood

Ready In:

1hr

Ingredients:

9
directions
Cook cavatappi pasta according to package directions so it is al dente, drain, add 1 Tbsp of butter while still hot, and mix through; set aside to cool mostly.
In a large sauce pan, melt butter into cream over low heat. Add garlic salt and pepper to taste.
Stir in the pecorino romano and parmesan cheese over medium heat until melted; this will thicken the sauce. Remove from heat and allow to cool mostly.
Once both noodles and sauce are just slightly warm, stir the sauce into the noodles. Add 3 cups of cheddar cheese and mix.
Smooth into a 13x9x2 baking dish. Sprinkle top with the remaining cup of cheddar cheese. Bake at 350 degrees F for 30 minutes or until top starts to brown slightly.
Reviews
Awesome! The results from both my husband and me were 'thumps up.' It was tempting to alter the recipe on the 'Pecorino' romano because it was more expensive, but wanted to give the recipe a chance. I also purchased a better parmesan block. I only needed half of both blocks - so I froze both leftovers, which I'll use for the next batch. I did use Kirkland's "Sharp" Cheddar, which I might suggest, but it you want to use a white cheddar - it will 'look' like the real Costco Mac' Cheese. I highly recommend this recipe. PS - Use the Cavatappi pasta - not the smaller 'elbow' macaroni and boil the minimum 8 minutes for al dente.

 

I didn't think it was just like Costco's actually. I cut the butter in 1/4 (I only used 1/4 cup, 1 cup of butter and 3 cups of cheese seemed a bit much to me). Even with that much less butter, it was so oily and separated. It can't be the same recipe as Costco because theirs is served cold and reheated and doesn't separate the way this does. I didn't love it. Sorry! I wanted to! Costco's mac and cheese is the best!

 

Delicious recipe, and just like Costco's Mac & Cheese, though the kids found it a bit more 'oily' so next time we'll try 1/3 less butter -- the cheeses are plenty rich by themselves. Very good Mac & Cheese, and of course you could add cooked chicken or shrimp or lobster if you'd like to make this an entree.<br/><br/>A few notes:<br/><br/>1. We had buttermilk on hand instead of heavy cream, and only about 1/2 as much as the recipe said to use. Followed my wife's suggestion to use equal parts of buttermilk and 2% milk, and it worked great (and probably quite a bit healthier).<br/><br/>2. Costco carries the Pecorino Romano cheese. I got the smallest wedge I could find, 1.35 lbs, and we still only used about 1/4 of that (so 1/4 to 1/3 lb.), so if you don't have a use for additional Romano cheese, might be better to buy this at a regular grocery store in smaller quantity.<br/><br/>3. We used Dubliner cheese instead of Parmesan cheese. Dubliner is very much like Parmesan though it bit more moist of a cheese. You can find it at Costco (about $8 for 3"x3"x8" block) or at Trader Joe's for four times the cost per volume.<br/><br/>4. We used Kirkland's pre-shredded Cheddar Jack cheese instead of the Cheddar Cheese. We keep this on hand for so many recipe's by freezing in quart bags (always tastes fresh when defrosted, couple mins on High in the microwave).<br/><br/>5. For quick work on shredding these cheeses, I suggest you get yourself a restaurant style cheese grater (look on Crate & Barrel like this link, http://reviews.crateandbarrel.com/7258/27128/restaurant-cheese-grater-reviews/reviews.htm, or any other site), and put your 1 cup measure in a large mixing bowl while grating the cheese so there's none spilled on the counter.<br/><br/>6. The guys at Whole Foods (a high end grocery store) said be sure to use Durum Wheat semolina pasta, apparently it's higher quality & healthier. Although online sites say it may be not as white colored, the kids just confirmed it's the regular color of pasta (and be sure they'll tell me if otherwise!), as you can see in the picture. Also we mixed elbow pasta and cavatappi, so if you do the same, start cooking the cavatappi about 3 minutes before adding the elbow pasta, because the cavatappi takes longer (10 mins) compared to the elbow (5-7 mins).<br/><br/>That's it! Enjoy!

 
RECIPE SUBMITTED BY
I love recipes and I love to cook. I have a hubby who loves to eat and two children who don't.
View Full Profile