Cinnamon Crackle Cookies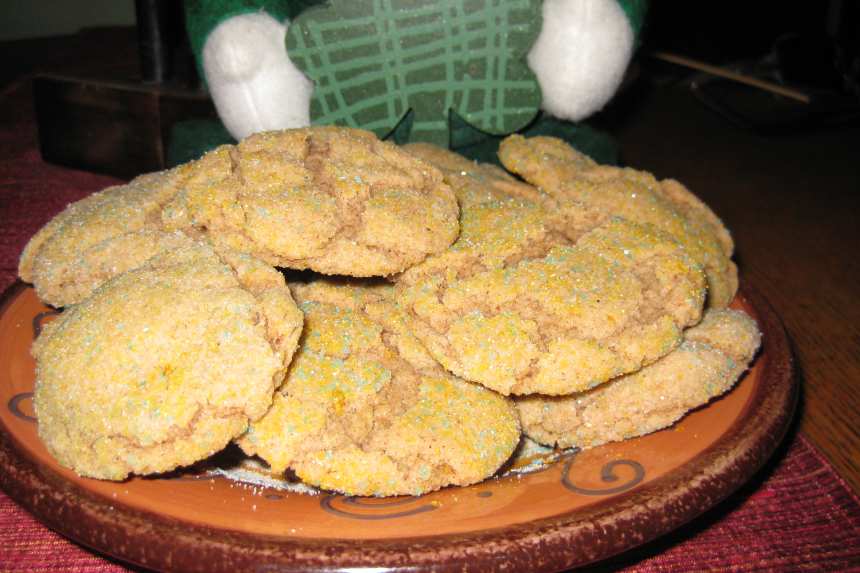 photo by Hill Family

Ready In:

25mins

Ingredients:

15
directions
Set oven to 350 degrees.
In a mixing bowl, cream butter, shortening and sugar.
Add the eggs and extracts; mix well.
Combine the next seven ingredients; gradually add to the creamed mixture.
Shape into 1-inch balls; roll in sugar.
Place 2-inches apart onto a ungreased baking sheet.
Bake for 10-15 mins, or until lightly browned.
Questions & Replies

Got a question?
Share it with the community!
Reviews
Great cookies. They are more flavorful then a snickerdoodle. I made a few changes. I subbed 1/2 cup whole wheat flour, lemon juice for zest and only added 1 tsp nutmeg. I will definately make these again and will try as the recipe is written. Oh and I used colored sugar as white sugar is just too boring. Thanks Kitten for a new favorite.

 

Very good cookie. You can definitely taste the lemon zest when baked. I didn't have any oranges, so I only used lemon. The almond flavor is very subtle, so perhaps next time I would increase the almond extract and only put a 1/2 tsp of lemon zest in. I also used 1/2 cup whole wheat flour because I try to add something healthy to my recipes. The recipe makes a lot of cookies, but mine only took 9 mins tops. I can't imagine baking these for 15 mins. They would be burnt and hard as a rock. I prefer a chewier cookie, so I always underbake my cookies slightly. It works for me, and it worked this time too. They taste very different from snickerdoodles. I would not compare them. Personally, I like a thicker, chewier cookie. These are thinner and crispier.

 

this recipe is def. a keeper.. i made a few tiny changes... no almond extract or orange zest because i didnt have any - but the cookies didnt suffer any. I also dont know if the ingredient list is suppose to read 2 eggs or the directions should read add egg instead of eggs... but i threw in the second egg after i was done mixing in all the flour, because the dough just looked like it needed it... ive gotton one tray of 15 cookies and one tray of 12, and i have the rest of the dough in the fridge to make when its not 1 am lol my dad said they taste like snickerdoodles, but i can taste the diffrence - mostly in the texture and the addition of nutmeg... i have to warn tho that i almost overbaked because if you dont peek in early on you cant really see the color change of when they get lightly browned... i had the first batch of 15 in for 18 minutes before i got impatient and took them out, but i peeked in on the second batch about 6 minutes in and could def. tell the color diffrence, that batch of 12 only took 13 minutes.. all and all great recipe! id say a cousin of the snickerdoodle - my favorite cookie

 
Tweaks
this recipe is def. a keeper.. i made a few tiny changes... no almond extract or orange zest because i didnt have any - but the cookies didnt suffer any. I also dont know if the ingredient list is suppose to read 2 eggs or the directions should read add egg instead of eggs... but i threw in the second egg after i was done mixing in all the flour, because the dough just looked like it needed it... ive gotton one tray of 15 cookies and one tray of 12, and i have the rest of the dough in the fridge to make when its not 1 am lol my dad said they taste like snickerdoodles, but i can taste the diffrence - mostly in the texture and the addition of nutmeg... i have to warn tho that i almost overbaked because if you dont peek in early on you cant really see the color change of when they get lightly browned... i had the first batch of 15 in for 18 minutes before i got impatient and took them out, but i peeked in on the second batch about 6 minutes in and could def. tell the color diffrence, that batch of 12 only took 13 minutes.. all and all great recipe! id say a cousin of the snickerdoodle - my favorite cookie