Chinese Take-Out Chicken Chow Mein With Crispy Noodles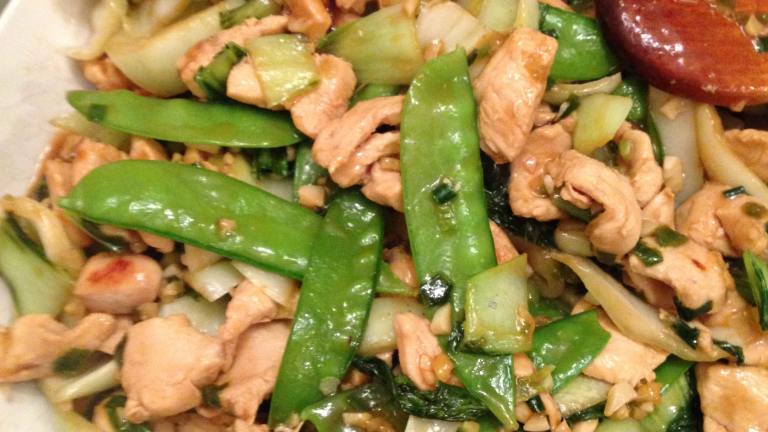 Most historians agree that noodles have been consumed in China for over two thousand years. This dish probably came over in the mid 1800's with workers headed for the railroads and has about a thousand variations. One thing most foodies agree on is that the crispy noodles in the can are a big no-no. We are fans of frying these soft noodles until they are crispy on the outside but soft on the inside. From the Take-Out Menu Cookbook
Ready In:

45mins

Serves:

Units:
directions
Combine the chicken, 1 tablespoon of rice wine and 1 teaspoon of soy sauce in a medium bowl. Marinate at room temperature while you assemble the rest of the ingredients.
In a separate bowl, combine the remaining 1/4 cup of soy sauce, the remaining 3 tablespoons of rice wine, the stock, rice vinegar, sesame oil, oyster sauce, sugar, red chili sauce, and cornstarch. Set aside.
Bring 3 quarts of water to a boil in an large pot. Add the noodles and cook according to the package directions. Drain the noodles and rinse them under cold water to stop the cooking. Lay the noodles out on paper towels to dry.
Heat the oil in a wok or large frying pan to 360ºF and add the noodles.
They will cling together forming a pancake of sorts. Fry this on one side for about 5 minutes, or until the bottom is crisp, then flip the noodle pancake with a spatula and fry the other side for 3 minutes. Drain the noodle pancake on paper towels, cover with aluminum foil, and keep in a warm place.
Drain all but 2 tablespoons of the oil from the wok and add the chicken. Stir-fry until it is almost cooked, about 2 minutes. Remove the chicken from the pan and add the garlic and ginger. Cook for 30 seconds, then add the onion, bok choy, broccoli, cabbage, snow peas, and carrot. Stir-fry the vegetables for 4 minutes or until the color brightens. Return the chicken to the pan, and stir in the sauce. Cover and cook 3 minutes or until the vegetables are tender and the sauce thickens.
Place the noodle cake on a large serving dish and top with the chicken and vegetables. Serve hot.
Variation: You may substitute beef, pork, tofu, or shrimp for the chicken in this recipe.
Submit a Recipe Correction
RECIPE MADE WITH LOVE BY
"Most historians agree that noodles have been consumed in China for over two thousand years. This dish probably came over in the mid 1800's with workers headed for the railroads and has about a thousand variations. One thing most foodies agree on is that the crispy noodles in the can are a big no-no. We are fans of frying these soft noodles until they are crispy on the outside but soft on the inside. From the Take-Out Menu Cookbook"
I didn't make this entirely to spec. I made the noodles as suggested here, and they turned out FANTASTIC. We didn't even add any sauces beyond the oil, onion, garlic and hot chili pepper flakes. Instead of chicken, we used high quality frozen scallops and shrimp, chopped up, along with some bean sprouts, red, orange and yellow peppers, parsley (not quite an Asian, I know), and zucchini. Delicious.

I didn't make this entirely to spec. I made the noodles as suggested here, and they turned out FANTASTIC. We didn't even add any sauces beyond the oil, onion, garlic and hot chili pepper flakes. Instead of chicken, we used high quality frozen scallops and shrimp, chopped up, along with some bean sprouts, red, orange and yellow peppers, parsley (not quite an Asian, I know), and zucchini. Delicious.

Most historians agree that noodles have been consumed in China for over two thousand years. This dish probably came over in the mid 1800's with workers headed for the railroads and has about a thousand variations. One thing most foodies agree on is that the crispy noodles in the can are a big no-no. We are fans of frying these soft noodles until they are crispy on the outside but soft on the inside. From the Take-Out Menu Cookbook