Chicken Fried Pork With Milk Gravy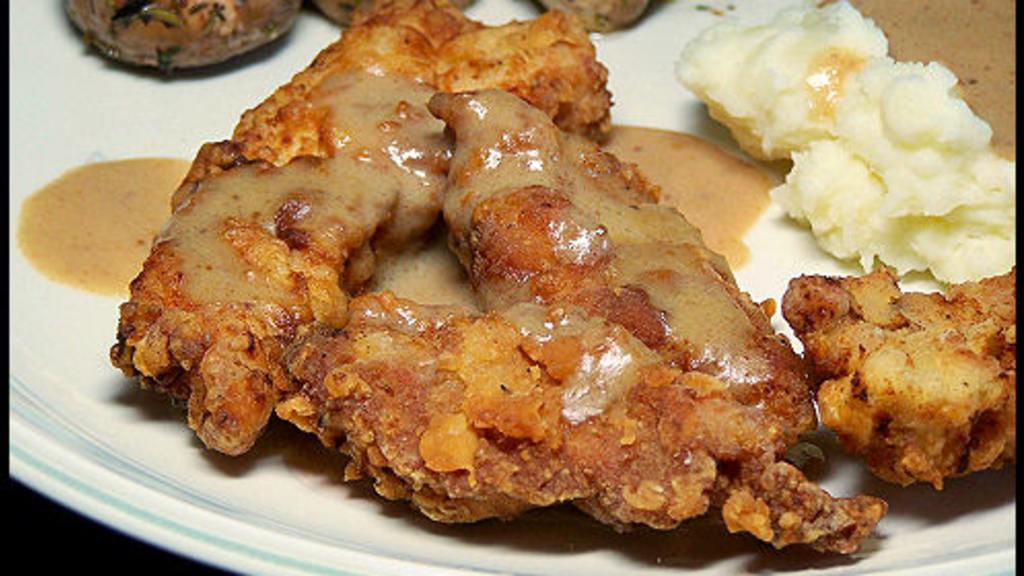 Ready In:

1hr

Serves:

Units:
Nutrition Information
directions
Pound pork chops on both sides with rough-textured side of meat pounder until 1/4 inch thick.
Season with salt and pepper and cut into 3-inch pieces.
Whisk together 2 cups flour, 1 teaspoon salt, and 1 teaspoon pepper in a shallow dish.
Whisk together egg, 3/4 cup milk, remaining 3/4 teaspoon salt, and remaining 1/2 teaspoon pepper in another shallow dish.
Dip pork pieces in egg mixture to coat, then dredge in flour.
Transfer pork as coated to a large rack set on a baking sheet.
Let pork stand, uncovered, at room temperature 15 minutes.
Preheat oven to 250°F.
Heat oil in a deep 10-inch heavy skillet (preferably cast-iron) over high heat until thermometer registers 375°F (see cooks' note, below).
Fry pork in batches, turning over once, until golden, about 4 minutes per batch, transferring to paper towels to drain. Return oil to 375°F between batches.
Keep pork warm on a clean baking sheet in oven.
Pour off all but 2 tablespoons oil into a heatproof bowl, leaving any brown bits in bottom of skillet, then add remaining 3 tablespoons flour to skillet and cook roux over moderate heat, stirring constantly, 3 minutes.
Bring to a boil and whisk in remaining 2 1/2 cups milk.
Reduce heat and simmer, whisking occasionally, until thickened, about 5 minutes.
Season gravy with salt and pepper (to taste) and serve over pork.

** Note:

To take the temperature of a shallow amount of oil with a metal flat-framed deep-fat thermometer, put bulb of thermometer facedown in skillet, resting other end (not plastic handle) on rim of skillet. Check temperature frequently.
Makes 4 servings.
Submit a Recipe Correction
Join The Conversation
I've done similar things for a long time. Glad to see the recipe written out for everyone. I only do a couple of things differently. First, I add garlic powder to the dredging flour and some corn starch plus extra salt. Second, I use pork stew meat trimmed of fat. It's cheap and tender and my family loves the bite sizes.

Thank you, thank you, thank you, Bev! All my adult life I've been trying to make "Chicken Fried" anything, with less than satisfactory results. Why? Because the coating would fall or peel off during cooking, either just slipping off, or sticking to the pan and being pulled off. I have followed your recipe twice, now, with excellent results. The only changes I made were to season the flour with some onion powder and smoked paprika as well as the salt and pepper. I think the secret is letting the pounded, egged, and flour-coated meat sit on the racks for the 15 minutes before placing in the hot oil. (the last time I made it, it sat a little over 30 minutes.) The coating did not stick or want to slip off. It stayed married to the meat, thickened slightly, and became golden brown with a nice crunch to the bite upon eating. My family loved this recipe; my husband raving for days about it each time. It IS very fattening, so we won't have it too often, but what a treat to have occasionally. Thank you, again, for posting this recipe..

TASTY !! I have always made pork cutlets this way. Which is what I will use this evening when I make it. The only difference I can see between what you have written and what I do is some spices. I add a couple of dashes of hot sauce to my egg mixture. And also to my gravy. That is just how I was taught to make chicken fried anything. Make this at least once a month