Chicken Chow Mein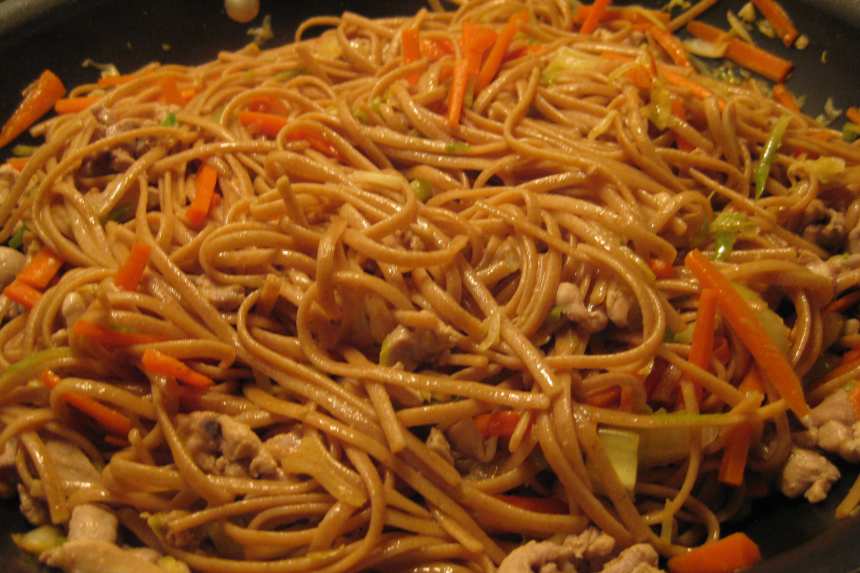 photo by lil_miss_SBC

Ready In:

24mins

Ingredients:

12
directions
*You'llwant to get your prep work done first, because this will cook up very quickly.
*Cook noodles according to package directions.
Rinse under cold water, and set aside.
After you slice the chicken, place it in a bowl with 2 tsp of soy sauce, the rice vinegar and sesame oil.
Toss to coat.
Heat half the olive oil in a wok or large frying pan over high heat.
When the oil is nice and hot, add the chicken mixture.
Stir fry for 2 minutes, then transfer the chicken to a plate and keep warm.
Wipe the pan out and heat the remaining olive oil.
Stir in the garlic, snow peas, and ham.
Stir fry for 2-3 minutes.
Add the drained noodles to the pan, and continue to stir fry till the noodles are heated through, about 2 minutes.
Add the remaining soy, the oyster sauce, and season with salt and pepper to taste.
You may find you don't need salt.
Add the chicken and any juices back to the pan, then add the green onions.
Give a final stir and serve immediately.
Questions & Replies

Got a question?
Share it with the community!
Reviews
My husband and I were having a bet to see who could make the best meal using the least amount of money and I won using this recipe. I chose this recipe because I had almost all the ingredients already in the house. And it came out awesome. My husband especially said it tasted so fresh. I omitted the ham and added chopped onion when cooking the chicken.We both loved it a lot and will be making it again!

 

This was delicious. We live a long distance from any good Chinese places. One night my husband was craving Chicken Chow Mein and so I logged on here, found this recipe, made it, and it was perfect. I added 1/2 c. of carrots and celery for more crunch. We didn't have rice vinegar so I used our garlic flavored red wine vinegar. We didn't have the sesame oil or the oyster sauce, either, and it still had a delicious taste. Since we didn't have the oyster sauce I made a sauce of 1 c. water, 2 tsp. chicken bouillon, and 3 tsp. cornstarch. I mixed this in hoping to give it some more flavor since we were missing the Chinese seasonings. Also, we left out the ham because we prefer chicken. We will definitely make this a lot! And it is very quick!!!

 

How did I miss this recipe before? I was looking for a good chinese recipe to go with the egg roll I had made and froze the week before. Another zaar bud hooked me up with this one. This is very quick to prepare although I did not add the ham and did add some diced carrots and celery. The flavors were excellent. Definitely as good if not better than many chinese restaurant dishes. Thanks Leeann. I will be making this dish often.

 

Truely one of THE BEST recipes I have tried on zaar. And that I don't say often. I made this to go along with my first attempt at homeade eggrolls....we sit down to dinner and BF says, "this is one of the best meals you've ever made". I followed your recipe to the letter EXCEPT...I had no ham, so I didn't add it, and I also added a TBSP of chopped cilantro w/the green onion, at the very end. I want to say it tasted authentic, but it tasted so fresh...even better than authentic. I sound so syrupy here....but this is really a great recipe! A keeper at our house, for sure!