Buffalo Chicken Stuffed Shells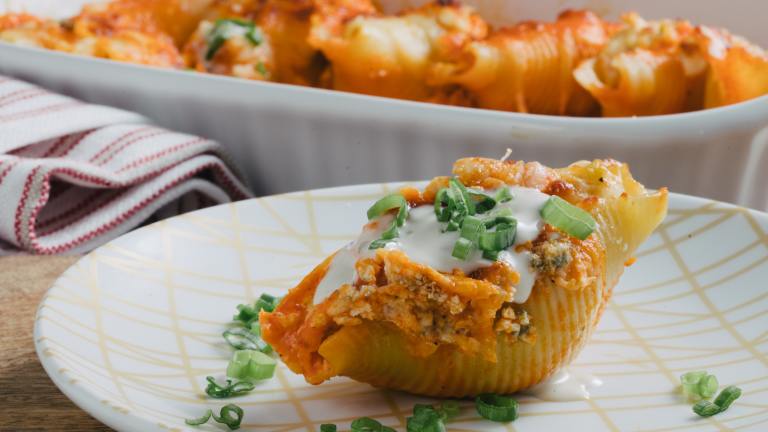 watch
Ready In:

40mins

Ingredients:

21
ingredients
2

tablespoons olive oil, plus more for baking dish
1⁄2 cup yellow onion, finely diced
1⁄4 cup celery, finely diced
1⁄4 cup carrot, finely diced

2

cups shredded cooked chicken, roughly chopped

1 1⁄4

cups buffalo, sauce (recipe follows)

1⁄2 teaspoon salt
1⁄4 teaspoon pepper

1

cup ricotta cheese
1⁄2 cup parmesan cheese, divided
1⁄2 cup blue cheese, divided

1

cup shredded mozzarella cheese, divided

1

large egg, lightly beaten

18

cooked jumbo pasta shells
1⁄4

cup ranch dressing

2

tablespoons thinly sliced scallion tops (garnish)

Buffalo Sauce

3⁄4

cup hot sauce (Frank's Red Hot)

8

tablespoons butter, cut into pieces

1

tablespoon white wine vinegar
1⁄4 teaspoon kosher salt
1⁄8 teaspoon ground black pepper
directions
Preheat oven to 400 degrees F. Heat olive oil in a medium skillet over medium heat. Cook onion, celery and carrot until vegetables are softened, about 5 minutes. Stir in shredded.
chicken, 1/4 cup buffalo sauce, salt and pepper. Set aside to cool slightly.
In a large bowl, stir to combine ricotta cheese, 1/4 cup parmesan cheese, 1/4 cup blue cheese, 1/2 cup mozzarella cheese and egg. Fold in chicken and vegetable mixture until combined.
Lightly coat an 7x10 baking dish with olive oil. Spoon 1/4 cup buffalo sauce into the bottom of the dish. Fill shells with chicken and cheese mixture and arrange in prepared baking dish. Top evenly with 1/2 cup buffalo sauce, 1/4 cup parmesan cheese, 1/4 cup blue cheese and 1/2 cup mozzarella cheese. Bake for 25 minutes.
Top shells with remaining buffalo sauce, a drizzle of ranch dressing and sliced scallions.

To Make the Buffalo Sauce:

Combine all ingredients in a small saucepan over medium high heat. Whisk until butter is completely melted. See aside to cool.
Makes 1 1/4 cup.
Join The Conversation
My friend really loves Buffalo Wings, but I resist making them unless wings go on sale...or I have enough saved from those I steal from chickens before I roast or poach them...they are ridiculously expensive, and labor intensive per pound! Super Bowl coming....I was eager to try... The first time, I made it exactly as printed, and the flavors were too sharp and too oily. Frank's Hot sauce already has quite a bit of vinegar to it...I made a second batch omitting the vinegar, and decreasing the butter by 2T...it was better, but not great, and a bit bland. It also had a lot of ingredients... Finally, I mixed 3/4 C Louisiana Hot Sauce, with 3 T oil, 3 T butter, pinch garlic. I sautéed the onion with a sprinkle of granulated garlic, pinch of white pepper, omitted the other veggies. Tossed that into Parm, Mozz, Ricotta, salt. Omitting BC altogether because he does not like it. Stuffed the shells with a ziploc baggie. Added bit of Mozz. Baked. Garnished with Ranch dressing mixed with bit of Buffalo Hot Sauce and green onions, celery sticks on the side. It was fabulous! Took 20 minutes to toss together. He gave that recipe 5 stars! Next time I am going to try just cooking filling in a crockpot, with celery sticks, and lettuce leaves, as a hot appetizer.