Black Bean-Brown Rice Burgers
photo by Izy Hossack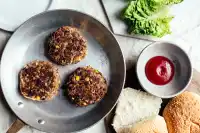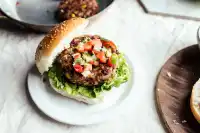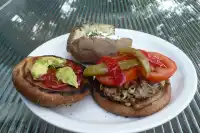 Ready In:

40mins

Ingredients:

10

Serves:

6
directions
In a small pot, combine rice and 1 cup water; bring to a boil, and then turn down to medium heat and cook 20 minutes.In a saucepan, heat a little oil over medium heat and saute the onion and garlic about 5 minutes, until the onion is translucent and soft.
Add the corn and spices and cook until the corn is defrosted, another 5 minutes.
In a medium bowl, mash the drained beans with a fork or your fingers.
Add the rice, corn, and onion; combine, mashing it with your fork as you go. Taste and adjust the spices now, because once you put the egg in you could risk salmonella.
Add the egg and mix in well.
Add the breadcrumbs.
Form into patties by patting the desired amount of mixtured into a flat round. (I used a giant cookie scoop to make sure all the patties were the same size, but you can just divide the mixture into six sections).
Cook about 2 minutes on each side (if you can't flip the patty without breaking it, it's probably not finished cooking).
Reviews
This recipe is great! My friend and I also wanted to try to find a recipe similar to the great ones at Ruby Tuesday. I also frequently purchase Morning Star Black Bean Burgers, and these are very compariable. I think I like this recipe better. The only thing is that I had to cook the rice longer and it could be because all I had was Brown Basmati. I also added Cumin, paprika, and crushed red pepper (which gave it a slight kick). I also suggest adding shredded cheese. I'm thinking next time I make this I may make it in a meatloaf pan.

 

I've tried many black bean burger recipes, including my own, and this one bangin'!! Only adjustments was: 1. Pulse the beans, rice, and any spices in a processor before adding all other ingredients. Pulse just enough to mix. Do not put the bread crumb in the processor. 2. I added a splash of Worcestershire, and liquid smoke to the processor when pulsing. 3. Take out of processor and into a bowl. Add everything else in and mix. 4. Follow the rest of the recipe.

 

These were excellent. I was also looking for ones like Ruby Tuesdays. These will become a regular in our house. Made as directed the first time, and then tried them with lentils since I had some leftover. They were very good that way as well, they even held together a little better with the lentils. Topped with BBQ sauce as well. Thank you!

 
RECIPE SUBMITTED BY
I'm a college student from California, currently studying at a small New York liberal arts school. I'm a vegetarian, which has, surprisingly, opened up the culinary world for me. My favorite cookbooks are probably huge, all-encompassing tomes like Veganomicon and How to Cook Everything Vegetarian.
View Full Profile