Betty Crocker How to Cook Beets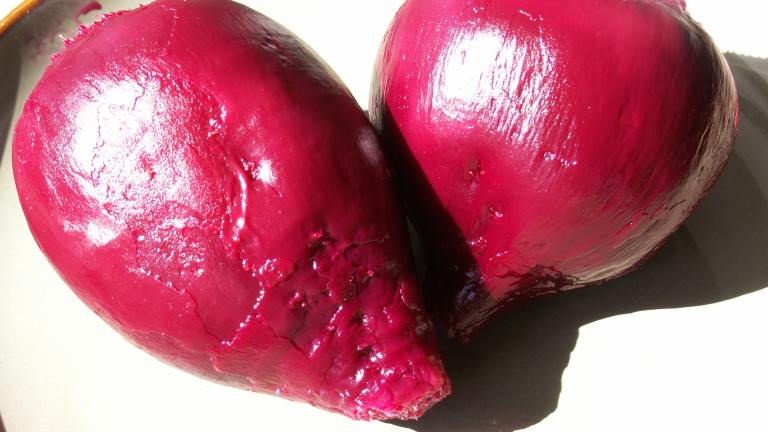 Ready In:

1hr 10mins

Serves:

Units:
Nutrition Information
directions
[If you can, buy beets with the stems and greens still attached, as they come out of the ground.
Ask the produce manager at your grocery or health food store to buy organic beets with the nourishing leaves attached!]].
Cut off all but 2 inches of the green stems.
Save the leaves because they are very nutritious and can be steamed, sauteed or shredded in salads!
Leave the beets whole with 2 inches of stems at the top and root ends at the bottom. This prevents the red color from seeping out into the water [and all over the place too!].
Place in a saucepan covered with salted water to taste (with at least 1 tsp of vinegar).
Boil until tender [usually, 30-45 minutes, depending on the size of the beets]. Boiling can take up to 60 minutes for larger beets.
Drain and run cold water over beets. The skins will slip right off with the root ends, but make sure you wear kitchen gloves so your hands don't turn red.
To serve, you can add melted butter, salt and pepper, basil, savory, caraway seeds or sprinkle with minced chives or parsley.
NOTE: i prefer to steam my vegetables in an OSTER mechanical food steamer available cheap with free shipping from amazon.com - so i peel and slice mine for faster cooking as i do for all potatoes.
But you can steam this in a covered pot with a steamer insert also - just make sure the water doesn't evaporate: bring the salted water with more vinegar added to a boil and add the steamer insert and beets. Cover and steam on medium or medium low heat until they are your desired tenderness.
One thing is for sure - never peel or cut the stems or roots if steaming or boiling whole - it's SO much easier not to have red dye and red water dripping everywhere - and the skins come right off easily once cooked. Peeling is a waste of time and makes a mess!
Submit a Recipe Correction
Join The Conversation
So delicious - Although I do still love the simple method of dressing beets with butter and S & P, I wanted to share another really tasty way to dress them! I experimented once & have loved it ever since. After slicing into wedges, I add some olive oil, S & P AND a dash of any favorite Blue Cheese/Gorgonzola! So yummy, a little balsamic vinegar can be added too if desired. (If it sounds good, try it on fresh steamed green beans too!:)