Best Lemon Bundt Cake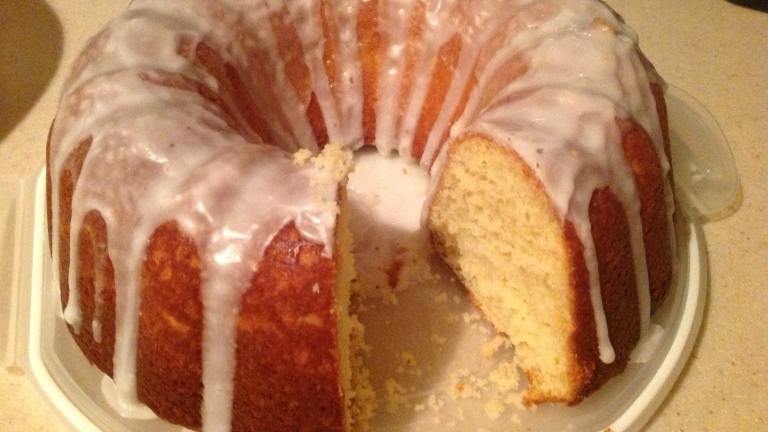 This was adapted form an episode of "America's Test Kitchen". I watched them make this cake and went right out and bought the stuff I didn't already have and made this cake. This was by the far the BEST lemon bundt cake I've ever made. The problem alot of times is when we make something with lemons it usually cooks out the flavor of the lemon by the end of the baking time. They tested several ways of making lemon bundt cakes and this recipe is it! The buttermilk is the secret to this great cake, and not to mention this is really easy to make. (*note: you will need 5-6 tablespoons of lemon juice total for this recipe.)
Ready In:

1hr 10mins

Serves:

Units:
Nutrition Information
directions
For the cake: Adjust the oven rack to lower-middle position; heat oven to 350 degrees. Spray 12-cup Bundt pan with nonstick baking spray with flour or brush pan with mixture of 1 tablespoon flour and 1 tablespoon melted butter. Mince lemon zest to fine paste (you should have about 2 tablespoons). Combine zest and juice in small bowl; set aside to soften, 10-15 minutes.
Whisk flour, baking powder, baking soda, and salt in large bowl. Combine lemon juice mixture, vanilla, and buttermilk in medium bowl. In a small bowl, gently whisk eggs and yolk to combine. In standing mixer fitted with flat beater, cream butter and sugar at medium-high speed until pale and fluffy, about 3 minutes;scrape down sides of bowl with rubber spatula. Reduce to medium speed and add half of eggs, mixing until incorporated, about 15 seconds. Repeat with remaining eggs;scrape down bowl again. Reduce to low speed;add about 1/3 of flour mixture,followed by 1/2 of buttermilk mixture, mixing until just incorporated after each addition (about 5 seconds). Repeat using half of remaining flour mixture and all the remaining buttermilk. Scrape bowl and add remaining flour mixture;mix at medium-low speed until batter is thoroughly combined, about 15 seconds. Remove bowl from mixer and fold batter once or twice with rubber spatula to incoprorate any remaining flour. Scrape into prepared pan.
Bake until top is golden brown and wooden skewer or toothpick inserted into center comes out with no crumbs attached, 45-50 minutes.
For the glaze: While cake is baking, whisk 2 tablespoons lemon juice, buttermilk, and confectioners sugar until smooth, adding more lemon juice gradually as needed until glaze is thick but still pourable (mixture should leave faint trail across bottom of mixing bowl when drizzled from whisk). Cool cake in pan on wire rack set over baking sheet for 10 minutes, then invert cake directly onto rack. Pour 1/2 glaze over warm cake and let cool for 1 hour; pour remaining glaze over top of cake and continue to cool room temperature at least 2 hours. Cut into slices and serve.
Submit a Recipe Correction
RECIPE MADE WITH LOVE BY
"This was adapted form an episode of "America's Test Kitchen". I watched them make this cake and went right out and bought the stuff I didn't already have and made this cake. This was by the far the BEST lemon bundt cake I've ever made. The problem alot of times is when we make something with lemons it usually cooks out the flavor of the lemon by the end of the baking time. They tested several ways of making lemon bundt cakes and this recipe is it! The buttermilk is the secret to this great cake, and not to mention this is really easy to make. (*note: you will need 5-6 tablespoons of lemon juice total for this recipe.)"
Join The Conversation
Similar to the Bfansher review, I contest that everyone usually raves about my baking... I TRUSTEd the Cooks Illustrated recipe but this one failed to leave my family and friends saying nothing more than an unenthusiastic: "It's good". In my opinion, the lemon taste was great but the texture was not great. It was moist but a little floury tasting. I was not able to get a clean skewer when poking the cake after 45 or even 50 minutes -- Meanwhile, my cake was getting overbaked on the outside (mind you, I have a brand new high end oven). --- I have a couple big issues with this recipe which could have been the problem: 1. LEMONS COME IN VARIOUS SIZES - Why doesn't the recipe just tell me how much lemon juice in volume, please?? My lemons might have been larger or I may have spun out more juice on my citrus juicer -- So, my batter may have had too much liquid and the outside of my cake came out dry and crunchy - YUCK! 2. The 4th egg (just the egg yolk) is listed on a separate line in the recipe -- This doesn't make sense to me. I missed it when I read through the ingredients for the egss! My fault but all of the eggs used should have been listed together with special instructions for the 4th yolk. With that said, I don't think it made a ton of difference. MY ADVICE: LOOK FOR ANOTHER RECIPE. THIS ONE

I'm sad to say that I was not happy with this cake recipe. I found it very bland and uninteresting. I am known for my baking and everyone was disappointed when I served this cake. People look forward to dessert after dinner at my house and this one didn't reach the bar. I would not make this one again. It's too bad.