Bacon Potato Cheddar Tart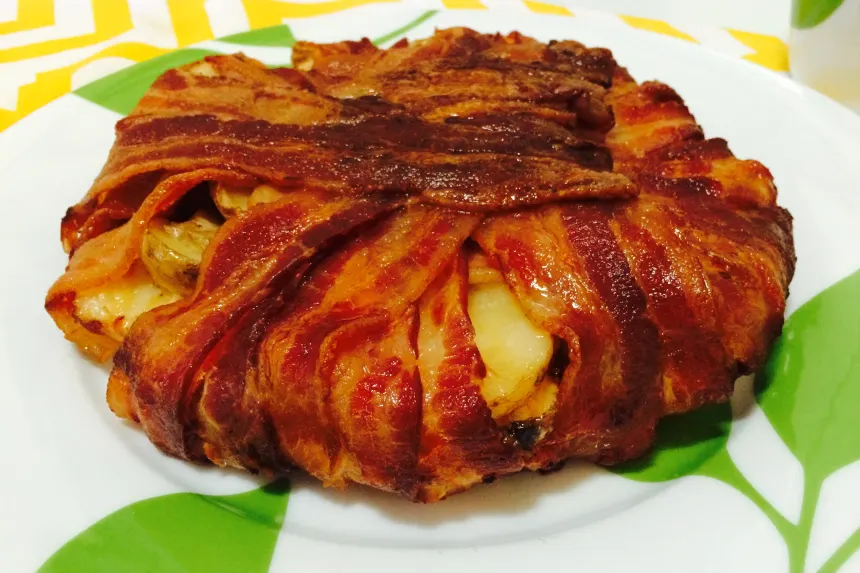 photo by Silkster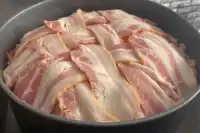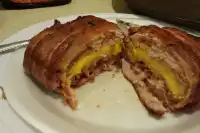 Ready In:

2hrs 50mins

Ingredients:

7
directions
Preheat oven to 350 degrees.
Mix the minced onions and garlic together.
Get a skillet (all metal, no rubber or plastic handles) or pie dish.
Coat the cooking area of the skillet with cooking spray.
Cut the parchment paper into a circle that covers the cooking area of the skillet, and place it in side the skillet.
Start lining the center of the skillet with a layer of bacon in a fan pattern, with one end of the bacon at the center and the other end hangs over the end of the skill. Each slice should overlap about a 3rd to half of the width of a bacon slice. Take care to stagger the bacon at the center so you don't end up with a very thick layer of bacon in the center of the pan.
Slice your potatoes in about 1/4 inch thick slices.
After the skillet is completely covered with bacon, start adding potato slices in layers inside the skillet on top of the bacon, creating a layer of potato on top of the bacon.
After completely adding a layer of potato that covers the bottom of the skillet, sprinkle some pepper, onions/garlic mixture, and a generous portion of cheddar on top of each layer.
Repeat the previous 2 steps until the potato & cheese layers are stacked about 1 inch above the top of the skillet.
Fold all of the bacon stips on top of the stack of potato until the top layer is completely covered.
Place a small, metal skillet or pot cover on top of the tart to hold the bacon in place during baking.
Bake at 350 degrees for 2 hours and 30 minutes.