Avocado, Feta and Pancetta Bruschetta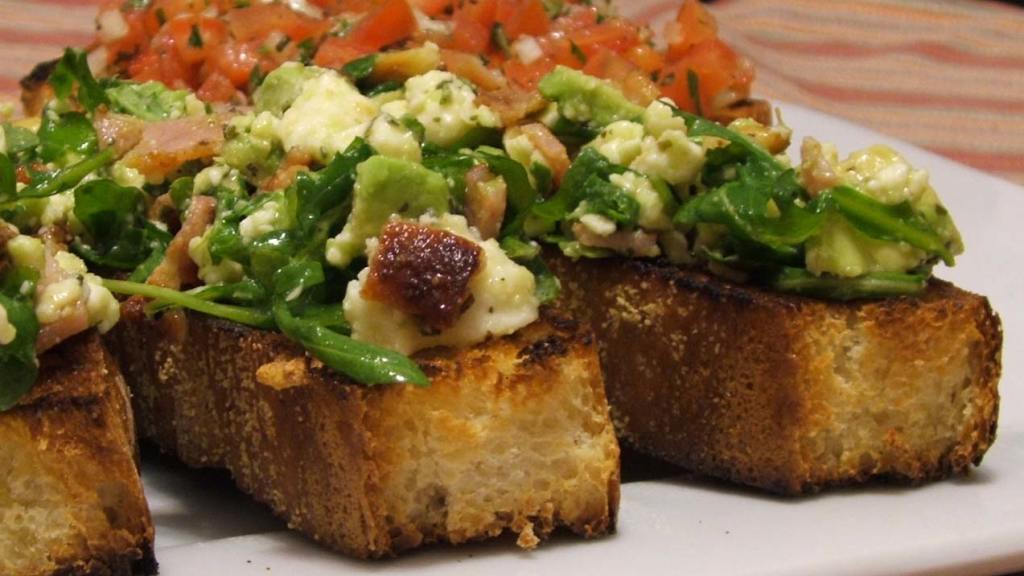 Ready In:

25mins

Ingredients:

11
directions
Prepare all ingredients just before planning to eat.
In a medium sized bowl combine the feta cheese, avocado, rocket, basil, pine nuts and 2 tablespoons olive oil. Add an extra tablespoon of olive oil to further moisten this mixture if preferred.
Saute the bacon or pancetta in a little oil until crisp, then chop finely and add to the feta cheese/avocado mixture.
Set topping mixture aside while preparing the bread.
Toast the bread over hot coals (preferably), on the bbq or under the oven grill/broiler, until crusty and golden brown on the outside, but warm and soft inside. Keep an eye on it as it can suddenly burn!
While the toast is still piping hot, rub one side of each slice with the cut side of a garlic clove, then quickly brush each slice with a tablespoon of olive oil.
Spoon the topping mixture on to the toasted bread, and season with freshly cracked black pepper - depending on the saltiness of the feta and bacon you use, you probably won't need to season with salt.
Serve immediately.
Join The Conversation
Loved it!! All said and done i prob doubled the pine nuts and pancetta but that only added to the goodness that filled my mouth!! That said it was a little salty but I'm sure that was due to the whopping amount of pancetta! Would for sure make again. My avocado was super ripe so it didn't really stay in the small chunk form, it was more mashed but that made it all the more spreadable on my toasted baguette. thanks!! gonna eat it again for lunch today, can't wait!!