Authentic Russian/Ukrainian Borscht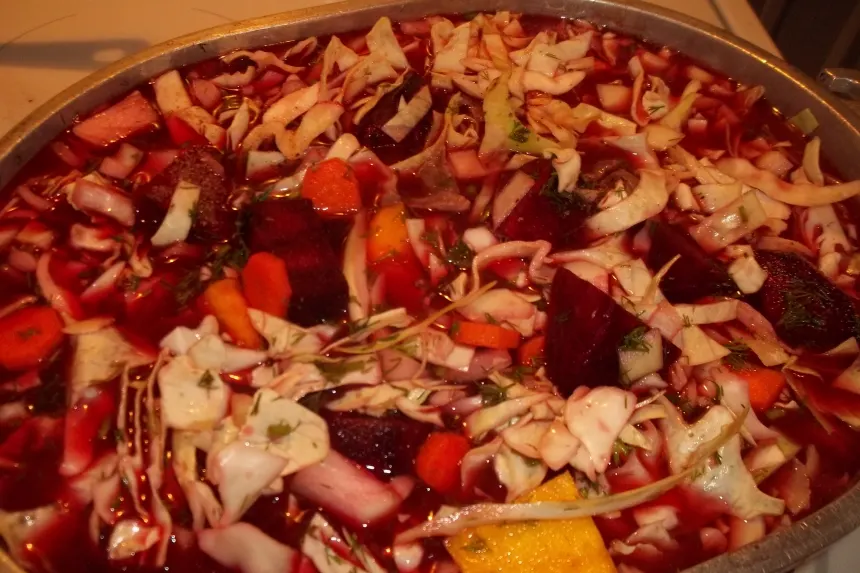 photo by RoxiGirl
Ready In:

2hrs 30mins

Ingredients:

10
ingredients
1 1⁄2 - 2 lbs beef, cubed (preferably with bones)

4

large beets, peeled and eighthed (or 6 average beets, quartered)

2

lemons

1

small head of cabbage, shredded (the smallest you can find)

2

large carrots, cut up as you like it (cubed, rounded, shredded, etc)

14

ounces tomato sauce

1

bunch dill, minced
1⁄2

cup instant chicken-style consomme soup and seasoning mix (I like Osem)

1

medium onion, whole

Optional
directions
To a large pot (I use 8qts), add the meat and enough water to fill up the pot to halfway.
Remove all froth that comes up from the meat.
Continue to boil on med-high until no more froth comes up.
Reduce heat to low and add consomme mix, whole onion, dill, beats, cabbage, and tomato sauce.
Fill with water, cover partially with lid, and let cook for 90min.
After that hour and a half of cooking, make sure meat is soft - then add the carrots, and squeeze all the juice you can possible juice from the lemons into the soup.
You can add the rice and/or potatoes at this point, if you like.
Cook, partially covered, for another 30-45 minutes, until making sure the potatoes and carrots are tender, and the rice (if you put any in) is ready.
The soup is great on day 1, but tastes much better on days 2-3.
Enjoy the soup while it's very hot.
Reviews
This recipe is nothing short of a symphony in a pot. WoW!<br/>I had this kind of Borscht in the Village/Manhattan and was unable to duplicate it.<br/>THIS IS IT!<br/>The only change I would make is to brown the beef first. The chemical reaction makes<br/>the beef more flavorful.<br/>I literally, drank a cup of the broth. Sheer heaven. I was concerned about the two lemons and bunch of dill. Worried for nothing. The flavors meshed exquisitely.<br/>To make it more of a meal, on the third day, I added freshly cooked rice.<br/>My daughter is already asking me to make another batch.<br/>Bravo to you, AniSarit. <br/>This recipe is a keeper, for sure. Thank you very much :)

 

This sounded like the perfect thing to make for a cool fall weekend, especially since I've had a head cold all week. It's simple enough to make, even with peeling those messy beets! This was delicious, and it's helping me get back to health. I used about 2 lbs chuck, and one marrow bone, which gave the borscht a lovely depth. I'm going to have another bowl right now, because my mouth is watering just writing about it. thanks Sarit! Kirby

 

I loved this recipe so much, I registered with food.com simply so I could write a review and say thanks, Ani Sarit! I didn't have beef on hand so used a couple of cups of chicken broth for flavor (but after tasting the finished product I don't know that I would have missed it,) and left out the potatoes. Mmmmmm. So easy, so healthy!