Adriana's Pasta Pie
photo by Olive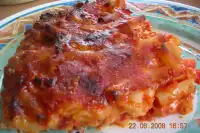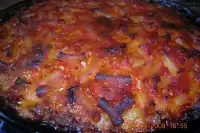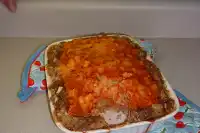 Ready In:

3hrs 45mins

Ingredients:

21
directions
Read directions all the way through first********* Meat Crust: Mix ground beef, parsley, bread crumbs, onion, eggs, 1/2 cup parmesan, 1/2 teaspoon salt, and 1/4 teaspoon pepper in a bowl very gently.
Do not overmix.
Put mixture into lightly greased 10-inch pie plate or 11" x 7" casserole dish.
Shape crust so that it's about 1" thick.

Tomato Basil Sauce:

In large pot, cook garlic and red pepper flakes in oil on low heat for 4 minutes only.
Add tomatoes, paste, water, 1 1/2 teaspoons salt, 1 teaspoon black pepper, sugar and basil leaves.
Bring to boil.
Reduce to low heat.
Add chunk of Romano cheese and cook for 1 1/2 hours.

Filling:

Preheat oven to 350 degrees Fahrenheit.
Mix the filling (3 cups cooked pasta, 1/2 pound mozzarella, 1/2 pound provolone, 1/2 cup parmesan cheese and 2 cups tomato basil sauce) in a bowl.
Scoop into meat crust.
Bake for 1 1/2 hours.
Let cool for at least 15 minutes.
Top each slice with tomato basil sauce and sprinkle with Parmesan cheese.
Questions & Replies

Got a question?
Share it with the community!
Reviews
Thank you so much for this recipe. It's scrumptious! I felt like a real Italian chef (just plunking a chunk of rich provolone right in the sauce, etc.) I wish I'd read the review about covering the top, because the cheese did burn somewhat by the end of the cooktime, but just made the whole thing more rustic! One suggestion about the time of preparation--despite the caution to read the whole thing through, I didn't allow enough time (or we would have been eating at midnight!), so I cooked the sauce about 20 minutes, and spooned the 2 cups into the dish and put it in the oven. By the time the dish was done, the remainder of the sauce had slow cooked the way it was supposed to, and spooning it on top was just the heavenliest flavor. Maybe it's better with the whole time incorporated to begin with, but I can't imagine! Also, we aren't red meat eaters, so this was done with ground turkey, and still we are rapturous. Thank you!

 

Very good! It went very well with a small salad and garlic bread. It tasted like a big meatball with marinara sauce and cheesy pasta. I cut back on the sugar, and I used tiny sea shells. I made half the of the sauce recipe and still had plenty left over. I froze the remainder sauce. I also covered the pie with foil for the first half hour so the cheese and shells would not dry out and burn. Then I removed the foil for the rest of the baking time. I baked it for 1 hour and 15 minutes. I think next time I will just lower the oven temp to 325 degrees and bake it for 1 hour and 30 minutes then I won't have to cover the pasta pie. No way will this amount fit into a 10 inch pie plate! I put mine into a 13 inch pie plate and there was still plenty! I think next time I will put it into 2 pie plates, freezing one of them.

 

PLEASE NOTE-THIS RECIPE IS TIME CONSUMING. I finally got the chance to make this. It was so good. I cut the sauce in half. This is one of the best tomato sauces I have ever made. My DH rarely comments on anything and he said the sauce was great. I did cut the sugar in half. It was still sweet so I may decrease it even more. I used dry parsley. I am from St. Louis and this is St. Louis pasta. I miss the good ole fattening pasta you need every once in awhile. I have very little leftovers. I will definitely make this again. The only thing I would change is to add more garlic.

 

I saw this recipe on 'Ciao America',and hurriedly scribbled down a rough outline of how to make it,so I was delighted to find it posted on Zaar.I cut the recipe in half,as I feared that it would be way too much for two adults and two very small children.It made loads of sauce(so easy to make,although I recommend that you don't actually throw in a large lump of cheese-mine didn't melt very well) .Like others before me I halved the amount of sugar and it was perfect.I also added about 1/2 -1 tsp of bicarbonate of soda to the sauce to take the sting out of the tomatoes (a good trick I learnt here on Zaar). I froze the remainder of mine in little tubs,which has been so useful for a quick meal,and the children are loving it!! The pie itself is quite fantastic.I froze mine for a later date,then defrosted and baked it with no problems whatsoever.I did have to extend the cooking time though,as my crust wasn't quite cooked through.This is a GREAT recipe,and one that I will be using again and again and again....many thanks for sharing,you are a top girl!