100% Whole Wheat Bread, Plain and Simple (No-Knead)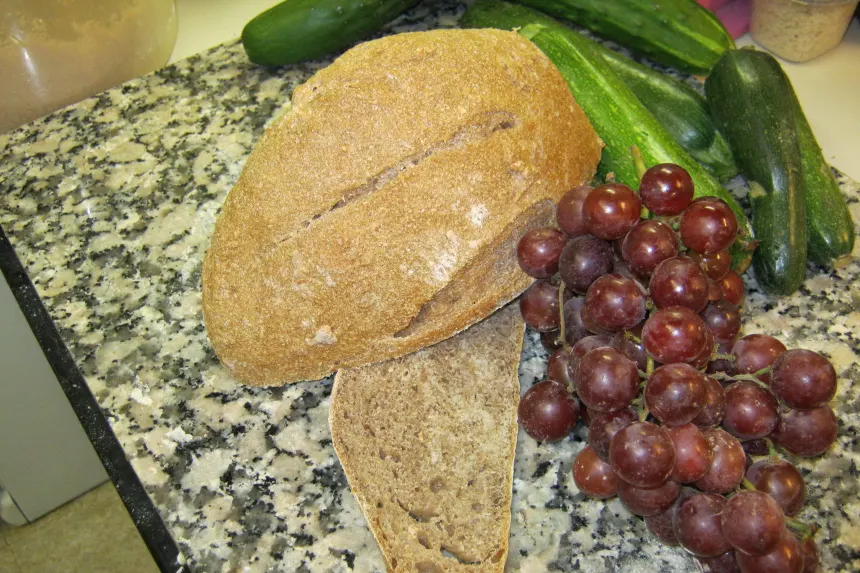 photo by Chef Kate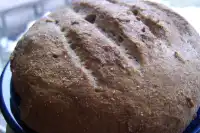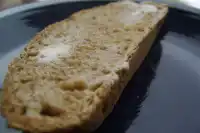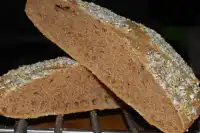 Ready In:

3hrs 30mins

Ingredients:

5

Serves:

24
directions
Whisk together the flour, yeast, salt and vital wheat gluten in a 5-quart bowl, or a lidded (not airtight) food container.
Add the water and mix without kneading, using a spoon. (You might need to use wet hands to get the last bit of flour to incorporate.).
Cover, not airtight, and allow the dough to rest at room temperature until is rises and collapses (or flattens on top), approximately 2 hours.
The dough can be used immediately after the initial rise, though it is easier to handle when cold. Refrigerate it in a lidded (not airtight) container and use over the next 10 days.
On baking day, dust the surface of the refrigerated dough with flour and cut off a 1-pound (grapefruit-sized; 450 grams) piece. Dust the piece with flour and quickly shape it into a ball by stretching the surface of the dough around to the bottom on all four sides, rotating the ball a quarter-turn as you go.
Allow the loaf to rest, loosely covered with plastic wrap, on a pizza peel prepared with cornmeal or lined with parchment paper for 90 minutes (40 minutes if using fresh, unrefrigerated dough). Alternatively, you can rest the loaf on a silicone mat or greased cookie sheet if you don't have a pizza peel.
Thirty minutes before baking time, preheat oven to 450F (230C). Place a baking stone on the middle rack. Place an empty metal broiler tray on another rack.
Just before baking, use a pastry brush to paint the top with water. Sprinkle with your favorite seed mixture. Slash the loaf with 1/4-inch deep parallel cuts using a serrated bread knife.
Slide the loaf directly onto the hot stone. (Or place the silicone mat or cookie sheet on the stone.) Pour one cup hot tap water into the broiler tray and quickly close the oven door.
Bake for 30-35 minutes, until richly browned and firm. If you used a mat or cookie sheet, remove it and bake the loaf directly on the stone for the last third of the baking time.
Allow the bread to cool on a rack before slicing and eating.
Variation: Honey whole wheat sandwich bread.
Add 1/2 cup honey and decrease the water by 1/2 cup. Bake a 2-pound (900 g) piece of dough in a loaf pan at 350F (180C) for 50-60 minutes.
Questions & Replies

Got a question?
Share it with the community!
Reviews
Simply incredible. The softest and nicest whole wheat bread I have ever made. Not a huge riser, but no-knead breads never are, so don't let that throw you off. Stir it up on a weeknight and let it rest in the fridge until the weekend, and then you just pull it out, plop in in a loaf pan or on a parchment and away you go. You barely have to do anything to finish up with stunning bread. (Just as a side note, I have only ever made this with white whole wheat flour, and so can't speak to the flavor or texture of a brown whole wheat loaf. I have read that you can sub in 1/2 to 3/4 c of orange juice to mellow the bitterness of brown whole wheat flour without making your bread taste like orange.) Definitely give this one a bash, and I'll be willing to bet you never go back to your old whole wheat recipe.

 

Here is another satisfied reviewer with a belly full of dense, delicious bread! I have tried the "traditional" version from these authors (posted elsewhere on food.com) but had until now been nervous to go whole hog on the whole wheat. It turned out great, though! The dough was a bit sticky looking, but I noticed that as I pulled a piece off it really wasn't all that sticky and I didn't need to add extra flour or anything. I would like to try this in a loaf pan next, as I would like to try and keep it from spreading out as much as a free-form loaf. I did pull mine out at about 25 minutes, as the crust was getting rather brown and the inside was finished. I had the same issue with the other version of this recipe so it may be my oven. Thanks so much for posting, WICC! Made for Veg Swap 35.

 

Fabulous whole wheat bread. It's super easy, too. I have the authors other artisan no-knead bread cookbook and just fell in love with the technique. I was so excited to try this whole wheat version from their Healthy Bread cookbook. My bread did a great job of rising! Although, my first loaf is on the small side (it's really cute!). Next time I will tear off a bigger-than-grapefruit size piece of dough to bake. The taste and texture is fabulous. Best part? I have 3-4 more loaves-worth of dough waiting in my fridge. This will be a good week!

 

Lovely bread and sooooo easy!! I think my mixture is a little teeny wet, so I will add a little more flour to it - it spread out more than I'd have liked, but I'm sure a bit more flour will remedy that. I used recipe #384672 as the grain mix to sprinkle on top - it looks gorgeous! This is definately a keeper! Thanks, WICC! Recipenapped for Veggie Swap 21.

 
RECIPE SUBMITTED BY
I'm a recipe junkie and collect way too many cookbooks. But when it's time to actually make something, I quickly turn to the internet... I started avoiding meat more than 20 years ago for environmental reasons. (It takes so many resources and the pollution risks of confinement operations are huge.) I've been vegan for years now and can report that the health benefits are also real. I really don't understand why people insist on eating meat
View Full Profile