JustJanS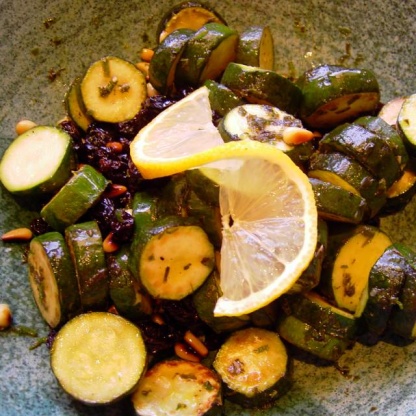 From a Spanish cookbook I own. We make this quite often and serve it as a side dish or tapas on bread.

I love zucchini and this salad is a great way to enjoy it. We had the good fortune to have Jan make it for us when she and her husband, Russell, visited us on their way to Queensland. We were having such a good time chatting that we forgot to add the optional anchovies. I won't let that happen again. Thanks so much for posting this recipe and more thanks for making it.
Heat the oil, add the halved garlic clove, and cook gently until browned, discard.
Add the zucchini to the pan, and cook until a little browned and just tender.
Turn the zucchini and oil into a bowl, and add the remaining ingredients.
Allow to cool completely, then cover and chill for at least 3 hours.
Remove from the fridge about 15 minutes before serving.
*4drained and chopped anchovies can be added in step 2 for a more robust flavour.