Mika G.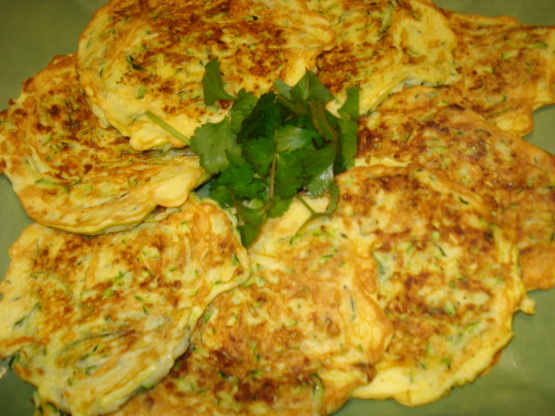 These are delicious silver-dollar sized pancakes. Makes a great side dish. You need to squeeze out as much water as you can in that step, otherwise they may not hold together well. I've never had a problem with it.

The taste of these was fine but these zucchini patties did not cook well. They did not hold together well at all which was a real disappointment. The amount was barely sufficient to feed 2 young children and 1 adult as a side dish.
Put shredded zucchini in a colander in the sink and salt it lightly. Mix in the salt with your hands and leave the zucchini to drain for 30 minutes. Squeeze out all the juices and blot the squash dry with paper towels.
In a large bowl, combine the batter ingredients and whisk until smooth. Mix in the zucchini.
In a nonstick skillet (or use a griddle), melt the butter and oil together over medium heat until foaming.
Drop the batter by tablespoons onto the skillet and cook over medium-high heat until brown. Turn and brown the other side.
Pile the pancakes on a plater, salt lightly and serve.